Imagine strolling through a quaint historic village, draped in a blanket of snow and traditional Christmas décor. Savour a warm cup of cocoa while joining in merry holiday carols at a historic church that echoes through the frosty air. Capture a cherished family photo with Father Christmas—yes, Santa Claus! Experience the thrill of a festive sleigh ride and discover one-of-a-kind holiday gifts to spread joy among your loved ones. If this paints a delightful scene in your imagination, then Barkerville's Old-Fashioned Christmas is an event you simply can't miss!
Set in the snowy wonderland of the Cariboo region, Barkerville's Olde-Fashioned Christmas has warmed hearts since 1987 – and counting! This year, this enchanting celebration happens on December 16th and 17th for a full weekend of entertainment and family fun. Visiting Barkerville in the winter season is certainly a quieter affair than the busy summer months, allowing you to soak in the town's rustic charm at your own pace. So, join us for a magical time filled with history, joy, and holiday cheer!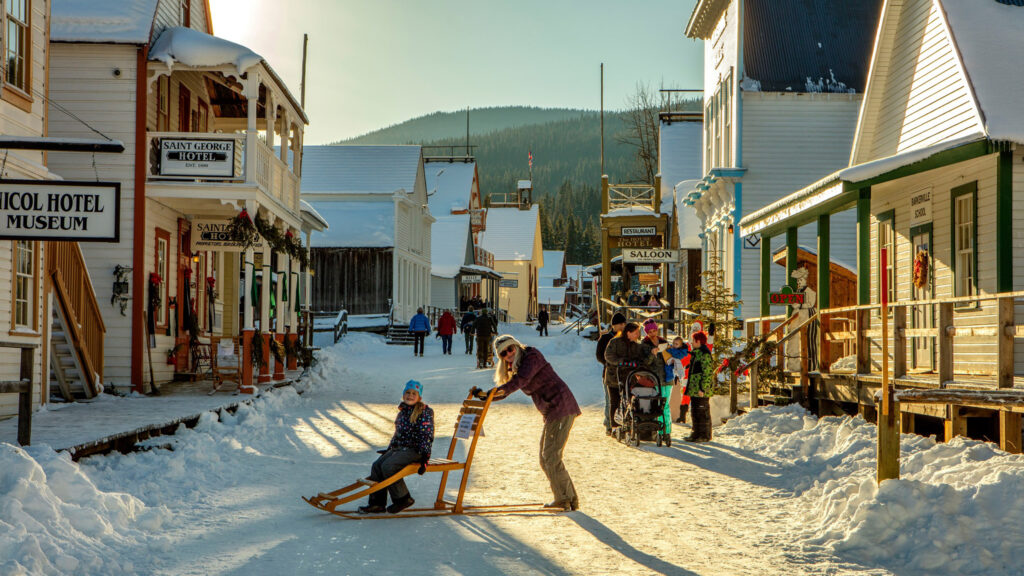 Olde-Fashioned Christmas Highlights
Those who visit Barkerville's Olde-Fashioned Christmas will have no shortage of fun activities to explore! Step into a world brimming with engaging activities and heartwarming experiences for all ages!
Meet Father Christmas – Change into a historic costume and strike a pose for an old-style photograph with Father Christmas at the Louis Blanc Photographic Gallery (Book your session in advance at 250-994-3235).
Storytime and Tours – Embark on guided Town Tours and Storytime sessions, including a Sherlock Holmes Christmas Tale. Don't miss authentic wood stove demonstrations at the Wendle House and witness household chores get done the way your ancestors used to do them.
Indigenous Heritage – Connect with Barkerville's Indigenous Heritage through daily Drum Circles and Original Peoples Tales led by Barkerville's Indigenous Interpretation program.
Christmas Carols and Sleigh Ride – Enjoy carolling at the Methodist Church followed by a horse-led Sleigh Ride through Barkerville's snow-capped streets with Barnard's Express (Book your ride upon arrival at the Welcome Centre or Barnard's Express office in Barkeville).
Barkerville's Exclusive Holiday Shopping Stops
If you are looking for one-of-a-kind gifts, Barkerville certainly has you covered! Embark on a unique shopping journey within Barkerville's festive atmosphere. From charming boutiques to historical emporiums, discover a variety of specialty shops offering distinctive treasures and delightful finds, perfect for your holiday gifting.
Mason & Daly General Merchants – Explore this unique 19th-century-style General Store for goods from sealing wax, stationery supplies, licorice, chocolates and much more.
A. McPherson's Watchmaker & Jeweller Shop – Shop gold and silver jewelry, gemstones, and watches from this prestigious shop founded in the 1860s.
C. Strouss & Company Dry Goods – Indulge in some of the best teas from around the world, cheese cut from 30-pound wheels, cast iron cooking implements and other household goods evoking the best of bygone days.
The Cameron & Ames Blacksmiths – Learn about crafting tools and objects out of iron and take home beautifully forged pieces made right there by local artisans.
Cariboo Sentinel Printshop – The press will be running at the Cariboo Sentinel, and while seeing the editor setting type and operate an original platen press, you can shop custom-made paper items.
Taste of the Season: Culinary Joys and Charming Stays
Tis the season to enjoy merry flavours, and there will be lots of options for visitors during Barkerville's Olde-Fashioned Christmas. Indulge in culinary delights and consider the inviting lodgings available to make your festive experience even more memorable!
Goldfield Bakery – Stop at this 1930 store for handmade sourdough bread, cinnamon buns, and a variety of freshly baked goods with hot cocoa or coffee.
House Hotel Saloon – If you are looking to indulge in a full hot meal, do not miss out on the Chilli special that will be served in this historic and charming restaurant.
If you want to extend your stay in this quaint winter wonderland, charming accommodations await in both Barkerville and the nearby village of Wells. Choose from the Kelly Guest House, the St. George Hotel or the Cottages in Barkerville, book a stay at The Wells Hotel in Wells, or explore other options at Historic Stays for a cozy retreat after a day of festivities.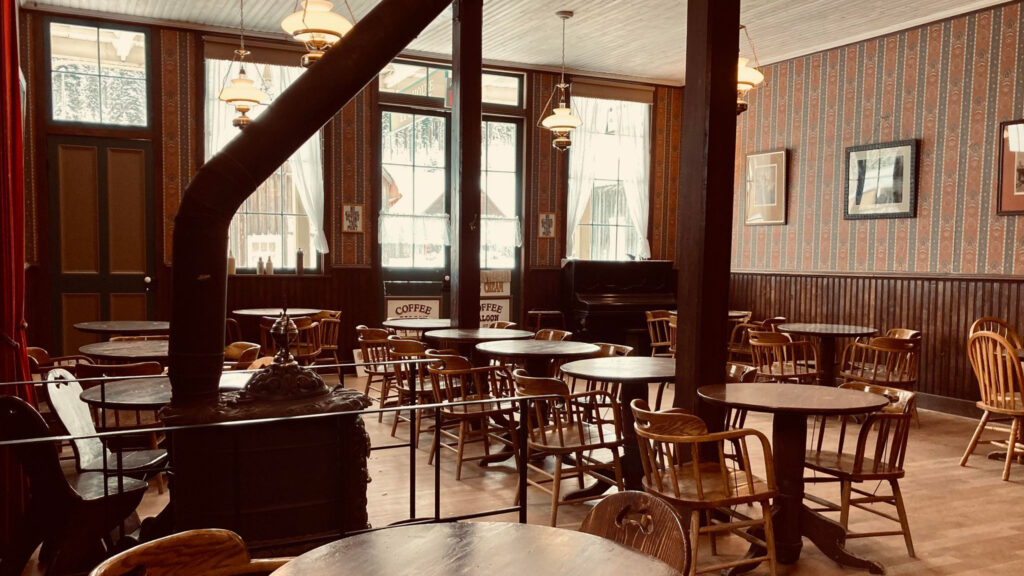 The Road to Festivity: Getting to Barkerville
Located in the Cariboo Chilcotin Coast region, getting to Barkerville is a joyous adventure in itself. From Quesnel on Hwy 97, travellers can venture east on Hwy 26 for approximately 74 km (46 mi) to reach the small community of Wells. From there, it's a mere 8 km (5 mi) to Barkerville, where history awaits. For those journeying from Williams Lake, the drive takes a little over two hours, offering a scenic route to this historical treasure trove.
Barkerville's Olde-Fashioned Christmas invites you to step into a world of history, holiday cheer, and heartwarming traditions. Join us for an unforgettable experience that celebrates the spirit of the season in a captivating historical setting!
Admissions and Programme
Olde-Fashioned Christmas
When: Saturday, December 17th and Sunday, December 18th, from 10 am to 4:30 pm
Where: Barkerville Historic Town & Site
Tickets (Available at the Welcome Centre or Online):
$10 General Admission
$8 Seniors
Children and Youth are admitted for free with a non-perishable donation to the Food Bank.
Check out the Full Programming HERE.
Check out Barkerville Map HERE and plan your day.