In following the footsteps of historic gold miners, our journey takes us off the beaten path to largely undiscovered destinations. The path to the Bridge River Valley is framed by iconic scenery marked by snaking gravel roads alongside a glacial river that includes jaw-dropping views of cascading mountains. Even though you'll never find street traffic or busy crowds here, the Bridge River Valley serves as an important artery to the experiential corridor of the Gold Rush Trail and is an adventure-seekers haven.

Accessible via the Carpenter Lake/Pioneer Road 40 that runs from Lillooet and through the valley, the Bridge River Valley is marked by multiple small communities: Gold Bridge, Bralorne, Gun Lake, Tyaughton Lake, Gun Creek Road and Marshall Lake. Don't let the lack of pavement along the way make you nervous–this is one of the most beautiful drives you'll find in BC, and few make the journey to these Gold Rush Trail destinations. Below, we share some of the adventures that can be found in and around the community of Gold Bridge, and other must-visit stops along the way that make up the Bridge River Valley-–otherwise known as the gateway to the famous South Chilcotin Mountains.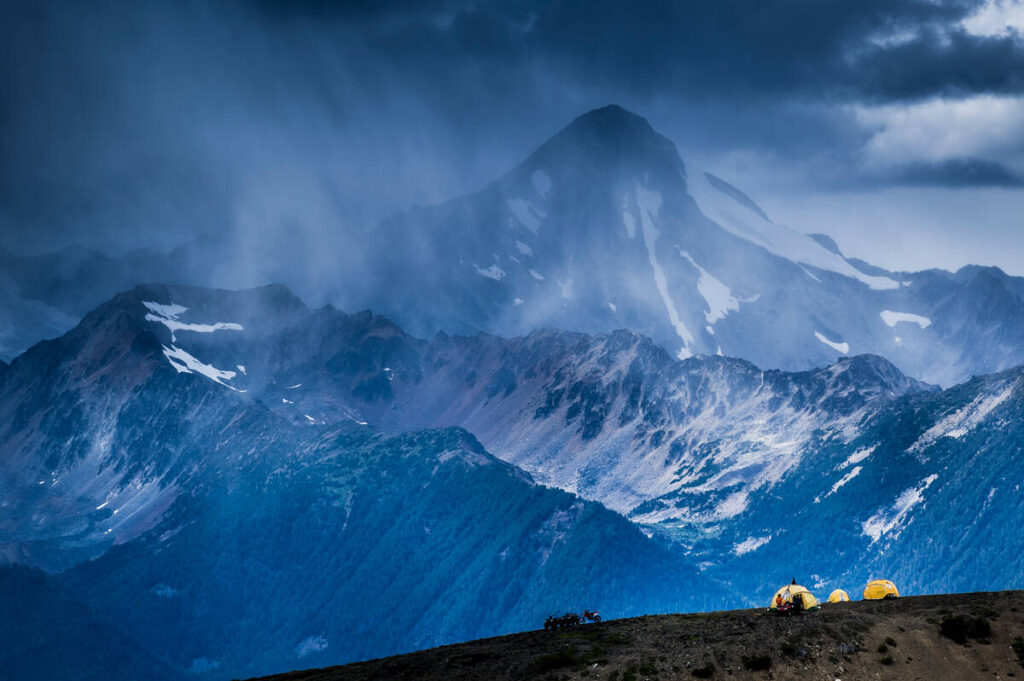 Getting there
The Gold Rush Trail starts in New Westminster at the mouth of the Fraser River and runs north to Barkerville Historic Town & Park where historic characters such as Billy Barker share stories of the historic gold rush that shaped the Cariboo. Before miners and industry made their way up north, they created settlements to the southwest of Highway 97 where old promises of gold are now adventurous, scenic and experiential treasures for the modern world to enjoy.

Gold Bridge itself is located only five hours from Vancouver and can actually be accessed via Pemberton in the summer and from Lillooet year-round. In summer, Lillooet (aka "Mile 0" of the original Gold Rush Trail route) only adds an extra 30 minutes if you're coming from Pemberton, and is definitely worth a day of exploration or an overnight stop to charge your batteries for the day ahead. Visit an Indigenous cultural immersion experience at Xwisten Experience Tours and after, stop at Splitrock Environmental for local foraging and a conservation walking tour, native plant nursery and gift shop. Have a coffee and bite to eat next to the 'Mile 0 marker' at Abundance Bakery in downtown Lillooet and take your time strolling around the downtown shops.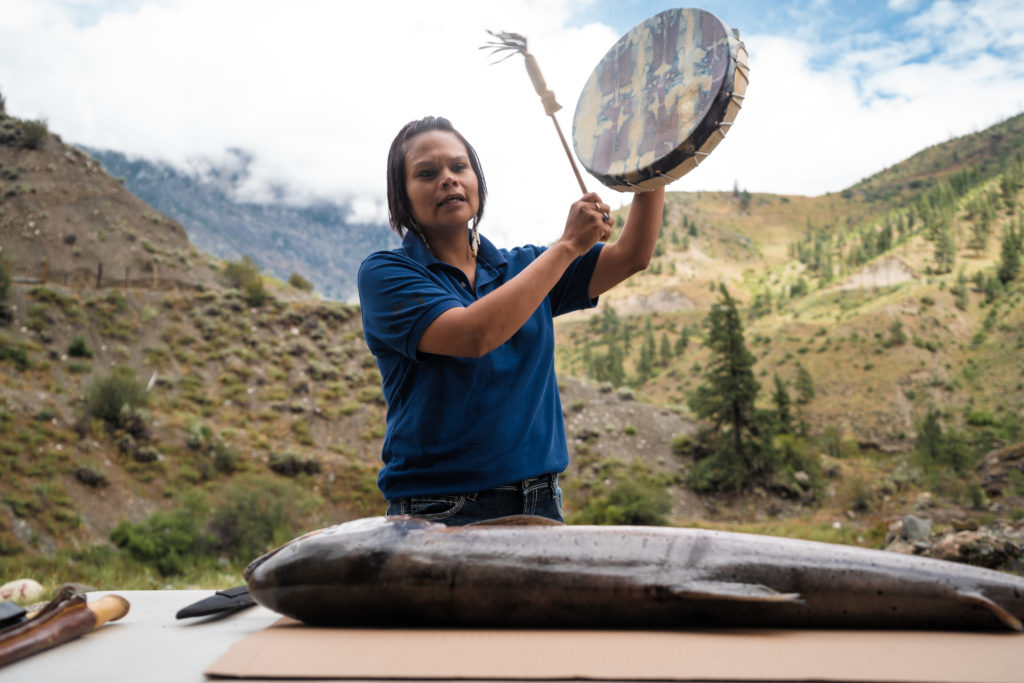 Across the Bridge of the Twenty-Three Camels in Lillooet you'll find the award-winning Fort Berens Estate Winery and The Kitchen at Fort Berens, a farm-to-table affair open for lunch Thursday – Sundays. Take a tour of the vineyards, sample their award-winning terroir-driven wines in the tasting room, and enjoy restaurant or patio views overlooking the dramatic mountainscape surrounding Lillooet.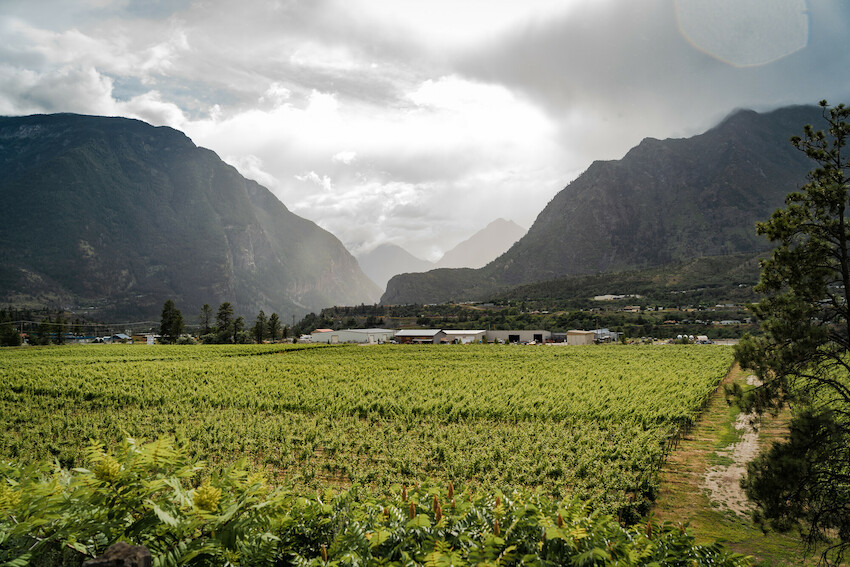 If you'd rather travel through the open air than on the open road, Tyax Adventures offers floatplane charters from Vancouver into the Bridge River Valley, and can accommodate custom departure locations throughout southwestern BC.
Whether you go the Lillooet or Pemberton route, the historic rural community of Seton Portage is worth a stop along the way. Home to Canada's first railway, this incredibly scenic area has great opportunities to spot wildlife as well as a rich Indigenous culture. There is also a provincial park, pub and the local Indigenous-community owned Lil'tem' Mountain Hotel for overnight stays.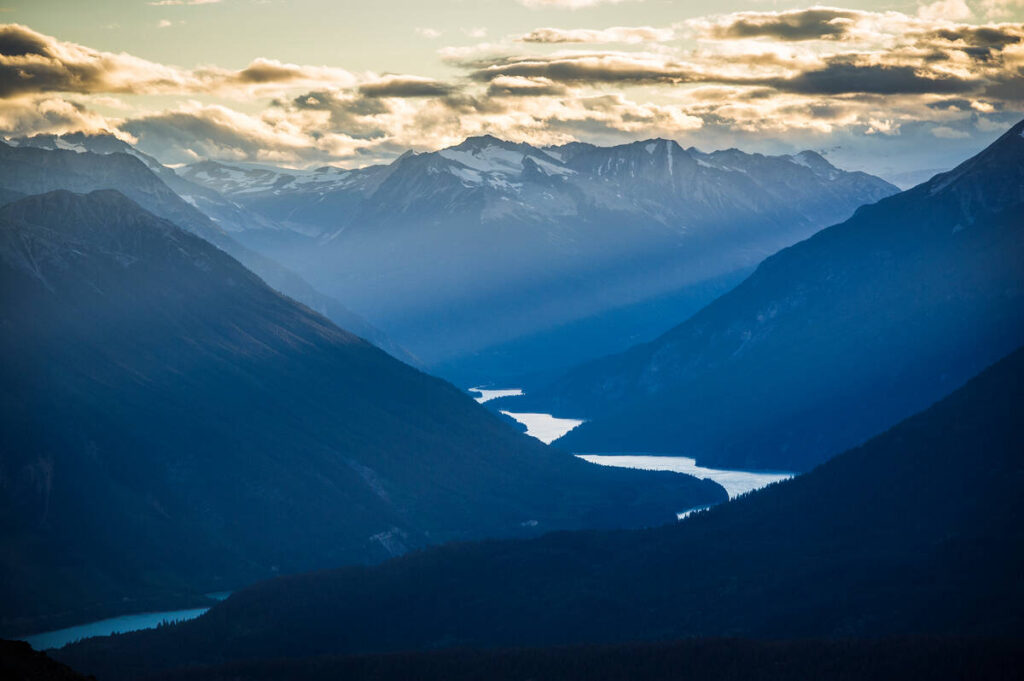 Things to do in Gold Bridge & the Bridge River Valley
This place is a true uncrowded British Columbia adventure paradise. Take to the sky, trails or water and enjoy the sights, sounds and smells through limitless adventures at every elevation and landscape of the Bridge River Valley and South Chilcotin Mountains.
History & heritage
Haylmore Heritage Site is located near Gold Bridge and operates as the area's tourist information centre for the summer months. Here you can find detailed information about the surrounding area, local souvenirs, ice cream and fresh baking for a sweet way to plan the day. Visit their Facebook page for up-to-date information. Another must-visit while in the area is the Bralorne Pioneer Museum. In their heyday, the Bralorne and Pioneer mines were two of the wealthiest mines in the country. Despite them being closed for over 30 years, some of the historical buildings are still standing and the rich history of this valley can still be felt. The Museum provides many photographs and artifacts about this area's mining industry as well as the lives of the people who lived here. Learn all about their rival hockey teams, school days, and time spent in the ski cabin that still exists up on Sunshine Mountain today.
Horseback riding, pack trips & guest ranches
Chilcotin Holidays puts purpose and sustainability first while ensuring a transformational experience in the South Chilcotin Mountains. They invite guests to connect with nature by guiding them through the heart of a true wilderness experience. Chilcotin Holidays uses a unique guiding approach to immerse guests in all elements of their adventure from the forest floor to the mountaintops. They do this through their hut-based wildlife viewing horse pack trips, hiking tours, fishing trips, hands-on guide training, mountain biking, fishing trips, and the full guest ranch experience. An experience with Chilcotin Holidays is a journey to discover both nature and a new piece of yourself while learning about and contributing to the conservation of the area.
Flightseeing
With glacier-capped peaks, icefields, endless alpine terrain and countless lakes, the Bridge River Valley's backdrop of the South Chilcotin Mountains beckons to be explored from the air. Luckily, Tyax Adventures has flightseeing to nearby areas like the beautiful Bridge Glacier and even offers single-day or multi-day guided and unguided hiking, horseback riding, and mountain biking adventures. Tyax Lodge also offers epic heli-skiing in the South Chilcotin Mountains for the winter season, where the area is known for its crisp champagne powder and endless downhill options.
Mountain Biking
Few places rival the South Chilcotin Mountains when it comes to long, epic, high alpine terrain and in the mountain biking community, the South Chilcotin Mountains and Bridge River Valley are known among the best in the world. A single or multi-day trip can be done from Gold Bridge allowing for accessible adventure at your doorstep. Alternatively, Tyax Adventures is known for their floatplane-accessed mountain biking where they'll bring you for guided overnight camping, cabin, glamping, or day trips where you can choose between guided or self-guided excursions. Being bear aware is important in these rural areas and while encounters may be rare, we always recommend doing guided trips to ensure safety and to respect local wildlife.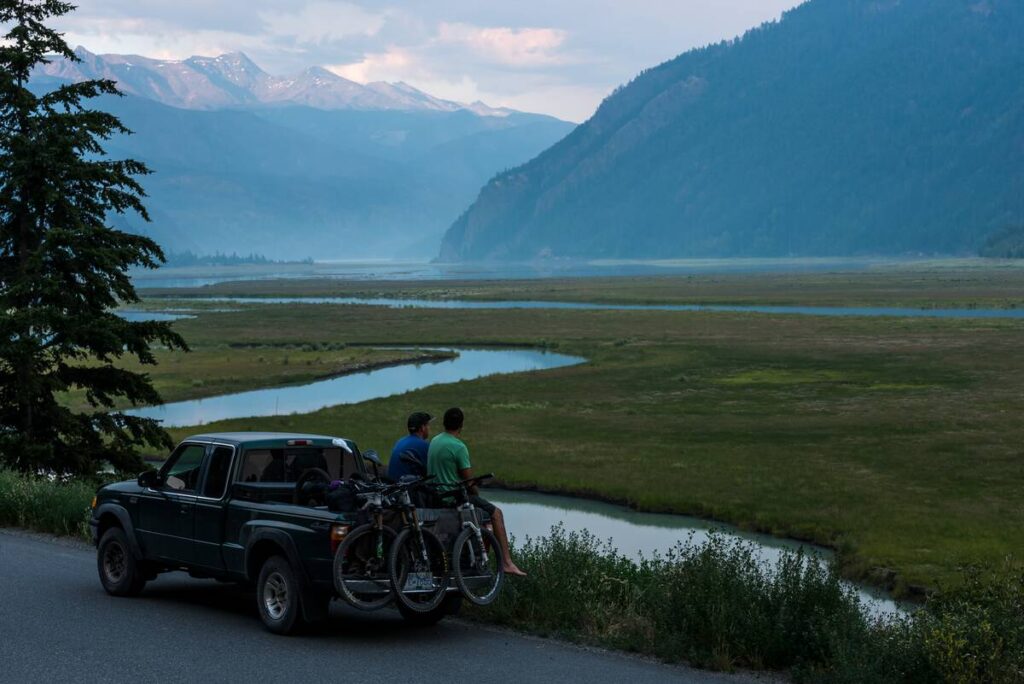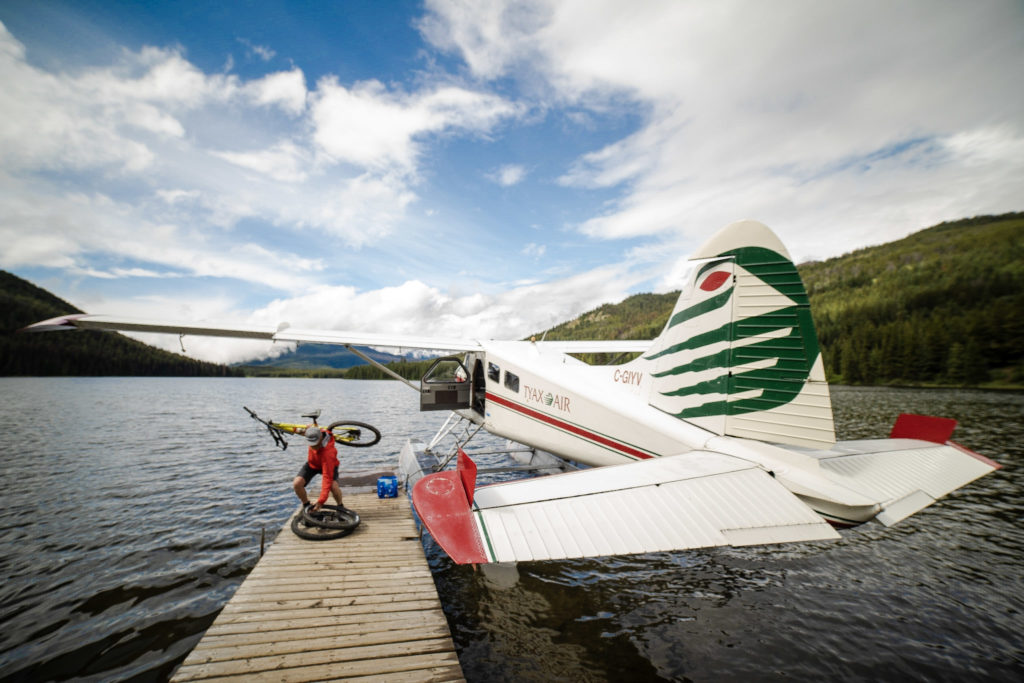 Hiking
Ample hiking opportunities are also at Gold Bridge's doorstep and can be accessed from the town or from floatplane. Accessing remote destinations by plane can save some long days and add to a beautiful scenic trip that brings you face-to-face with glaciers high in the alpine. Spot wildlife, learn about flora and fauna and take in the stunning South Chilcotin Mountains at your own pace on foot.
Accommodations
There really is an accommodation type for all adventure levels in Gold Bridge and throughout the Bridge River Valley. Bralorne Adventure Lodge is perfect for group adventure trips. It sleeps up to 10 people, can be done fully catered, and they also built a new sauna. Each of the adventure businesses mentioned above serves as unique accommodations in the Bridge River Valley. Tyax Adventures has access to backcountry cabins, tents, and camping that range from rustic to high-end (Spruce Camp is on its own lake complete with fishing boats and its own wood-burning sauna). Tyax Lodge has the most upscale accommodations with private log chalets and the main lodge, spa, saunas, hot tub, and boat rentals.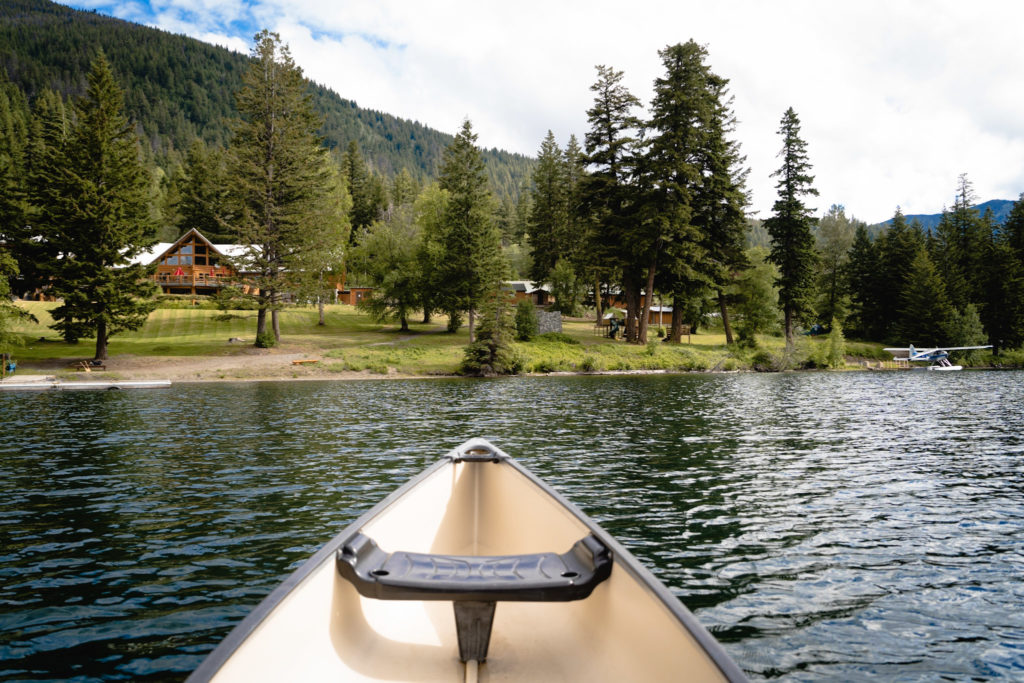 Chilcotin Holidays is the only guest ranch experience and provides accommodations in their lodge, cabins, or backcountry huts while on a pack trip. Each accommodation business is well known for their culinary experience and will provide a truly Canadian experience.
And for budget-friendly options in the area, check out the Gold Dust Motel and the Bralorne Mines Hotel.
Always practice safe and responsible travel while on your Gold Rush Trail adventures. For more on that, visit our Know Before You Go page. Learn more and plan your visit to the Bridge River Valley, here.