There is a sense of freedom that comes with gravel riding along the Gold Rush Trail that I haven't experienced with other styles of riding
Lower mainland-based amateur bike racer Jim Davison of the Isetta race team is finding himself reaching for his gravel bike more and more these days.
We chatted with Jim about discovering gravel riding, what it means to him, his tips for newcomers to the sport, and what makes BC's Gold Rush Trail his favourite place for this growing style of riding.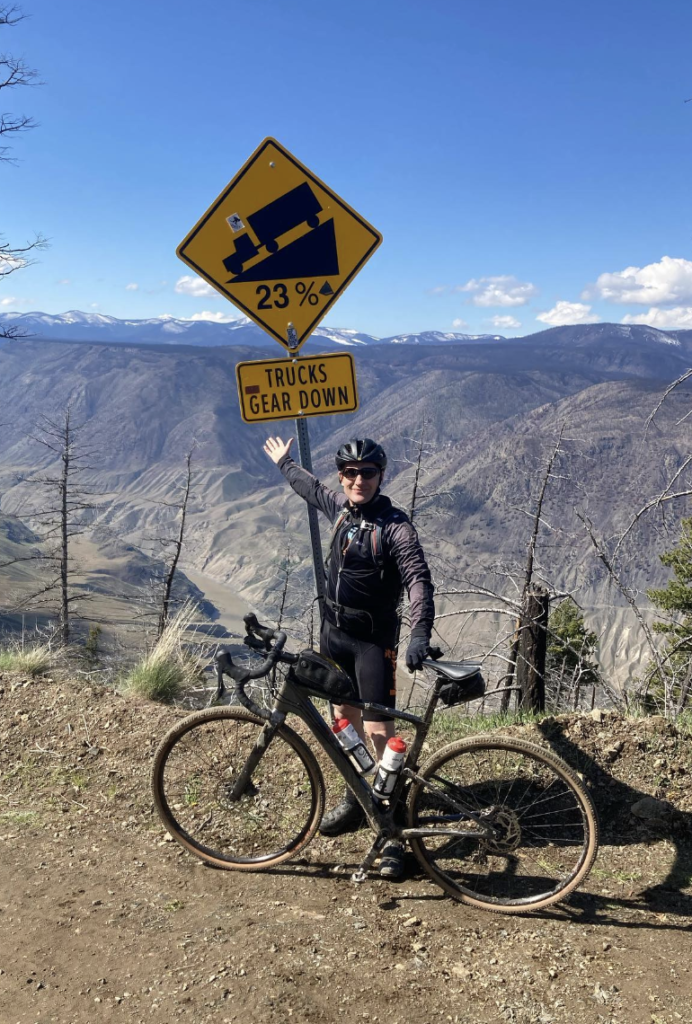 What was your introduction to gravel riding?
My introduction happened gradually. First and foremost I was a mountain biker. Then as my racing progressed, I started road riding to get fitter. From there, I started getting into cyclo-cross racing which if anyone is unfamiliar, it's multiple laps of a short course featuring different terrains and obstacles. It's like an obstacle or agility course on a bike! Although the cyclo-cross bikes are designed for racing, they are very light and comfortable and so my friends and I started doing longer rides with them on the weekends. Because the bikes had thicker tires than our road bikes, we found ourselves venturing onto new trails and gravel roads. I really started to enjoy these longer, scenic rides, so I researched the gravel riding scene which had started in the Southern United States and it seemed very much my style. So basically, I kind of stumbled into gravel riding in my pursuit of wanting more endurance-style riding!
What is the feel of riding a gravel bike when compared to road or mountain?
There is a sense of freedom that comes with gravel riding that I haven't experienced as much with other styles of riding. The bikes themselves are also designed to be very comfortable. With mountain and road bikes, you're a little locked into riding those terrains, but on a gravel bike, you can go off-road, on-road, you can ride forest service roads, and you can even go multi-day bike-packing with them. They are very versatile.
When you're road biking, you're watching out for traffic and road obstacles. There is lots of etiquette and many safety measures like hand signals and whatnot. It's quite serious – for good reason – but with gravel riding there are a lot fewer rules (plus you don't have car fumes in your face!)
How different is the feel and sensation of a gravel group ride or race compared to other styles of group riding?
Again, it's a lot more relaxed. There are fewer egos and it's more fun as the ride is more about the journey rather than the destination (how cliche!). You can ride whatever bike you want, wear whatever you want, and if you have bike-packing bags, you can bring whatever you want.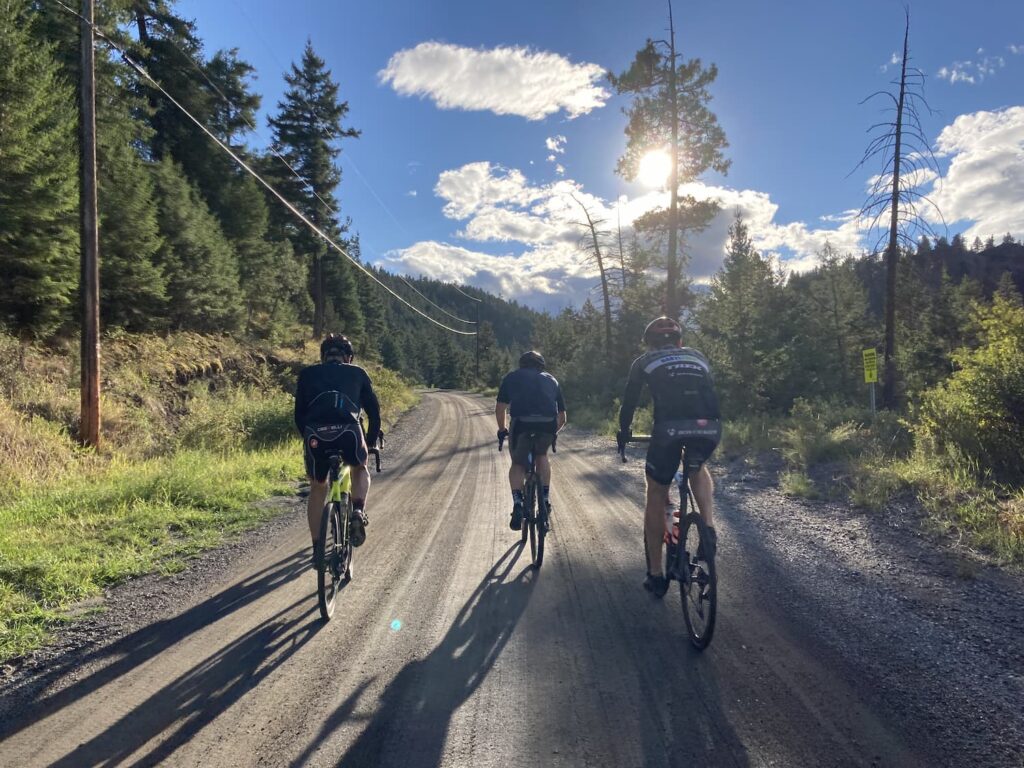 You mentioned that you can ride whatever bike you want but what is your go-to bike for gravel riding? What should newcomers to the sport look for when choosing a bike to ride gravel on?
Gravel bikes have a lot of variety and can look different depending on the landscapes in a region. One characteristic of gravel bikes is that they tend to have drop bars (the curly ones). This intimidates a lot of new riders but you don't necessarily need them right away if you don't want them. The benefits of drop bars are that they have a bit of flex for going over rough surfaces and they also give you 3 or 4 different hand positions to choose from. This gives your hands a chance to reset and also allows your body to ride in a different position… again it's all for comfort. Some gravel bikes have a bit of suspension but you don't need it and it makes the bike heavier anyways. The main aspect of a gravel bike is the wider tires which are meant for grip. So if you're new to the sport but have an old bike you want to use, I'd suggest just switching to gravel tires (as long as your current bike has a clearance between the frame and the wheel allowing for a thicker gravel tire). You can also just start on a hardtail mountain bike or cyclocross bike if you have one of those.
If you do want to go ahead and purchase a gravel bike, brands like Specialized, Giant, and Canyon all have gravel options. I ride a Cannondale Topstone and always suggest it to friends or family looking for bike recommendations. There are various models and it's good bang for your buck if you think you're going to ride a lot.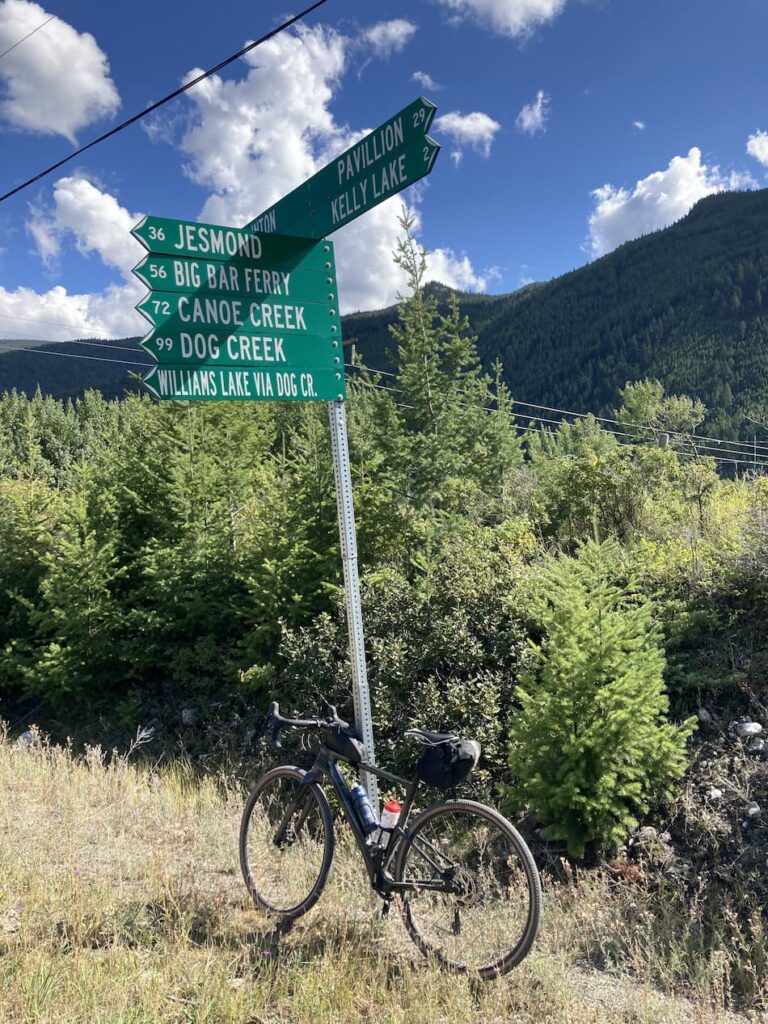 What is your favourite area for gravel biking? Why?
The Cariboo, specifically the area surrounding Clinton! I love the diversity of the region. It's set between two different mountain ranges with the Fraser River crossing through it and so there is a variety of different landscapes to ride. It looks like a wild west movie! I also love gravel riding on Vancouver Island, but the Cariboo is far easier to get to as I don't have to take a ferry and it's only a few hours away from my house.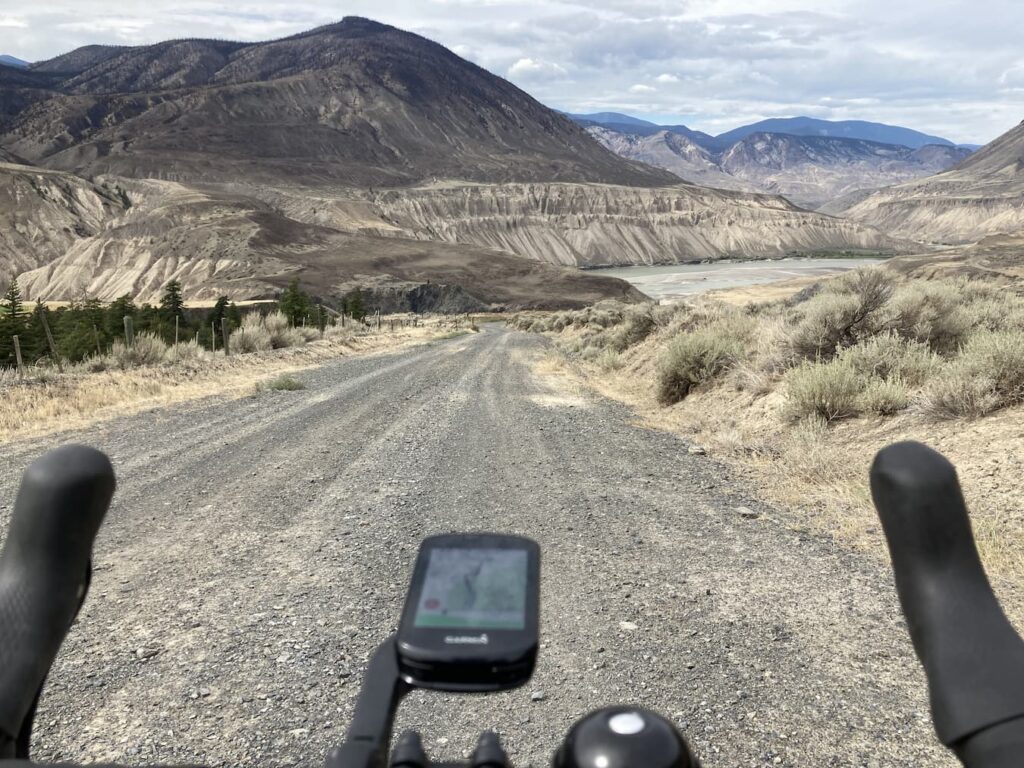 Do you have any favourite routes in and around Clinton?
Yes! Another reason why Clinton is my favourite area for gravel riding is Tutti Gravel Inn. The owners always suggest awesome routes for us to ride. There's one that climbs up into Edge Hills Provincial Park to the spectacular Cougar Point viewpoint. As you head down from the viewpoint, you ride past idyllic farms, blue lakes, and even wild horses sometimes! It's about 120km in total which sounds like a lot but you can do less of it or get a shuttle from the Tutti Gravel Inn owners. I also love riding up to Chasm Provincial Park. The views are amazing. Another favourite is riding from Tutti to 70 Mile House and stopping in at The Sugar Shack for mouth-watering poutine and Montreal smoked meat. It tastes even better after a long hard bike ride in the Cariboo sunshine!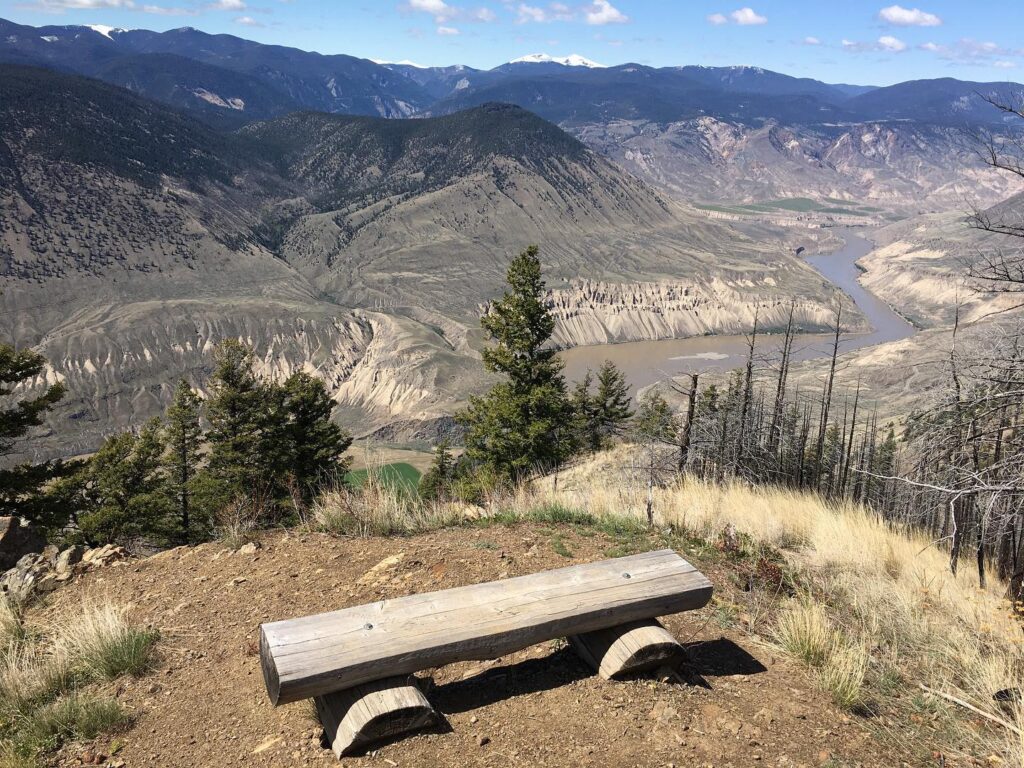 You mentioned Tutti Gravel Inn, one of our accommodation options along the Gold Rush Trail. Can you please give the readers a little background about it and what they offer?
Tutti Gravel Inn is a gravel cycling hotel right in the town of Clinton. You can't miss it with the old-school branded Fiat car out front. My friends and I found them on social media. There were 4 of us on our first trip there and now we keep going back with a bigger group because we always have such an epic time. They even host gravel bike events which we suggest marking your calendars for. The accommodations themselves have everything a cyclist could ever need with equipment, rentals, racks for cleaning, a bike storage room, etc. They even have a hang-out space with pool tables, pizza ovens, coffee, and beer. Best of all, the owners' Kelly and Erin, are lovely. They treat us like family and always do so much to make sure that everyone feels safe, comfortable, and ready to take on the local trails, no matter what experience or cycling ability level the guest has. Oh, and I can't forget Buzz their amazing hotel cat!
What is it about travelling BC's Gold Rush Trail that you love?
I love that the drive is an event in itself. Rather than just trying to get to my destination as fast as possible, I'm always eager to make stops along the way, taking in the ever-changing landscapes, historic towns, and hospitable businesses along the way. For example, on my way to Clinton, after driving through the farmland of the Fraser Valley, I often stop in Hope to pick up some drinks from Mountainview Brewing Co. (a great spot!). Once reaching Lytton, the landscape changes again and the rolling hills and grasslands start to appear. I always enjoy stopping in at places like Horsting's Farm to pick up healthy snacks for the road trip. Another favourite aspect of the Gold Rush Trail for me is the warm, nice people. Take The Sugar Shack in 70 Mile House, for example, the owner Robert is the warmest French Canadian guy that treats everyone who comes into his restaurant the same – no matter if you're a trucker, cyclist, or road tripper!
Have any tips for someone wanting to try gravel biking for the first time?
For sure! I'll list some here:
Don't get intimated by what type of bike to use
Don't plan a gravel biking vacation right away. Just start cycling your local paths and trails to get comfortable.
Avoid overcrowded trails by riding early. Families like to go for afternoon walks!
Use apps to help with route planning. I use RidewithGPS.com. A lot of bikers will post routes that they have done and you can just follow their pre-determined journeys. When looking on there, you can type 'Gravel' into the keyword search and filter by location, length, etc.
Utilize Youtube for tips and tricks!
Always be safe! Bring bear spray (depending on where you are), ride in a group, wear bright clothing, have a bell on your bike, abide by road rules, tell a friend or family member where you're going, and use a satellite GPS if you're going somewhere without cell phone coverage.
Don't be scared to get into racing. Most gravel "races" are very casual and non-competitive. Many events offer a longer route and a shorter route for beginners.