Take to the trails and experience a side of the Gold Rush Trail you may have never seen by vehicle. From mountain biking and gravel riding to the widely popular e-biking and cycling – each offers a sustainable and healthy way for singles, friends, and families to explore the rich and varied terrain of British Columbia. There's no better way to connect with this unique and historic region than to ride along trails and routes used by Indigenous Peoples, fur traders, cowboys, farmers, and gold-seekers of our past.
GRAVEL RIDING
If you're unaware of what gravel riding entails, the sport is just as it sounds, cyclists taking to gravel or Forest Service Roads (FSR's) for a ride that is as short or long as they choose. Similar to road bikes, gravel bikes have drop bars and lots of gears, however, what makes them unique is that they are designed for stability and comfort on rougher roads. They have fatter tires, comfier seats, and sometimes have more mounts in case riders want to pack other gear with them.
The great part about gravel riding is that you can do it wherever there are gravel roads, and we have plenty! One particular destination that is famous for its gravel riding is Clinton. A small but mighty town found on Journey Leg 6 of the Gold Rush Trail, Clinton has been dubbed the new Frontier of Gravel; even being recognized as having the best gravel riding in the world!
While you're free to explore gravel roads as you please, it's important to always practice safe riding as these roads are shared with vehicles, including heavy-duty trucks. It's also important to remember that much of this area does not have cell service. Due to this, it's crucial to pre-plan your routes and tell a trusted friend or family member where you are planning on riding. We recommend carrying a navigation and communication device such as an InReach. It is also a good idea to use resources like Ride With GPS and/or DirtyFreehub to plan your gravel routes. For more information regarding safety, visit Responsible Travel in the Cariboo Chilcotin Coast and AdventureSmart.
Gravel Route Ideas for in and around Clinton:
Landyachtz Gravel Guide – Tutti Loves Poutine Challenge
Dirty Freehub's "Take Me To The River"
Stay & Play: Tutti Gravel Inn is the original and premiere gravel bike hotel in B.C. Designed to give gravel cyclists an inclusive, and fun place to stay between rides in and around Clinton, Tutti Gravel Inn is a must-visit for cycling enthusiasts.
E-BIKING
By now, we're sure that you've heard of (or even tried!) an e-bike or pedal/power-assist bike. Pedalling and handling just the same as a regular bike but with the added benefit of an electric component, e-bikes make obstacles such as hills and headwind more manageable and allow riders to travel further without getting as tired. E-bikes are a fabulous way to allow cyclists to experience trails and landscapes that they previously may have not had the ability to get to.
Due to the electrical component of e-bikes, however, the Provincial Government has set out rules, regulations, and restrictions in order to minimize possible impacts on wildlife as well as the environmental, recreational and cultural values of parks. BC Parks has signs posted on trails where cycling and Class 1 e-bikes are allowed, however, anyone with an e-bike is encouraged to visit the park website for specific information on where you can ride before you hit the trail. It is also important to familiarize yourself with these Biking in BC Parks guidelines and general e-bike regulations.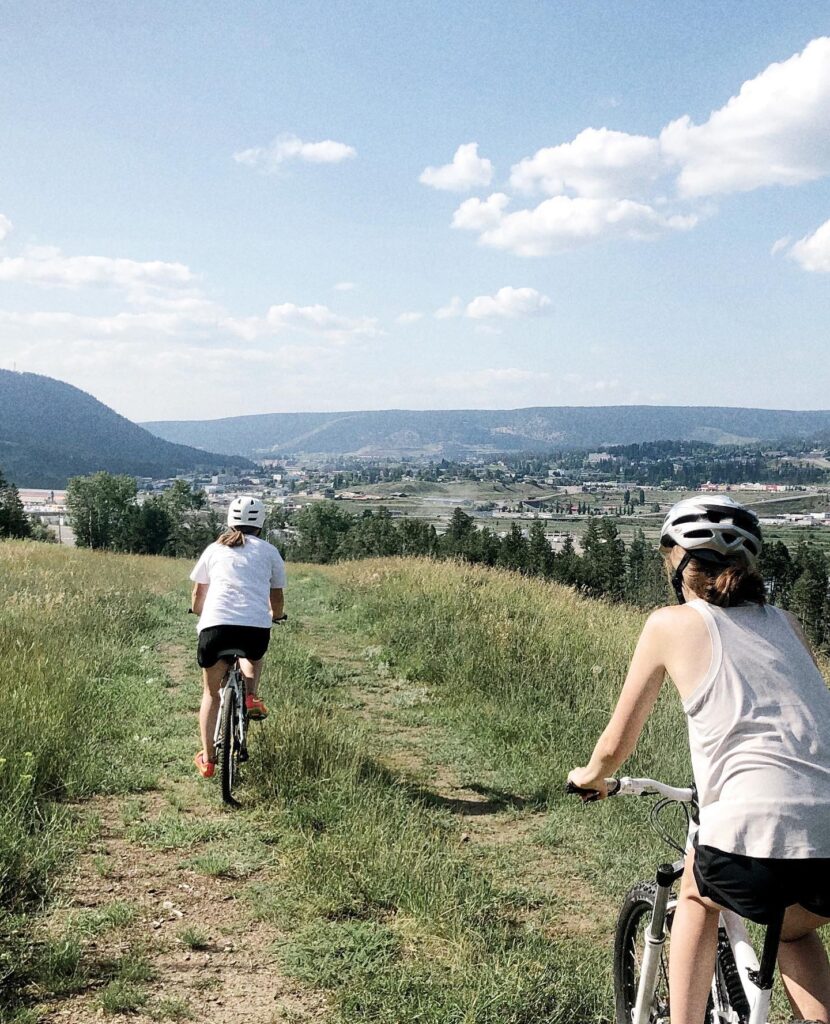 Some e-biking trails:
Any of the public roads in and around Clinton and Lillooet
Stay & Play: Echo Valley Ranch & Spa offers guided mountain bike tours with power-assisted bikes. For more information, see here.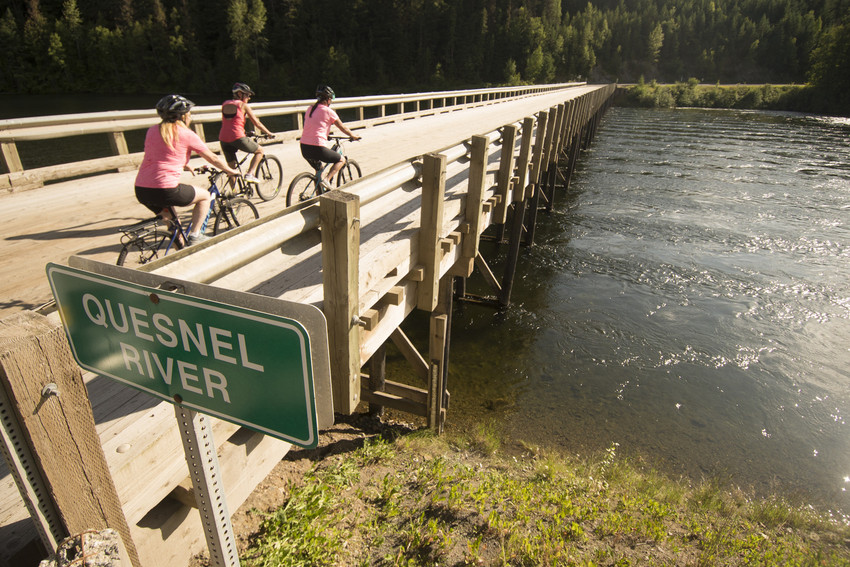 MOUNTAIN BIKING
British Columbia is internationally recognized as one of the most important regions in the world for mountain biking. From the vast meadows and alpine terrain of the Bridge River Valley to the all-mountain singletrack, progressive free-riding and epic cross country trails of Williams Lake, the Gold Rush Trail is home to a vast variety of mountain bike terrain. Whether you're a die-hard shredder or want to try this style of riding for the first time, there is something here for every style and skill level. Mountain biking out here promises picture-perfect views on every turn, endless opportunities to spot wildlife, as well as chances to connect with locals that are often more than happy to help you plan your rides.
Please see our Mountain Biking page to learn more about specific mountain bike trails along the Gold Rush Trail.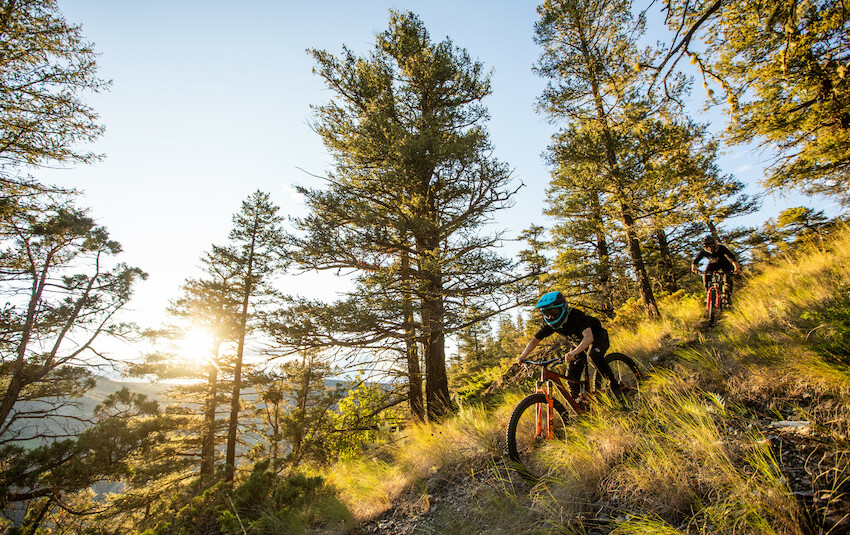 Stay & Play: Echo Valley Ranch & Spa offers guests guided or self-guided mountain bike tours which include rentals. For more information, see here.
Stay & Play: Adventurous backcountry mountain-bikers can opt to go for a guided or unguided floatplane or helicopter drop with Tyax Adventures. We highly suggest booking one of their world-renowned, flight-assisted, multi-day backcountry mountain bike adventures. Learn more about Tyax.
Stay & Play: Chilcotin Holidays offers ranch and hut-based mountain bike tours as well as packhorse-assisted trips! Learn more about riding in the South Chilcotin.
Stay & Play: A stay at Siwash Lake Wilderness Resort includes the free use of mountain bikes that you can take for a self-guided ride around the 10,000 acres of trails. For more information, see here.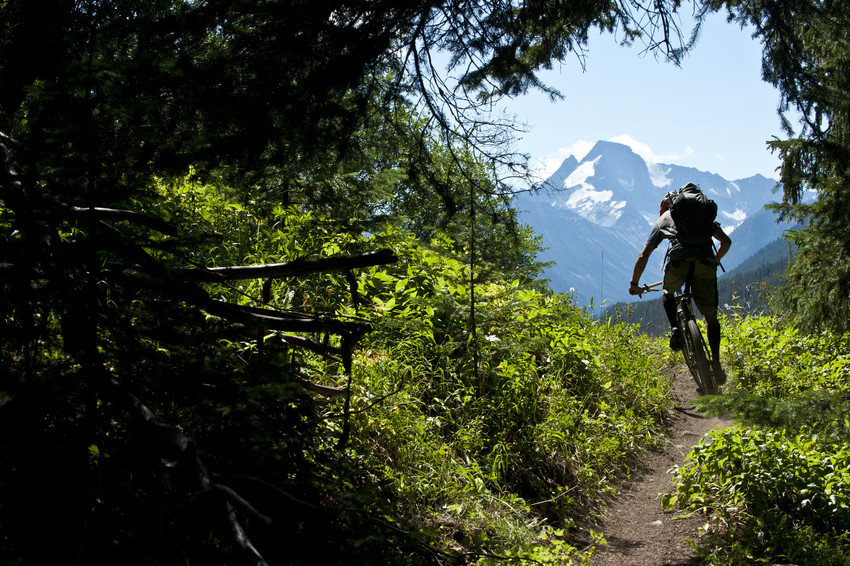 Please remember that the land within this region lies on Traditional Territory. We encourage you to learn about the land you are riding on and to do so with a soft footprint, respecting those who came before you.
Bike Rentals:
Old Bridge E-Bike Rentals, Lillooet
Cycle Logic, Williams Lake
Fraser Valley E-Cycle, Langley
Beckers Lodge, Bowron Lake