The terrain and quality trail systems offer distinct, unique experiences that encompass river valleys, rugged canyons, mountain peaks, logging roads, steeps, ramps and single-track ridges.
Many in the North American mountain-biking community consider this region the "unofficial mountain biking capital of Canada," with unlimited riding for leisure bikers and adventure-seeking free riders. It's possible to spend an entire summer here without setting a wheel in the same place twice, many of these trails and communities have uncrowded trails, friendly locals, and a long biking season. From canyons and valleys, to gravel roads, forests and mountains, this vast region of BC has something for all levels and preferences of riders.
SOUTH CHILCOTIN
In the South Chilcotin, Spruce Lake has epic grassland riding through alpine and sub-alpine meadows, skirting spectacular freshwater lakes in the South Chilcotin Mountains Provincial Park. With interconnecting trail systems and over 200 km (124 mi) of trails winding through broad valleys, alpine meadows and ridges, the region offers an excellent variety of loop trips of varying difficulty and distances. Visitors to this park will have an outstanding wilderness experience. The classic 26 km (16 mi) single-track Gun Creek Route gains elevation through a conifer forest mixed with aspen and cottonwood. Also popular are the South Tyaughton Lake's 28 km (17 mi) Taylor-Pearson loop and the 44 km (27 mi) High Trail Loop into Windy Pass.
Stay & Play: Adventurous, backcountry mountain bikers can opt to go for a guided or unguided floatplane or helicopter drop with Tyax Adventures. With over 20 years of experience guiding in the South Chilcotin Mountains, Tyax Adventures customizes every trip to meet the dreams, desires, and skills of its guests. We highly suggest booking one of their world-renowned, flight-assisted, multi-day backcountry mountain bike adventures. Learn more about Tyax.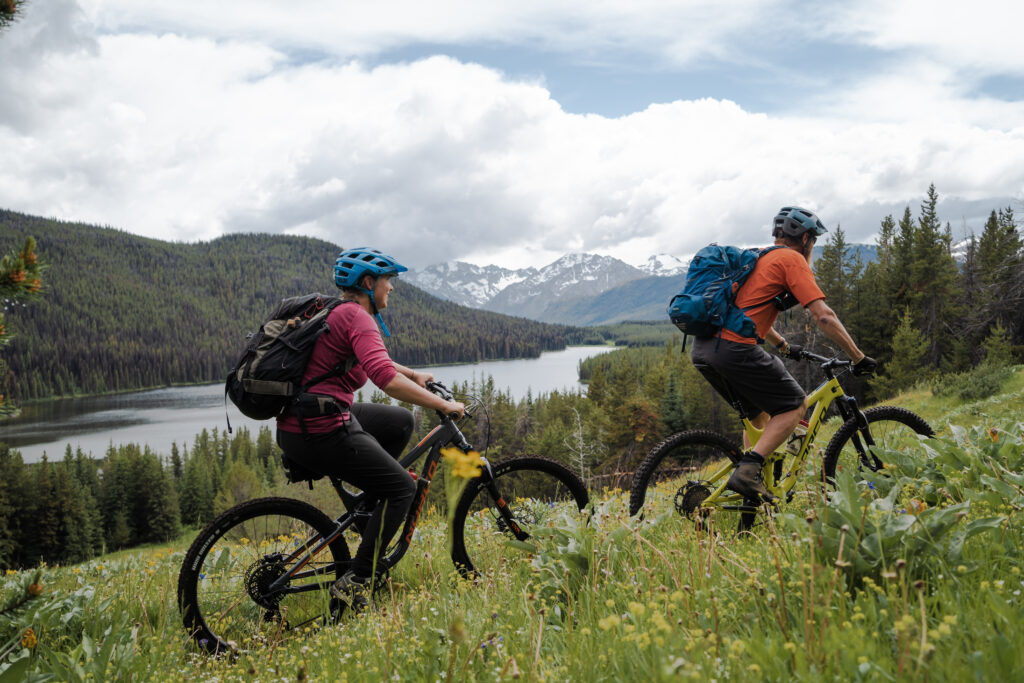 Stay & Play: Chilcotin Holidays offers ranch and hut-based mountain bike tours as well as packhorse-assisted trips! Learn more about riding in the South Chilcotin.
Park visitors should familiarize themselves with proper trail etiquette when there are multiple trail users. Cyclists must yield to all other trail users and hikers yield to horses.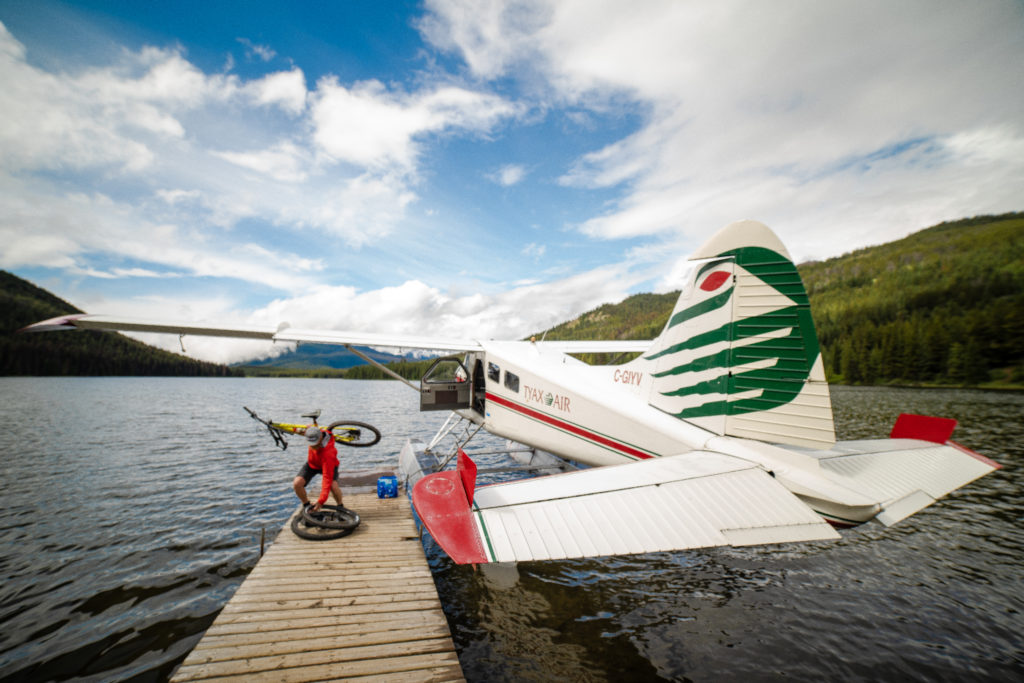 100 MILE HOUSE AREA
The 100 Mile House area has hundreds of kilometres of marked and unmarked backcountry trails crisscrossing the plateau. The 108 Mile Trail Network is an extensive cross-country single-track system that starts at the 108 Mile Heritage Site. The 25 trails here are a blend of intermediate and beginner with a few expert sections. Learn more about the trails in and around 100 Mile House.
WILLIAMS LAKE
Bike Magazine refers to Williams Lake as North America's "Shangri-La of mountain biking." The 200-plus tracks and trails around the city offer the choice of tackling technical loops and hours of exploring on many easy-riding trails. Fox Mountain Trail Network has 28 trails totalling over 45 km (28 mi) of singletrack. The network is 28% beginner, 37% intermediate, and 40% advanced. Experienced mountain bikers will love the Desous Trail Network's 3500 ft (1067 m) descents. With huge lines and no real easy way down, prepare for epic riding here! Westsyde offers 40 trails with over 97 km (60 mi) of singletrack, perfect for intermediate to advanced riders and beginners. Its legendary Box Trail loop is loved for its view of the Fraser River. The Westsyde network also hosts some of Williams Lake's most progressive free-riding. If you're looking for some easier trails scattered amongst black diamonds, the South Lakeside cross-country area is a great option. Be sure also to check out the new Chief Will Yum trails. You also can't miss a visit to downtown's Boitanio Bike Park, which covers more than 4hec/10ac and is the largest of its kind in B.C.'s Interior, with six major jump lines, flow trails, log work and a pump track and drop zone.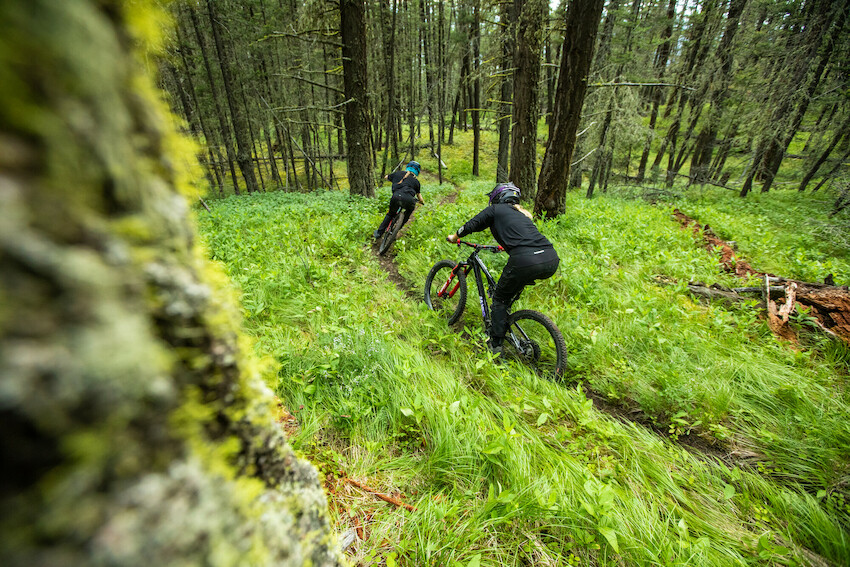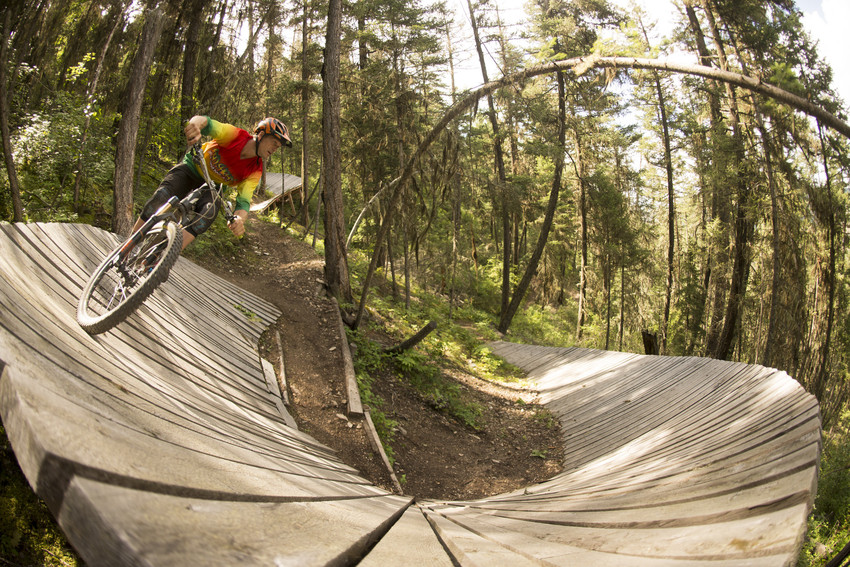 You can learn more about riding in Williams Lake at Mountain Biking BC or on Trailforks.
QUESNEL
Whether you're new to mountain biking or a seasoned vet, Quesnel has something for everyone. Shuttle up or challenge yourself to a climb to the top of Dragon Mountain. Take in the panoramic views before you take to the infinite looping trails. Experienced riders will love the gnarly rocky terrain, and for the beginners amongst you, there are lots of gentle rides as well. Located just minutes from downtown, the Wonderland trail network features stunning views of Dragon Lake. The accessible yet still challenging bike trail of Mucho Oro is a 1.9 km (1.2 mi) machine-built trail which is suitable for beginner and intermediate riders but can also be enjoyable for the most skilled mountain biker. It winds from side to side across the hill overlooking Dragon Lake, with berms and rugged wooden features located intermittently. For those looking to perfect their park skills, Quesnel Adventure Skills Bike Park includes a freestyle section, pump track, kid's area and features that challenge riders of all skill levels.
WELLS/BARKERVILLE
The Wells-Barkerville area offers some of the most extraordinary trails in B.C., from gentle boardwalk trails through quiet wetlands to day-long mountain expeditions in stunning alpine terrain. Be sure to check out the Wells Barkerville Trail Network and learn more about riding in and visiting Wells.
The area has one of the most incredible trail networks in the province, offering hundreds of kilometers of trails, through a variety of diverse ecosystems. Some of these trails were constructed before British Columbia was a province – history is infused in our trails and much of the landscape in the same condition it was in when the explorers arrived.
While the mountain biking trails are nearly limitless consider leaving ample time to explore the vibrant, artsy community of Wells and Barkerville Historic Town.
LILLOOET
Ideal for experienced mountain bikers looking for challenging terrain, Lillooet is home to four epic trails. The most popular is Della Creek, a 5.3 km (3 mi) black diamond-rated singletrack. The trail has three distinct portions. The top portion (hike-a-bike access) starts at 8376 ft (2553 m) in the alpine and descends to 4921 ft (1500 m). The middle portion (pedal access) starts in the subalpine at 4,960 ft (1500 m). The bottom portion (shuttle access) starts at 4,166 ft (1270 m) and descends to 1,141 ft (348 m). Learn more about Lillooet's Della Creek as well as Middle Della, Upper Della, and the Seton Ridge trail.
CLINTON
Along with exceptional mountain biking, this region is also quickly growing in popularity as a gravel riding destination. Dubbed the new Frontier of Gravel; Clinton, in particular, has been recognized as having the best gravel riding in the world. Thanks to its huge array of gravel roads stretching for miles over rolling hills and deep valleys, you can easily choose your own routes, whether they be long, gruelling 200+ km rides or shorter scenic routes to places like Chasm Provincial Park. There are also great mountain bike trails, such as Lost Marbles, Tin Can Trail, and Fennell Trail. Learn more about the trails in Clinton.
Stay and Play: Tutti Gravel Inn is the original and premiere gravel bike hotel in B.C. Designed to give gravel cyclists an inclusive and fun place to stay between rides in and around Clinton, Tutti Gravel Inn is a must-visit for cycling enthusiasts.
Feel free to explore more Gold Rush Trail and area mountain biking trails on Landwithoutlimits.com
Please remember that the areas mentioned within this article lie on Traditional Territory. We encourage you to learn about the land you are riding on and to do so with a soft footprint, respecting those who came before you.