Gone are the days of loading your pack mule to the seams with canvas tents, pickaxes, and tin pots before setting out on your fevered pursuit of Cariboo Gold
Cutting through the Fraser Canyon and beyond, the Gold Rush Trail is spotted with camping locations that range from rustic, backcountry expeditions to glamping services with full hookups. Provincial parks, along with plenty of privately owned sites, offer space to pitch your tent or park your RV for uniquely Gold Rush Trail experiences.
Camping along the Gold Rush Trail comes in many shapes and sizes, from luxury RV touring, to backcountry tenting, or just some good old-fashioned family camping, every spot offers something different and is guaranteed to inspire good times and that sense of getting off the beaten path.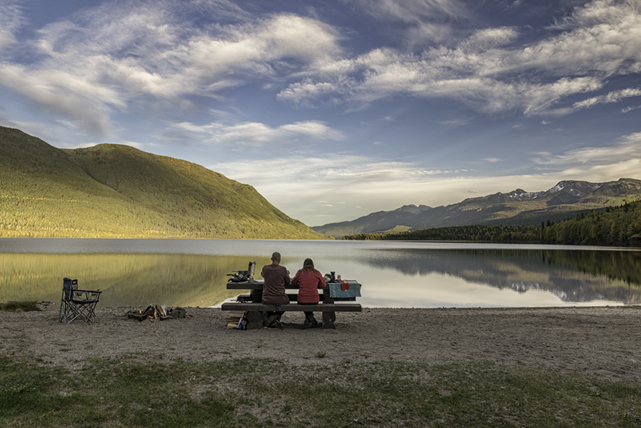 a few highlights:
Skihist Provincial Park

Open for the spring and summer months, Skihist Provincial Park is located just outside Lytton and affords travelers stunning views of the canyon and nearby Thompson river. With a total of 58 rec camping sites, as well as 4 hike-in sights, there is a spot for every type of camper, not to mention activities in abundance. Opportunities to canoe, cycle, fish, hike, and spot wild creatures are part of what makes this park the perfect stop. The diversity of activities available means the fun never has to run out.

Stein Valley Nlaka'pamux Heritage Park

A wilderness park with spectacular scenery that is full of cultural and spiritual value, the Stein Valley Nlaka'pamux Heritage Park contains 150km of hiking trails and plenty of sites for wilderness campers, as well as picnic sites for the gentler adventurers. This park is an outdoor playground for hikers, canoers, fishermen, and hunters alike.

Marble Canyon Provincial Park

Nestled between Turquoise and Crown Lakes, this park is closeby both Lillooet and Historic Hat Creek which makes it a perfect home-base for Gold Rush Trail adventures. No reservations are accepted for the Park's vehicle/tent accessible sites, however, there is plenty of room with 30 sites in total. One of the greatest draws to Marble Canyon is the unreal climbing opportunities all year long.

Willow Springs Resort

Just outside the quaint and uniquely western village of Clinton, the Willow Springs Campground Resort is a great little place to pull in for a night or two. A small lake means water activities for all, hot showers, laundry, and wifi makes it an excellent campground to stop and reset for the rest of your travels. Making a reservation ahead of time guarantees you a site on arrival.

Lac la Hache – There is beach access available at both private and provincial campgrounds off Highway 97.
Fishing Highway & Land Of Hidden Waters
Green Lake Provincial Park

One of the best lakes in the region for water sport activities, Green Lake has 11 separate sites available for camping and other activities. 3 of these sites offer vehicle accessible camping and the rest are for day use and recreational activities. Green Lake Provincial Park is perfect for large parties as it offers group camping opportunities, campfire sites, and ample space to spread out and enjoy!

Chief Will-Yum RV Campsite

Located 10km south of the City of Williams Lake, the Chief Will-Yum RV Campsite is a convenient location for all your local activities including swimming, hiking, golfing, fishing, mountain biking and many more.

Horsefly and Quesnel Lake

Cedar Point Provincial Park

Surrounded by old-growth cedar trees on the banks of glacier-fed Quesnel Lake, Cedar Point Provincial Park is a totally unique stop for travelers looking for a place to explore nature and the history of the area. One of the park's most unique features is its outdoor mining museum that features mock shafts, horizontal mine shaft entryways, and retired machinery. The park also offers vehicle accessible camping.

Barkerville Historic Town & Park Campground

The bustling, busy streets of BC's historic gold rush townsite take more than a day to explore and take it all in. Check out the nearby campsites offering spacious spots nestled in between captivating scenery, and extra close to all kinds of activities.

Bowron Lake Provincial Park campsites offer dramatic views of the Cariboo Mountains with canoe and kayak rentals available to tackle one of the world's top canoe circuit.
Geocaching is another great way to uncover "hidden" wilderness vistas while touring, with adventurers using GPS devices to find hidden containers called geocaches. One such cache – a metal cylinder with a logbook and pencil enclosed – is hidden at Clayton Falls near Bella Coola. In Likely, a "cacher" has stashed "treasures fit for a kid" in a location where trappers once gathered and historic machinery is now displayed. Perhaps the most creative geocaches, though, are those found through Gold Country's GeoTourism program – featuring caches in Lillooet and throughout the South Cariboo. In the West Chilcotin, the new Freedom Highway series of caches is also popular with geocaching enthusiasts.