DEPART ON A UNIQUE GOLD RUSH TRAIL WINTER ADVENTURE. THINK COZY CABINS, SUNNY DAYS AND POWDER FOR MILES!
Visit a guest ranch or lodge, stay in a cozy cabin, or take on some winter camping as you visit wide open spaces filled with winter activity opportunities. Find fantastic snow conditions from mid-December to mid-March, perfect for downhill skiing, cross-country skiing, dogsledding, snowmobiling, wildlife-viewing, and much more. As the temperatures settle below freezing, strap on a pair of snowshoes and head into the woods to find the perfect ice-fishing lake, or plan a family getaway enjoying classic Canadian winter activities like skating or touring by horse-drawn sleigh or dogsled.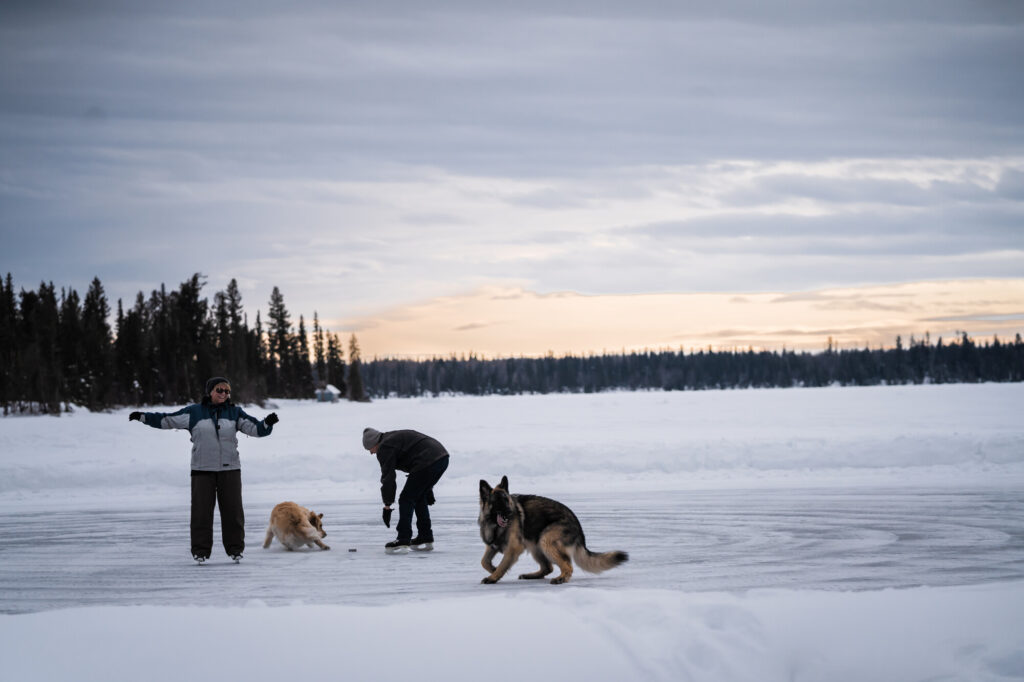 Downhill Skiing, Snowboarding, Cross Country Skiing, Ski Touring & Heli-Skiing
Take to the trails with a pair of skis and enjoy exceptional trail systems and lengthy groomed networks that you can explore at your leisure. For family-friendly downhill ski days, visit Sasquatch Mountain Resort near Harrison Mills, Mt. Timothy Ski Resort near Lac La Hache and longtime locals favourite in the Quesnel area, Troll Ski Resort. For nordic skiing facilities, be sure to add 100 Mile Nordics and Williams Lake Cross Country Ski Club to your list. And for the ultimate ski trip, take a look at a heliskiing vacation to find the ultimate powder and maximum vertical. You can learn everything you need to know about skiing the Gold Rush Trail at:
4 Ways to Ski the Gold Rush Trail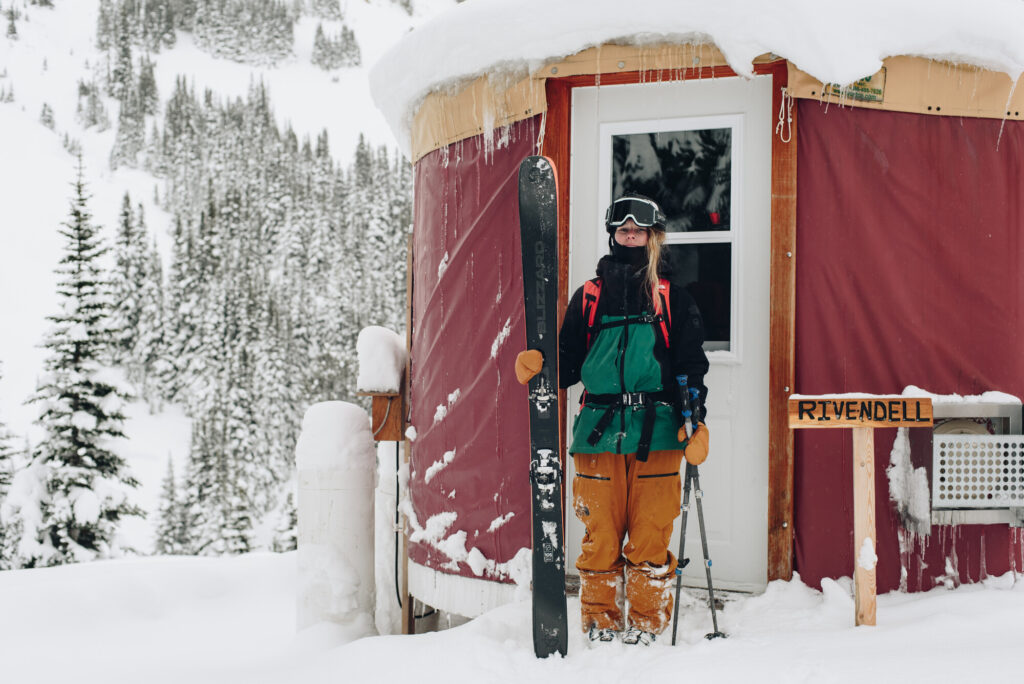 Stay & Play: Whitecap Alpine, Chilcotin Holidays, Whitegold Adventures, Tyax Lodge & Heli-Skiing, Silvertip Lodge & Heli-Skiing, & Mt. Timothy Ski Resort.
Ice Climbing
It's park-and-climb at Marble Canyon Provincial Park in the Pavilion Mountain Range near Lillooet, where the roadside icefalls are some of the most thrilling and accessible in western Canada. For a guided experience, book with the Canada West Mountain School. At the end of the day, curl up with a good book and a blanket by the fire in your cabin, chalet or lodge and rest up for more adventure in the morning!
Snowmobiling
Sled-hounds flock here from across North America for the wide-open spaces, abundant hill-climbs and extensive trail networks, some of them linking historic towns that are scattered about the region like gold nuggets. Snowmobilers can delight in the sheer magnitude of authorized trails waiting to be explored, including alpine peaks, noble forests, and lake tours. Try out the Gold Rush Snowmobile Trail, 170 km/106 mi long taking you from 70 Mile House to Horsefly. Other clubs and trails to check out are Wells Snowmobile Club, Williams Lake Powder Kings Snowmobile Club, and the Bralorne trails. Learn more at:
Stay & Play: Bralorne Adventure Lodge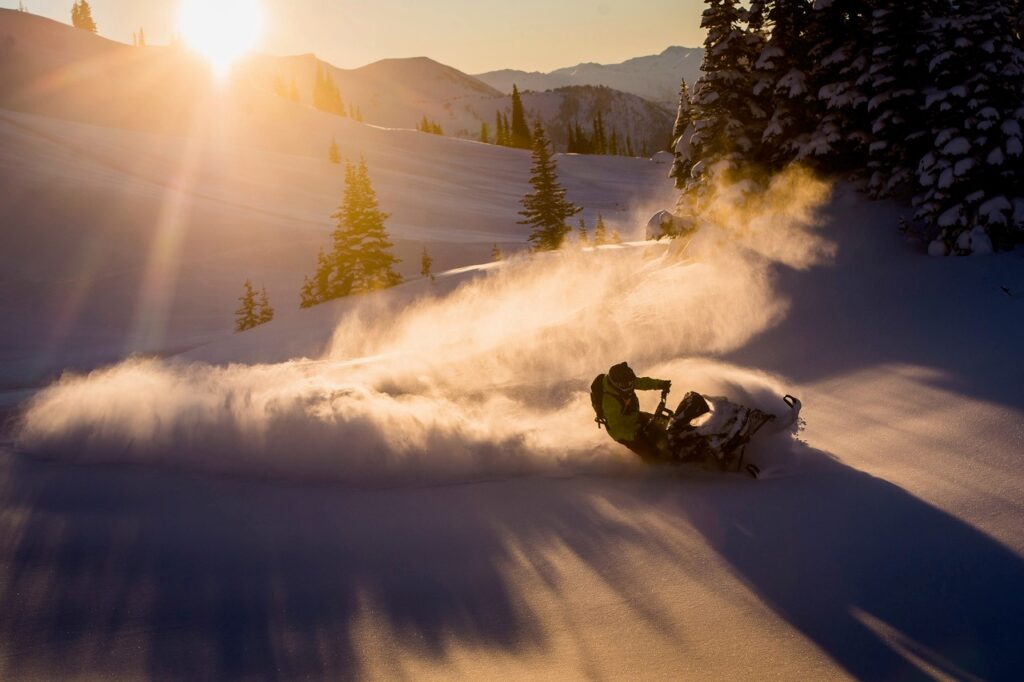 Snowshoeing
Loved for its affordability, ease, and plethora of health benefits, snowshoeing is a great way to enjoy the magic of winter without having to commit to lots of equipment or time. While you can find trail information within our Winter Trails story, what's great about snowshoeing is that you can pretty much do it anywhere that has snow coverage! You can find rentals at many outdoor sporting stores as well as at local ski facilities (please call ahead to confirm) or even purchase your own set from places like Costco or Mec.
Ice-Fishing
Thanks to our vast number of lakes and not terribly cold winter temperatures, ice fishing is a popular activity for locals and visitors alike. Many of the lakes out here are easily accessible during winter via plowed roads and some of the larger lakes even have lodges so that you can stay a while and really take it all in. If you prefer a more rugged experience, many have no services at all and even require a snowmobile ride or snowshoe in. Perhaps best of all about ice fishing out here, there's lots to catch and no angling pressure, making it great for first-timers. 100 Mile House's Canim Lake, Quesnel's Dragon Lake, and Williams Lake's Reservoir Lake are 3 popular ones to check out. Within the Land of Hidden Waters region, favourites include Irish Lake, Loon Lake, Bridge Lake, Lac La Hache, Hathaway Lake, and Horse Lake.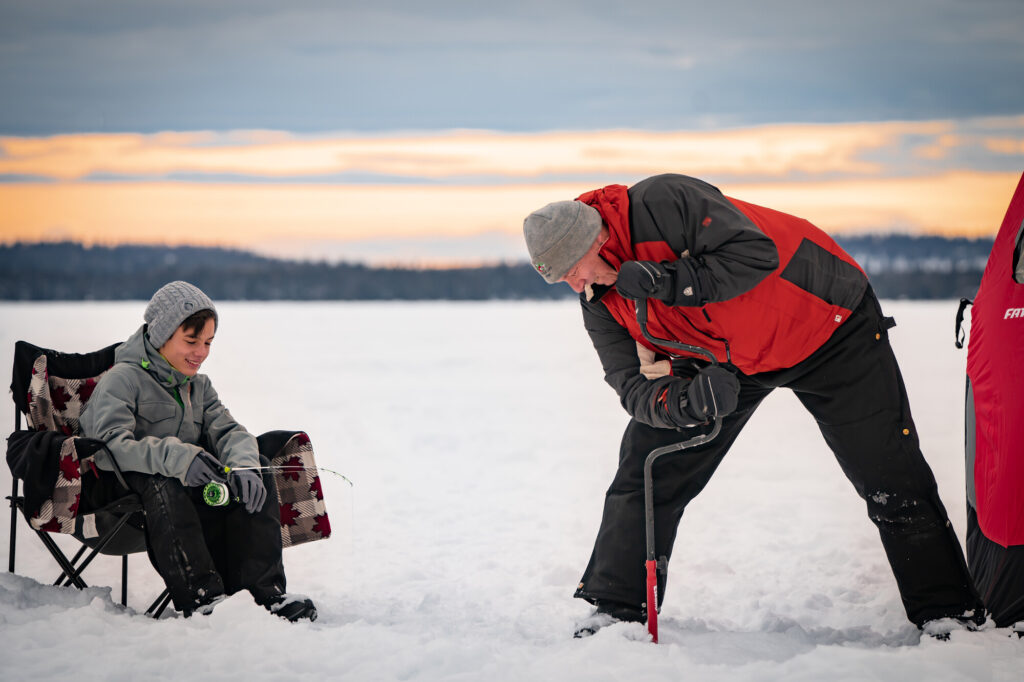 Other Family Activities
Winter with kids can be challenging, what with trying to make sure everyone is warm enough, fed enough, and entertained enough. And while we can't necessarily ensure the first two, thankfully the Gold Rush Trail has plenty of immersive activities to keep everyone amused this winter season. For non-skier families or those looking for other unique and affordable experiences, ice-skating or playing hockey on a frozen lake, building snow people outside your own private log cabin, witnessing dog sleds charge past during the Sled Dog Mail Run event, or bundling up for a ride aboard a horse-drawn sleigh at Barkerville Historic Town & Park, Spring Lake Ranch, or Wettstone Guest Ranch can be great ways to create long-lasting memories for the whole family. Learn more about family getaways along the Gold Rush Trail at:
Top Worry-Free Winter Getaways for Families