From the early days of gold prospectors seeking refuge and warmth to present-time visitors searching for an urban escape, warm and cozy cabins are something we've always known best. Step back in time and venture to British Columbia's most quaint cabin escapes located along the Gold Rush Trail.
Whether it's for a weekend or a week, our cabins start at under $100/night and provide an affordable action-packed escape with the family or slow-paced romantic time away with your loved one. Think log cabins, cozy fireplaces (and sometimes saunas or hot tubs!), vibrant sunrises and sunsets, dark starry skies, hiking, wildlife viewing, quintessential Canadian activities, and peaceful, uninterrupted wilderness.
In order of our journey legs, here are the Gold Rush Trail's best cozy cabins for a nearby escape:
1. The Rockwell Harrison Guest Lodge B&B, Harrison Hot Springs
Resting between the shores of the picturesque Harrison Lake and the forests of Sasquatch Provincial Park is the magnificent Rockwell Harrison Guest Lodge B&B. Just under a two-hour drive from Vancouver on Leg 1 of the Gold Rush Trail, this adults-only retreat is ideal for a quick rejuvenating getaway or an adventurous escape. Spend your days here hiking the abundance of local, uncrowded trails, skiing at nearby Sasquatch Resort or Manning Park Resort in the winter, exploring the local circle farm tour, or simply relaxing in the rustic-chic chalet. With three luxury guest suites to choose from and exceptional meals that are locally sourced, garden-grown and home-cooked with care, Rockwell Harrison is the perfect choice for your next getaway destination.
2. Blue Lake Resort, Boston Bar
Just past Boston Bar on Leg 2 of the Gold Rush Trail, Blue Lake Resort feels like being in the middle of complete wilderness despite only being 3 hours from Vancouver. Don't let the steep road up to the resort scare you off, as once you've arrived, it's a rustic and relaxing wonderland. Choose from one of their simplistic 2-6 person lakefront cabins, or, if you're searching for an awesome family reunion spot, book their 22-person lodge, complete with 11 bedrooms, 5 bathrooms, a large kitchen, and even a hot tub!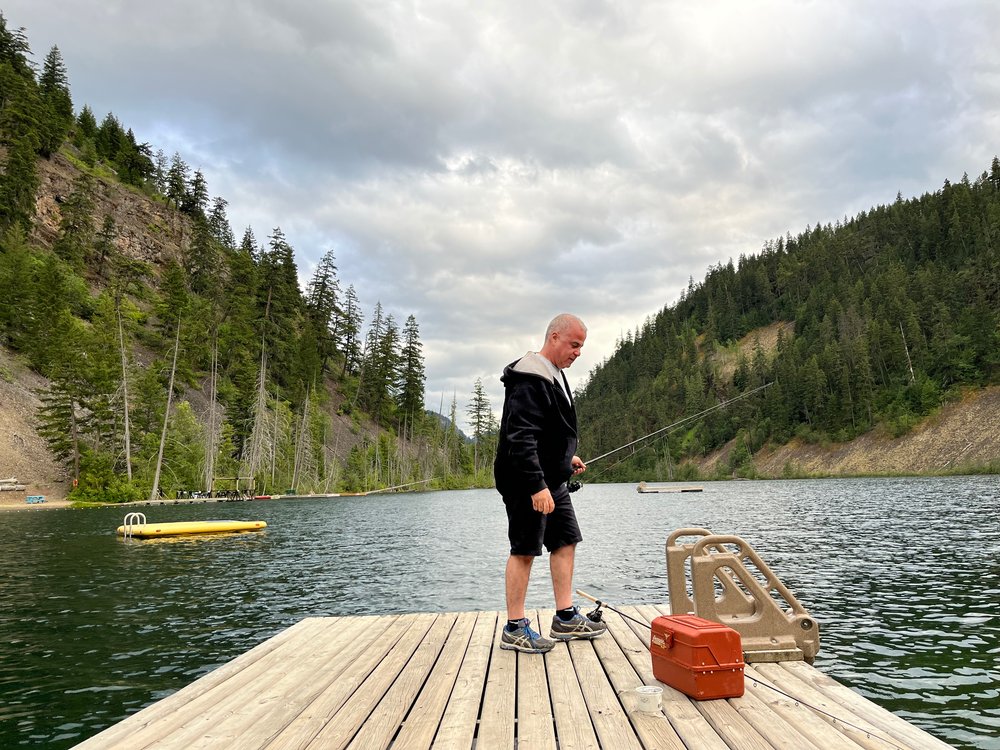 3. Bralorne Adventure Lodge, Bralorne
Looking for a place where you and your crew can reconnect while enjoying epic adventures? Look no further than Bralorne Adventure Lodge on Leg 4 of the Gold Rush Trail. Located near the tiny, historic gold mining town of Bralorne, this 8-guest cabin is perfect for an escape with your close family or friends. A true four-season destination, you can expect to spend your winter days snowshoeing, ski/snowboard touring, ice skating and even going on guided or self-guided snowmobiling tours. The fall season is one of the best times to visit for unreal dirt biking, mountain biking, hiking and ATVing. And of course, summer and spring are loved for the warmer temperatures, beautiful flowers, and epic outdoor adventures. If that doesn't sound memorable enough, you can choose to have your stay entirely catered! Be spoiled with gourmet meals and après snacks provided to you by your very own private chef. To top it all off, their 'backyard spa' features a cold plunge pool, a wood-fired sauna, and a wood-fired hot tub for you to enjoy after a day of adventures!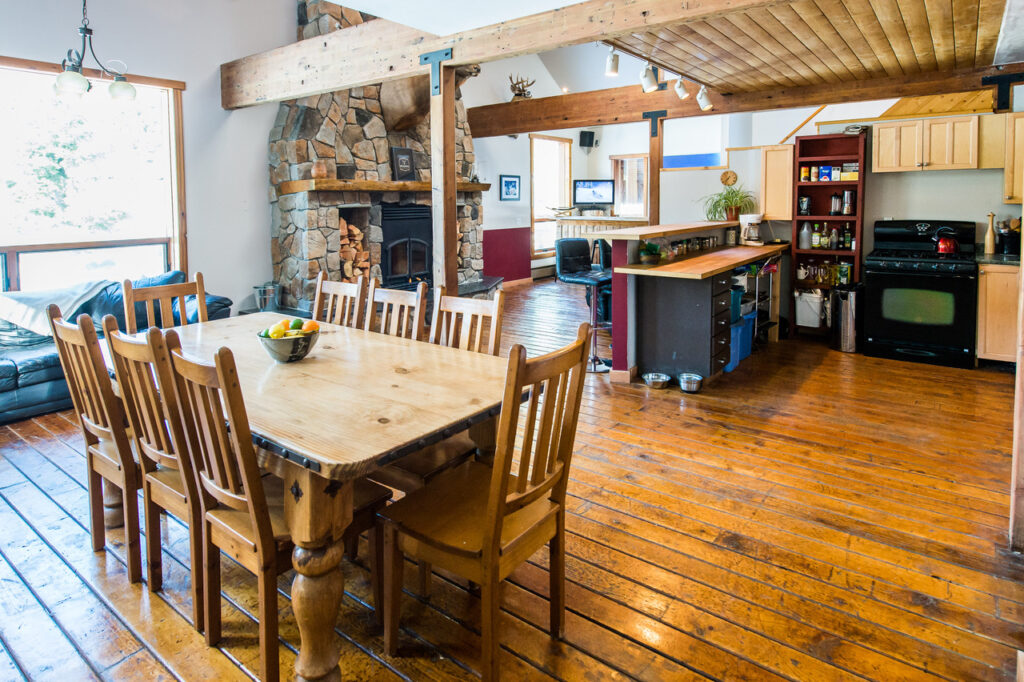 4. Chilcotin Holidays, Gold Bridge
Acting as a gateway to the incredible South Chilcotin Mountains, Chilcotin Holidays on Leg 4 of the Gold Rush Trail is your hub for wilderness adventures. Their log cabins are the perfect base from which you can explore the Chilcotin Mountains by doing various activities such as hiking, wildlife viewing, skiing, fishing, snowmobiling or horseback riding. The perfect opportunity to disconnect from the city and reconnect to yourself and nature. You can also explore the remote backcountry by renting one of their rustic mountain cabins or choose from a wide variety of guided tours that are available for all experience levels. All their operations are focused on conservation and stewardship, so a stay with Chilcotin Holidays will provide you with the opportunity to participate in various action research projects.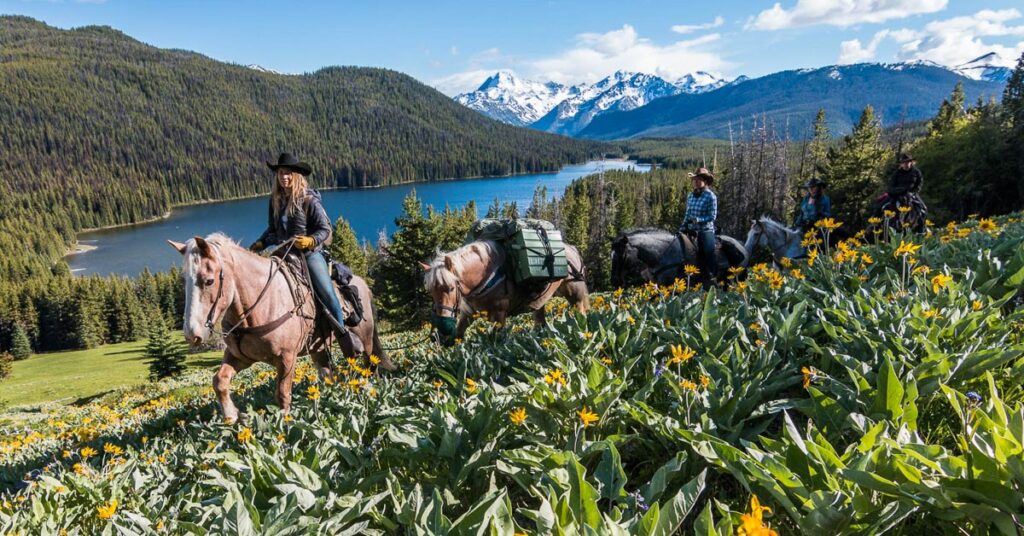 5. TYAX LODGE & HELISKIING, GOLD BRIDGE
Also located on Leg 4 of the Gold Rush Trail and more specifically the beachy shores of the spectacular Tyaughton Lake, Tyax Lodge is a premier destination for backcountry adventure. Activities here include but are not limited to paddling, mountain biking, wildlife trips, flightseeing float plane tours, and superb mountain lake fishing. Despite its remoteness, the resort is filled with luxurious amenities such as tennis and volleyball courts, outdoor hot tubs and spa facilities. While in the winter and summer you can stay in their gorgeous main lodge, during the fall they only have self-service chalets available to book. The chalets are perfect for groups of friends or families looking for a luxurious and private wilderness getaway.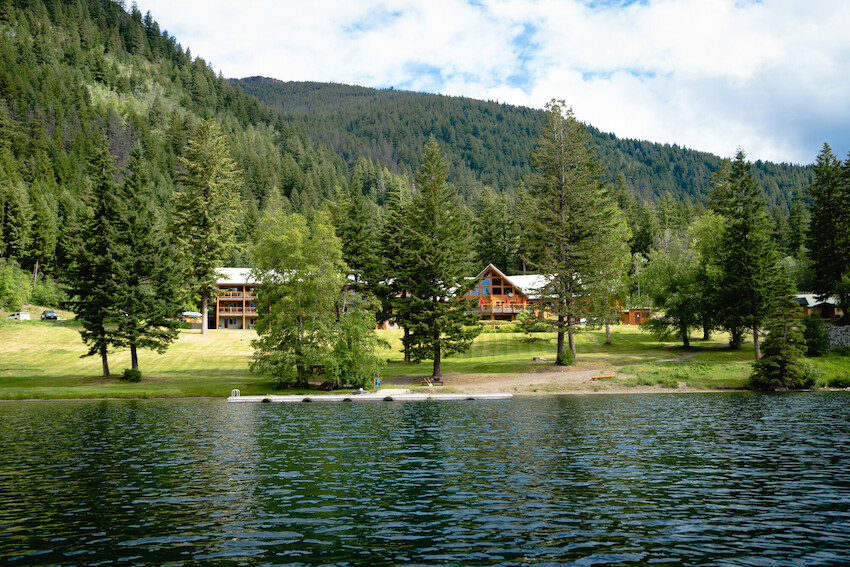 6. Echo Valley Ranch & Spa, Clinton
If you're in need of a luxurious getaway that promises both relaxation and exhilaration, look no further than Echo Valley Ranch & Spa located on Leg 6 of the Gold Rush Trail. With numerous awards and accolades including being a Canadian Signature Experience, you can book easy knowing that every part of your stay is thought out to perfection. Spend your days exploring amongst hundreds of acres of pristine wilderness. Or, perhaps you'd prefer to unwind with one of their impeccable spa treatments. Complete your experience with exceptional catered meals and then snuggle up at night beneath a blanket of dazzling stars free from any light pollution.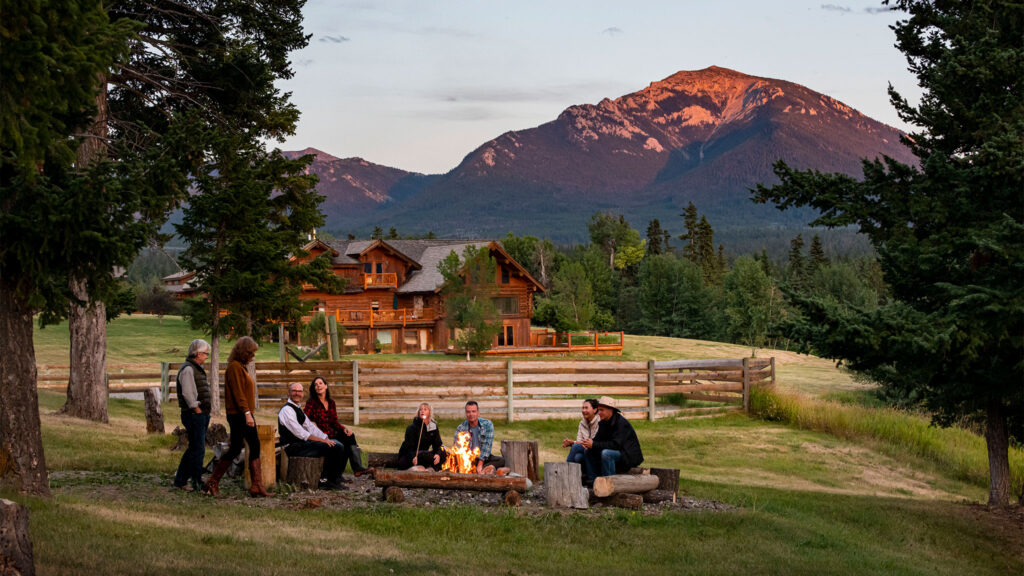 7. Big Bar Guest Ranch, Clinton
If the ranch life is still tempting you, Big Bar Guest Ranch, also on Leg 6 of the Gold Rush Trail, is another amazing option that has three gorgeous log cabins. Owned by the Stswecem'c Xgat'tem First Nation (St-wet-lem hight-lem), here you'll find traditional Indigenous experiences interwoven with the day-to-day ranch life of a wrangler. Each cozy chalet features a private porch where you can take in the expansive view of the valley and lake. Located an hour's drive from the closest town of Clinton, and with very limited internet and cell phone reception, a stay at Big Bar promises a disconnection from any stresses of your day-to-day.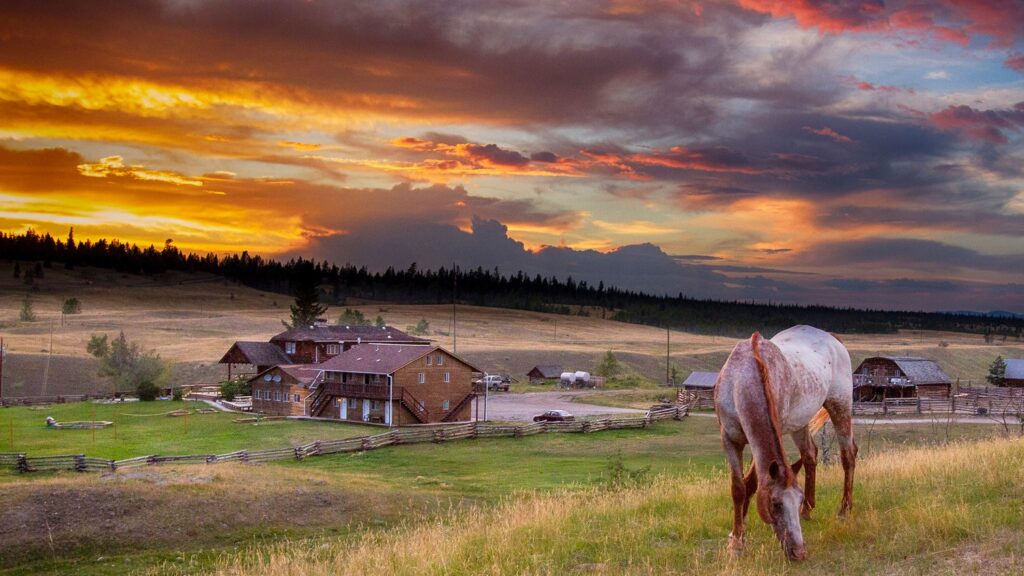 8. WIND AND THE PILLOWS B&B AND RESORT, 70 MILE HOUSE
Wind and the Pillows is a Cariboo country retreat located at the far western end of the emerald-coloured Green Lake and surrounded by miles of pristine parkland. Along with the classic resort activities like cross-country skiing in the winter and swimming and boating in the summer, sunrise and sunsets here are some of the most beautiful in the world and in the fall, you might even get the chance to experience the Northern Lights on clear nights from their cabins.
9. Fawn lake resort, lone butte
This lakefront resort is perfect for those looking for an affordable and secluded cabin getaway. At Fawn Lake Resort, lake activities are right outside your doorstep. The best part is that the lake is small and this resort is the only one on it! Choose from a variety of different cabin options but please be advised that during the winter, they are winterized and do not have running water (there is a heated shower house available to all guests).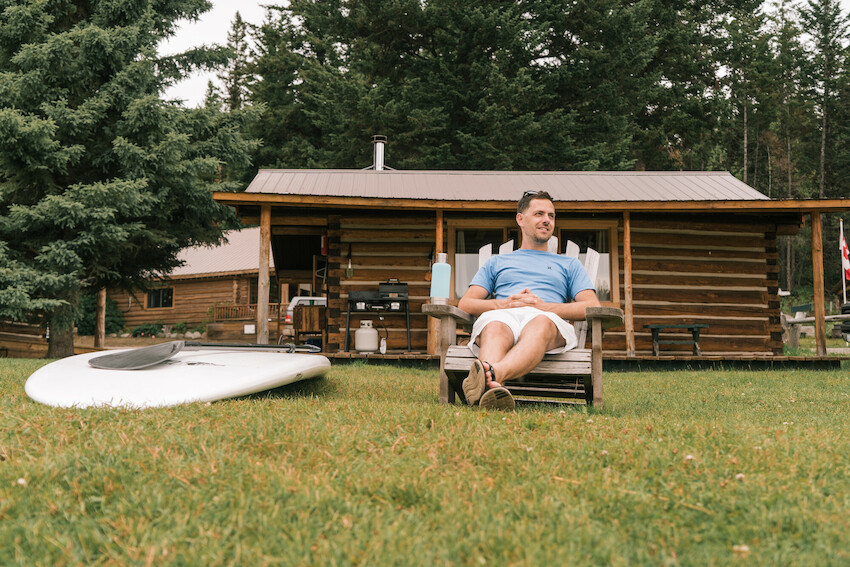 10. Loon Bay Resort, Lone Butte
For a family and pet-friendly resort along Fishing Highway 24, check out Loon Bay Resort. Located within a tranquil bay right on Sheridan Lake and with 600 metres of waterfront, spend your days here bird watching, swimming, paddling, boating, spending time with your kids on the playground or playing a round of bocce or beach volleyball. In the winter, their campsites close but there's an array of lakeview cabins that can accommodate between 2-5 people. While here, be sure to test out your angling skills whether it be on your own or with the help of a guided tour company like Lone Butte Fishing Adventures who do guided fishing trips in each season of the year, including ice fishing in winter!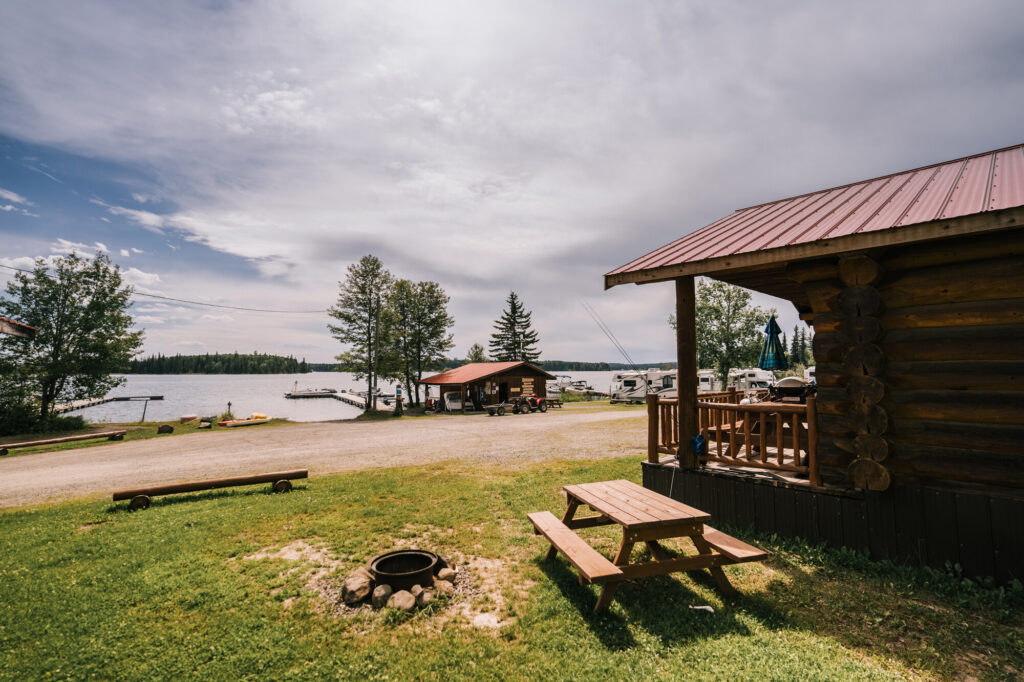 11. Sheridan Lake Resort, lone butte
Sheridan Lake Resort is a great basecamp for year-round adventure. In the winter, cross-country skiing, snowmobiling, winter hiking and snowshoeing are never far away and maybe best of all, skating and exceptional ice-fishing can be done right outside of your cabin. In the summer and fall months, fisherpeople from around the world flock here to catch the lake's trophy-sized Rainbow Trout. This relaxed and affordable resort is ideal for those looking to spend lots of time exploring the surrounding landscape.
12. Wettstone Guest Ranch, Bridge Lake
Time to head back to simpler times and experience wild west culture! Situated on Leg 6 of the Gold Rush Trail and nestled directly on Henley Lake is the authentic and affordable Wettstone Guest Ranch. Winter recreation activities here include all of the classics plus sleigh rides and even dog sledding. Summers are spent fishing, horseback riding, and they also offer dog training! With a chic lakeview chalet, rustic ranch house and romantic, traditional trapper's cabin to choose from, Wettstone is perfect for your ranch escape – plus, they're currently offering the 7th night free on bookings of their chalet!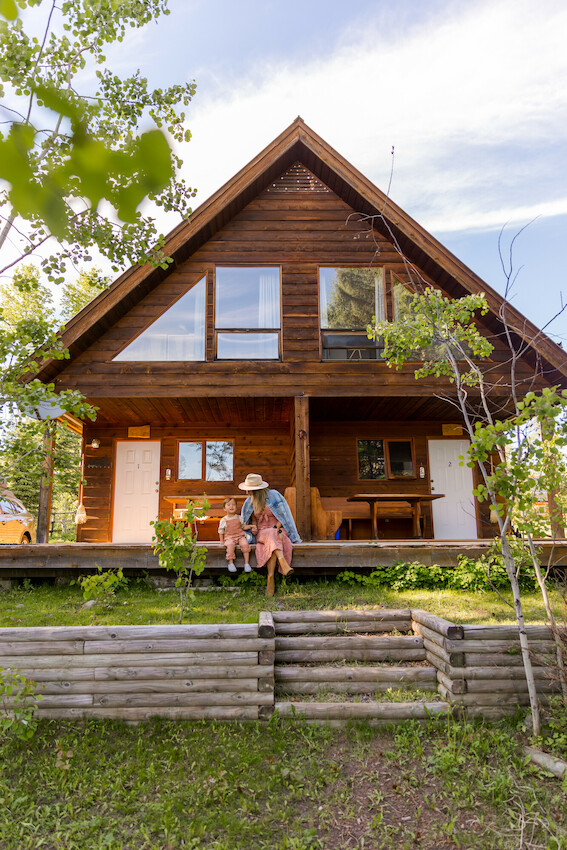 13. EAGAN LAKE RESORT, BRIDGE LAKE
Eagan Lake Resort is a family-oriented fishing resort located in a beautiful and quiet wilderness north of the Fishing Highway 24. As the only accommodation on Eagan Lake, you'll have first access to the lake's Kokanee and Rainbow Trout that reach up to six pounds! Choose from one of five family-size log cabins all perched on the lakeshore and surrounded by expansive forest. They even have a boat launch, rentals, and are pet friendly!

14. Little Black Bear Lodge B&B, Bridge Lake
If anyone knows how to do hospitality right, it's the Swiss and that's just who owns and operates Little Black Bear Lodge B&B. Perched on a hill with a spectacular view of the beautiful Bridge Lake, this 3-suite B&B is ideal for those looking for a relaxing stay along Fishing Highway 24 or a quick pit stop before exploring more of the Land of Hidden Waters region. While it's optional, we highly suggest booking the breakfast option as the cooking is divine – especially the Rösti!
15. Wolf Valley Guest Ranch, Bridge Lake
If you're looking to get away from the hustle and bustle and spend your vacation focusing on reconnecting with those closest to you, we recommend visiting Wolf Valley Guest Ranch. A gorgeous spot to escape to with your partner or family, choose from one of their cozy 2-4 person log cabins complete with lakefront views and no cell service! While the main lodge has wifi if you really need it, the thought of not being able to scroll during your stay is a breath of fresh air!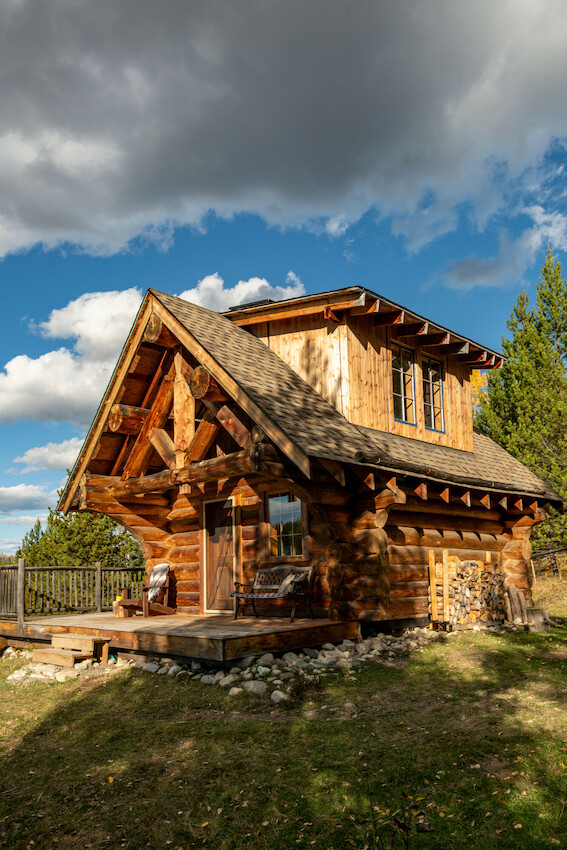 16. Spring Lake Ranch, 100 Mile House
Surrounded by a beautiful private lake and 10,000 acres of rolling forests and trails, Spring Lake Ranch on Leg 6 of the Gold Rush Trail is a family-friendly oasis. The outdoor wooden hot tub overlooks rolling hills and never-ending trees. Earn your soak by going hiking, canoeing, snowshoeing or cross-country skiing around the property's 600+ acres. Or perhaps you'd prefer a sleigh ride, toboggan adventure or even a family ice hockey game on the frozen lake in the winter.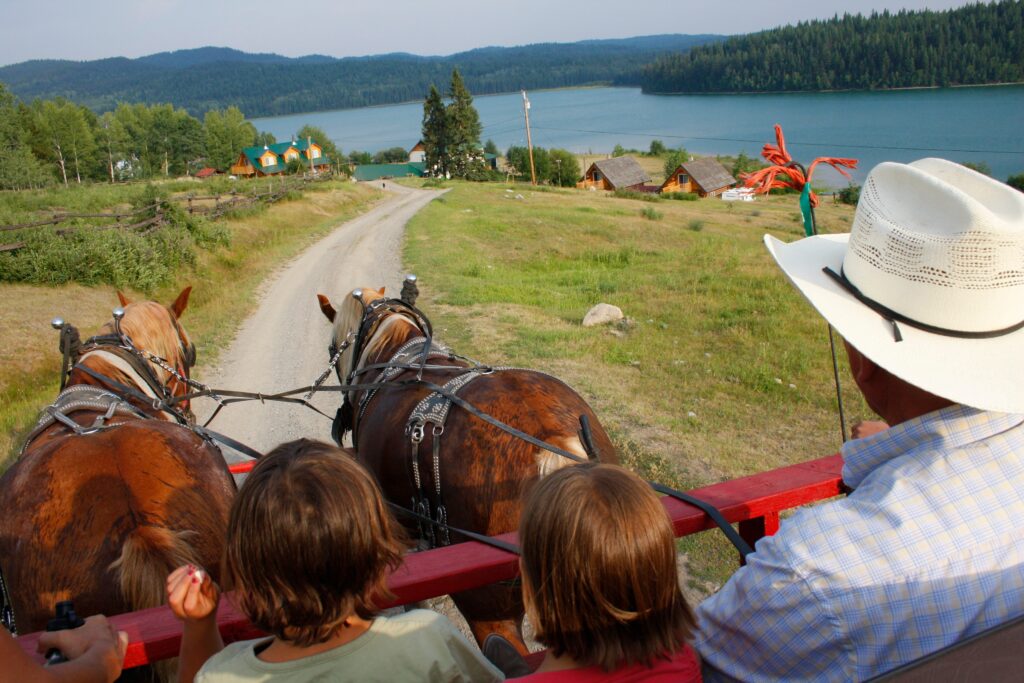 17. Ruth Lake Lodge, Forest Grove
With three quaint two-bedroom cabins to choose from, Ruth Lake Lodge is a great fit for your next affordable family staycation spot. Visitors love Ruth Lake during all seasons. Along with all of the classic outdoor activities, you can also expect to spend lots of quality time sitting by your cabin's private fire pit roasting s'mores and gazing up at the starry skies. Located on Leg 6 of the Gold Rush Trail, far from the distractions of the city, Ruth Lake Lodge is a terrific place to escape the everyday grind and take in the beauty of the South Cariboo.
18. South Point Resort, Canim Lake
South Point Resort on Leg 6 of the Gold Rush Trail, is a delightful resort that offers lakeside condos, modern cabins, plus RV and campsites. Sitting directly on Canim Lake, one of the largest lakes in the Cariboo region, South Point is loved by so many that it often gets fully booked quite early! Hike to the nearby Canim Falls, rent a watercraft, or plan to just enjoy over 650 feet of sandy beachfront and phenomenal lake views! Some years they open for the winter season so be sure to visit their website to discover some incredible discounts, specials and savings. Please note that South Point Resort is open through October. Listings #17 and #19 are just down the road from South Point and make a great option for stays later in the year.
19. KAYANARA Resort, Eagle Creek
Also located on Canim Lake and Leg 6 of the Gold Rush Trail, lies KAYANARA, a scenic resort ideal for escaping the encumbrances of urban life and rediscovering the magic of the South Cariboo. Bring your snowmobile and enjoy the winter playground, go kayaking on Eagle Creek adjacent to their property, or for a less intense adventure, spend your days snowshoeing or hiking on the resort's 7 km (4 mi) of trails. Complete your stay by cozying up by the fire with a good book in your private log home. Being about 45 minutes east of the nearest town of 100 Mile House and with tons of specials being offered throughout the year, KAYANARA is a great option for those really looking to get away from it all.
20. The cabins, Mt. Timothy Recreation Resort
Locally owned and operated since 1988, Mt. Timothy is a family-friendly recreation resort that has both great snow conditions and no line-ups at the lift. Equipped with all the essentials to be self-sufficient on the mountain, book an affordable stay at one of their 4-7 person log cabins. These ski-in and ski-out cabins are perfect for skiers and snowmobilers stopping through the area, as well as hunters in the fall or summer – some of the cabins are even pet-friendly!
21. Ten-ee-ah Lodge, Lac la Hache
Secluded in the wilderness of Spout Lake on Leg 6 of the Gold Rush Trail, Ten-ee-ah Lodge is a luxurious resort that offers deluxe cabins, all-inclusive meals, free use of canoes, kayaks, snowshoes, and cross-country skis. They even offer scenic floatplane trips, boat rentals, and horseback riding tours. Please note that they are only open for a Summer Season which is May 25th – September 30th and then during a Winter Season of December 20th – January 5th.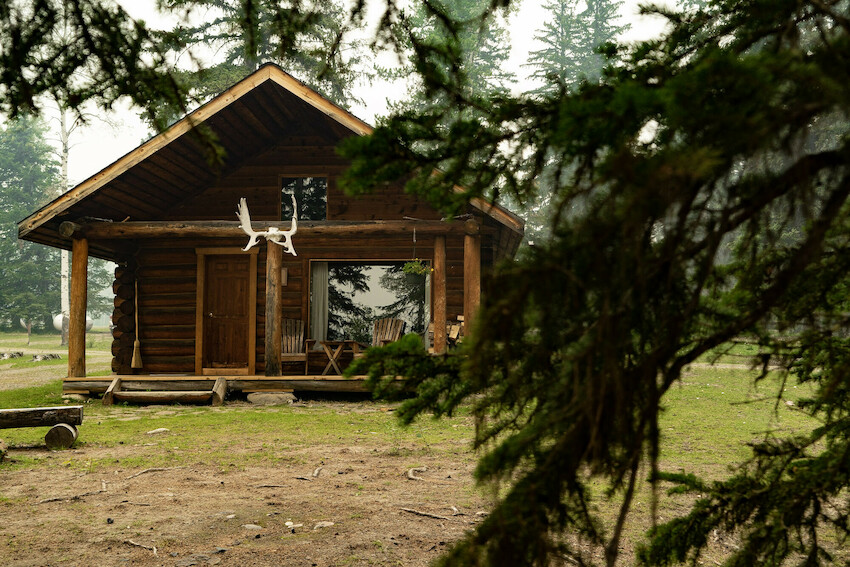 22. CROOKED LAKE RESORT, HORSEFLY
Crooked Lake Resort is a remote wilderness resort located on Leg 8 of the Gold Rush Trail. This lakeside resort features incredible views, toasty cabins and off-the-grid living. Expect to enjoy some well-needed seclusion and solitude, as they are the only open for business activity on Crooked Lake. Along with unbeatable back-country recreation that includes sledding, hunting, ATVing, cross-country skiing, kayaking, canoeing, skating, ice fishing, tobogganing and snowshoeing, you can also expect to spend your days here enjoying their 1000 ft of waterfront and 14 acres of green space.
23. LAKEVIEW ACRES AT MOREHEAD, LIKELY
Located on Leg 8 of the Gold Rush Trail near the historic 1860s Gold Rush community of Likely, and directly on the shores of Morehead Lake, lies the family-friendly Lakeview Acres at Morehead. You can stay close to the action with ample opportunities for hunting, fishing, hiking, biking, wildlife viewing or sightseeing, quading, and relaxing. Spend your mornings exploring the surrounding wilderness and then laze the evening away in your homely three-bedroom cottage or simple, cozy wood cabin.
24. HERON POINT EXPERIENCE, LIKELY
Last but not least is Heron Point Experience's quintessentially Canadian off-the-grid cabin. Nestled in the woods just off the shore of Opheim Lake on Leg 8 of the Gold Rush Trail, Heron Point Cabin is sure to bring out your inner woodsman (or woodswoman!). Disconnect from cell service and reconnect with nature in this rich and peaceful bio-diverse setting. Romanticize the weekend by curling up by the crackling wood burner, watching wildlife bound across the landscape or gazing up at the uninterrupted starry skies. This traditional log cabin is the perfect place to escape to this season.
Please be sure to always practice safe, respectful, and responsible travel on the Gold Rush Trail. Visit our responsible travel page for more info.