Travel Info
Routes

Highway 97

Distance

~

177 km

/

110 miles

Highway 97

Suggested Trip Time

1-3 Days
STOPS ON THIS LEG OF THE GOLD RUSH TRAIL
The story of the South Cariboo is written in the numbers signposted along Highway 97's original gold rush roadhouse towns.
Approximately, every 21 km/13 mi along this historic 644km/400mi route, a roadhouse was located.  Travellers could journey its entire length by stagecoach in four days, providing they could afford $130 for a one-way ticket. Today, Historic Hat Creek is one of the Cariboo's largest surviving roadhouses, just 11 km/7 mi north of Cache Creek amid rolling, sagebrush hills at the junction of Highways 97 and 99. This B.C. Heritage Site marks the crossroads where all major threads of the South Cariboo's compelling history – fur trading, ranching, First Nations culture and gold – intersect. In addition to Historic Hat Creek, Clinton, 70 Mile House, 100 Mile House,108 Mile House and 150 Mile House have many important stopping points for miners and stagecoaches travelling north to the Cariboo goldfields. 150 Mile House, saw the original Carioo Waggon Road through Likely redirected to Soda Creek. Most of the roadhouses are long gone, while a few have evolved into villages and towns where modern-day travellers can still trace the region's gold rush past through a landscape that appears airlifted out of an old western. Many of these towns and places along the route are home to Secwepemc prehistoric archaeological sites and pit houses. As you travel this portion of the Gold Rush Trail you can immerse yourself in 1860s pioneer life as well as the local indigenous history and culture in each community you travel through.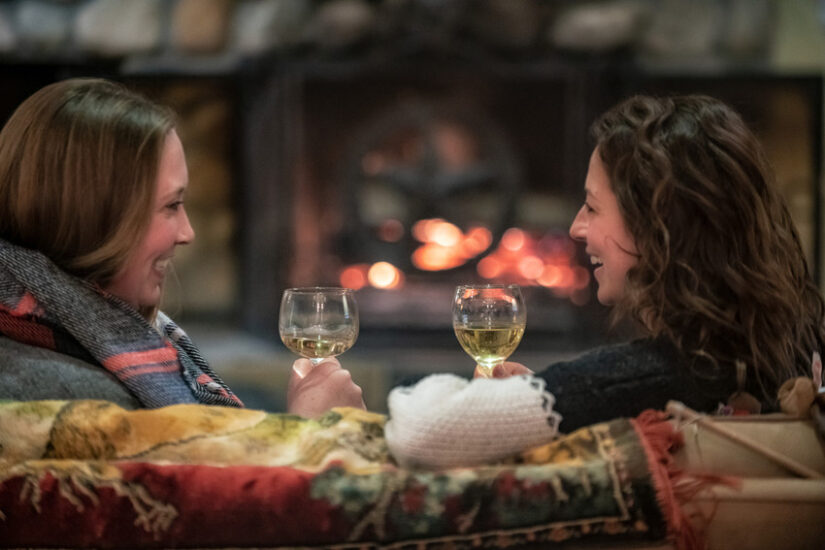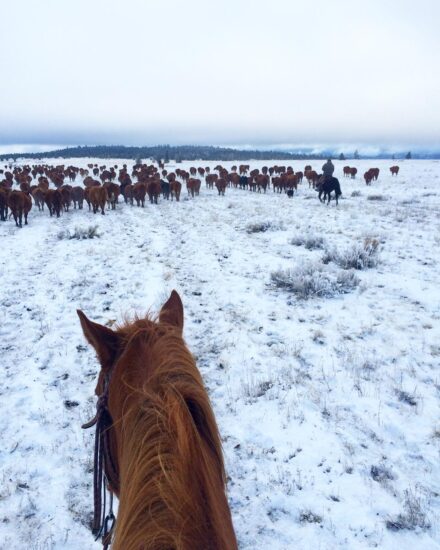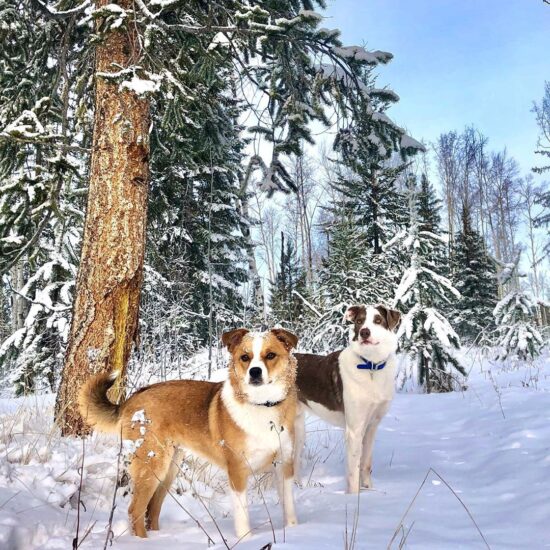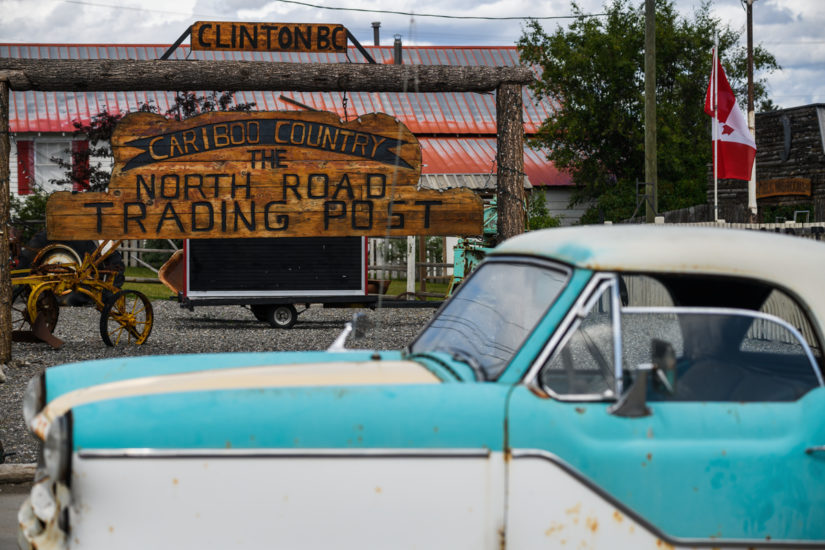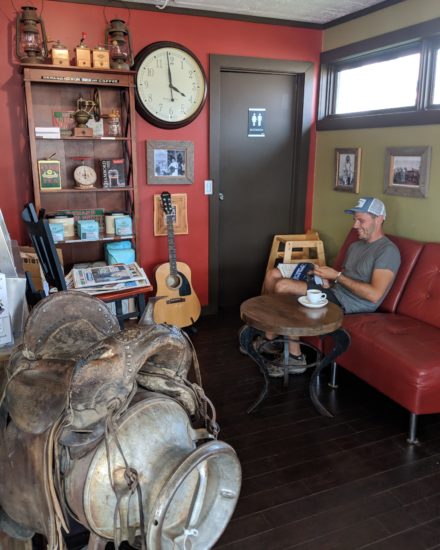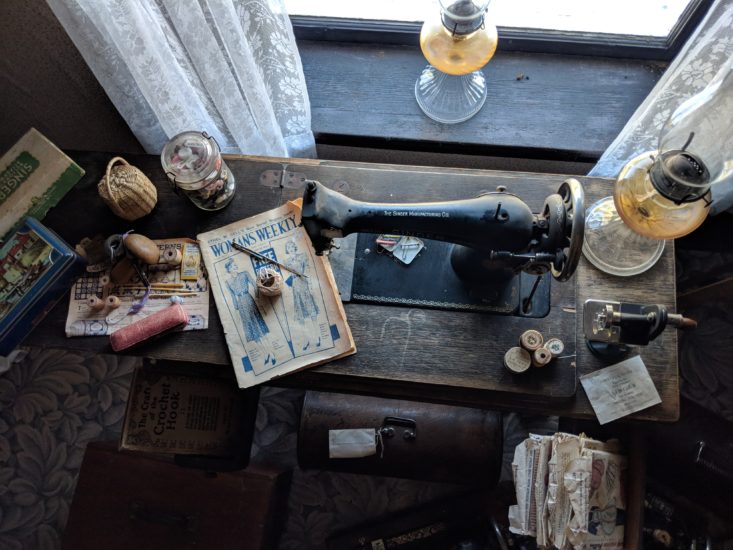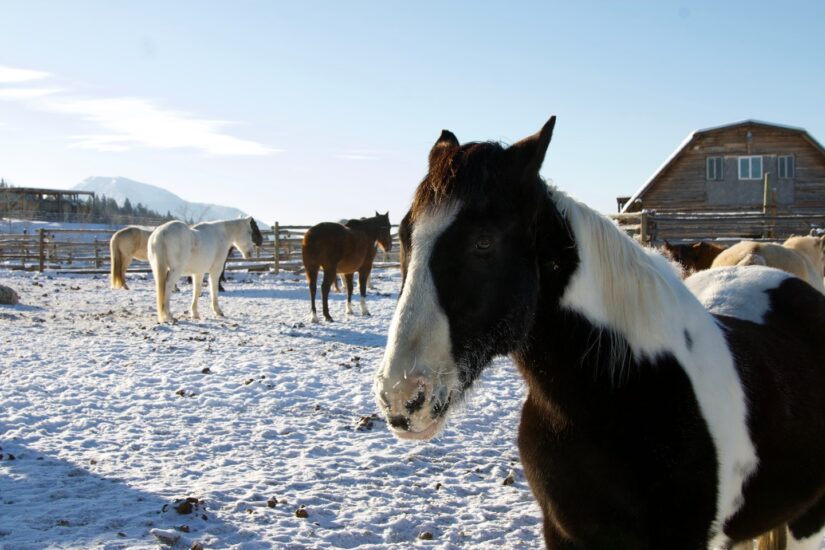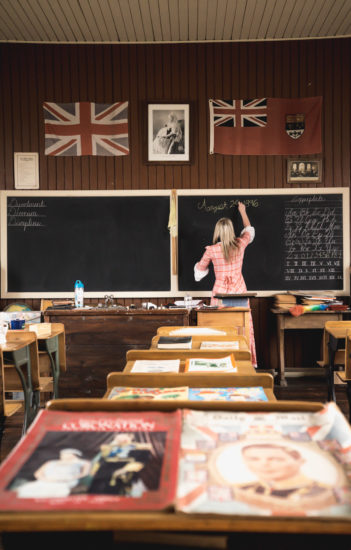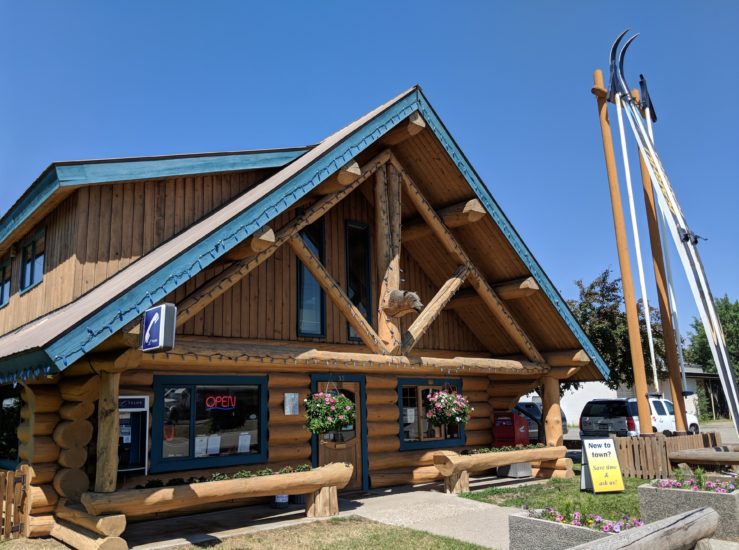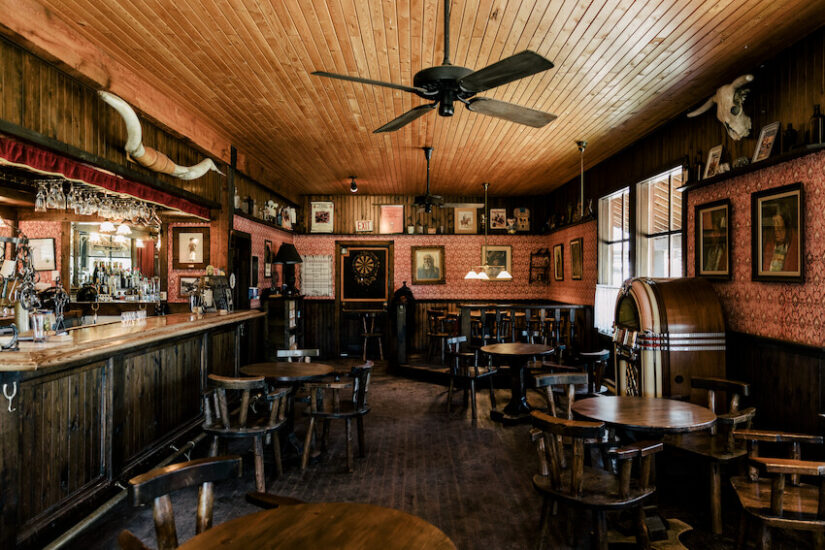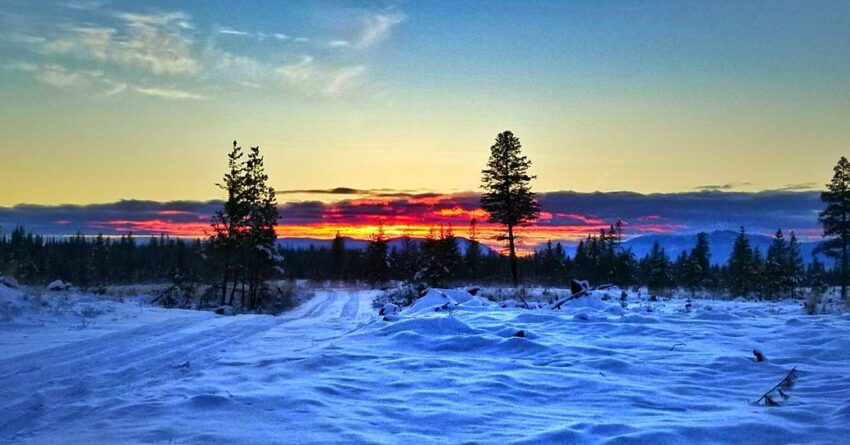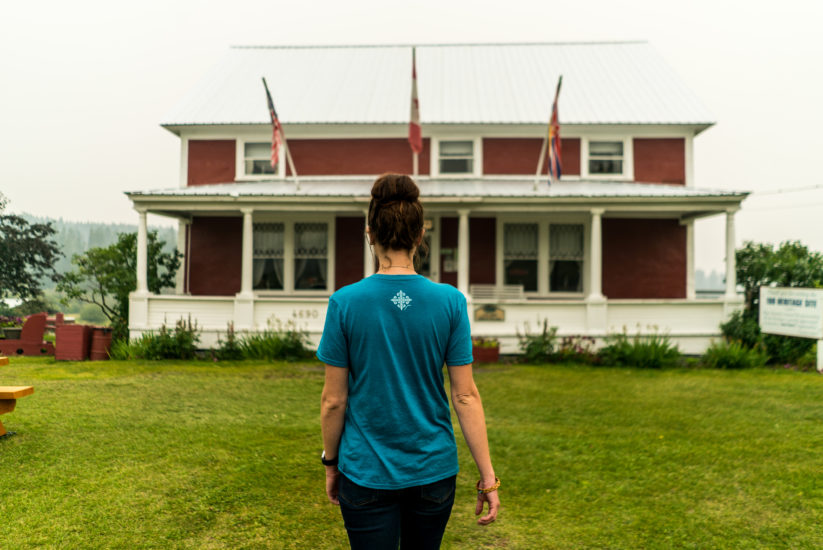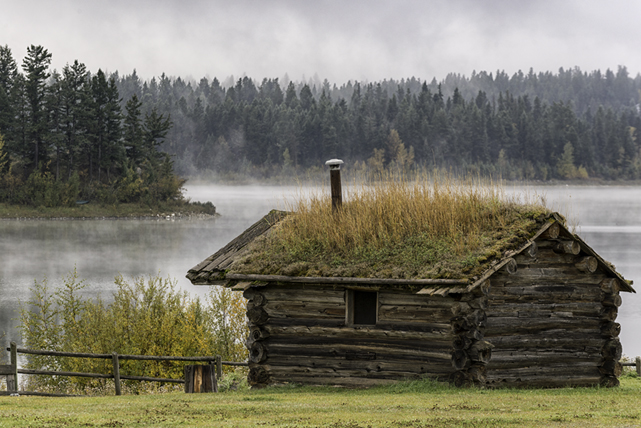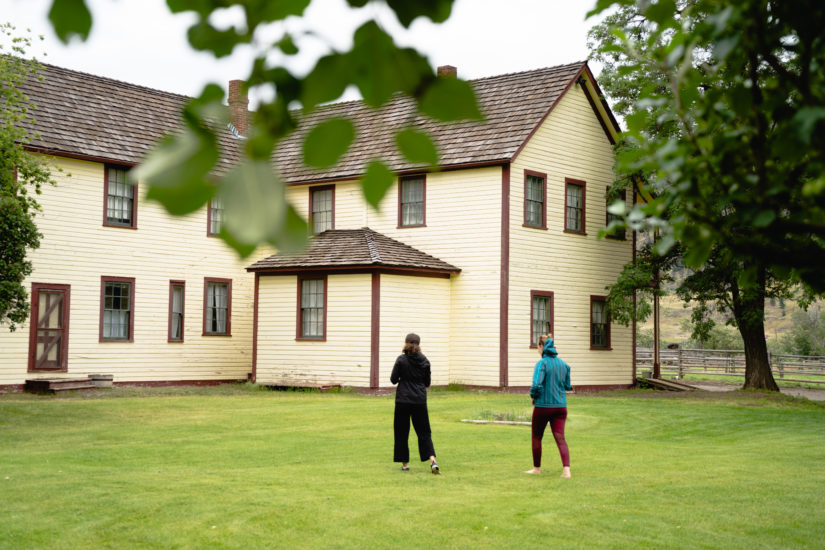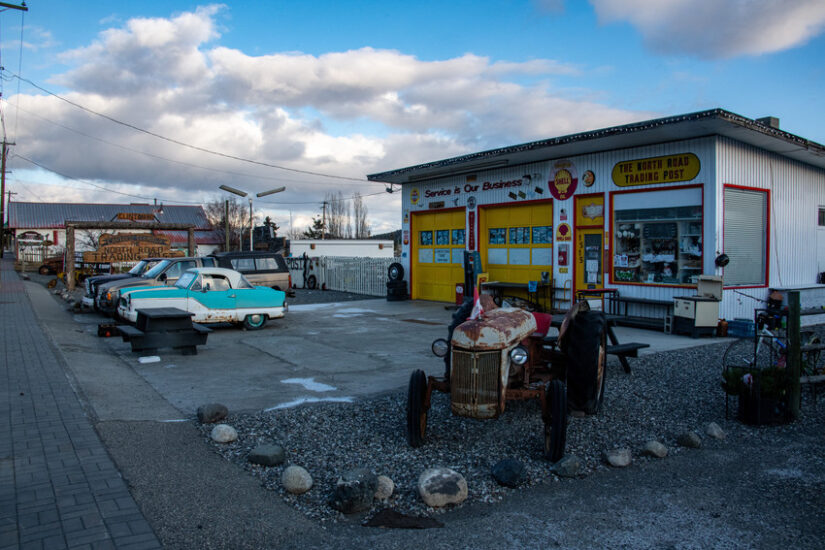 Present day Historic Hat Creek provides valuable insight into the social and economic roles of this location to the travelers along the Gold Rush Trail. As you continue on to Clinton, their pioneer history is exemplified by their original western storefronts, historical walking tours, abundant antique stores and excellent museum archives and exhibits. The area surrounding the next small community, 70 Mile House, is a thriving guest-ranch and outdoor recreation hub. 100 Mile House has access to one of the longest groomed-trail networks in Canada for Nordic Skiing and is also great for mountain biking, hiking, and horseback riding. 150 Mile House Today is a small community where travelers generally decide whether to continue north along Highway 97 to Williams Lake, or northeast along the Gold Rush Trail's "Backroad to Barkerville."
Historic Hat Creek
Located within the Traditional Territory of the Secwépemc Nation
Ideally located at the junction of Highways 97 and 99, explore the original buildings used by gold rush travellers of the 1860s at one of the few original Cariboo waggon roadhouses still open to the public. Hat Creek House was established in 1861 by former Hudson's Bay Company trader Donald McLean. What began as a small log stopping house later became a two-storied structure, with a west wing being added in 1901. Long before fur traders, Gold Rush miners, ranchers and settlers arrived in this valley, people of the Shuswap Nation followed a nomadic lifestyle here for thousands of years. Local Stuctwesemc ("Stluck-TOW-uhsen") people from the Bonaparte Reserve have reconstructed traditional shelters, hunting and fishing gear, cook pits, and many other items you would find in a Shuswap Village and Indigenous Interpretation Center. It is the last remaining roadhouse of its type and one of the largest ever known along the Cariboo Wagon Road. Located on 345 acres of farm and rangeland, Historic Hat Creek has 20 historic buildings dating back to 1861, and Secwepemc (Bonaparte Indian Band) prehistoric archeological sites. The buildings stand as they did in 1901; some were built as early as 1860. Between 1885 and 1905 they witnesses the busiest era of transportation along the Road, serving the needs of freight wagons and passengers of the B.C. Express line (The "BX").
Stroll along the same dirt road that the waggon trains and miners travelled and stop in at the historic roadhouse, where interpreters dressed in period clothing will take you on a guided tour of a bygone era.
Enjoy a stagecoach ride along beautiful Hat Creek to the Secwepemc (Shuswap) Village, where interpretive guides share a
glimpse into their history and living cultural traditions.
Try your luck in gold panning or archery, browse the giftshop and eat a delicious lunch at the onsite café.
Spend the night in one of their covered wagons, camp in a miner tent or stay in one of the self-contained cabins located right in the historic site.
Take a guided tour of the old rooms to reveal an intriguing history of the personalities who operated the ranch and traveled through it on the Cariboo Wagon Road.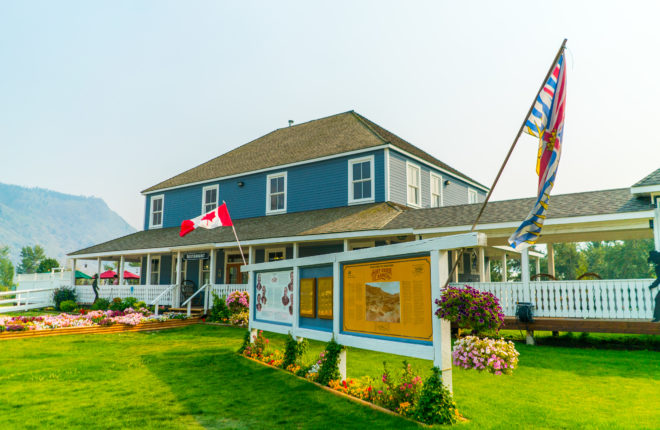 Loon Lake
Located within the Traditional Territory of the Secwépemc Nation
Loon Lake offers an outdoor experience for the entire family, nestled between the Bonaparte Plateau and Arrowstone hills; this steep valley is home to many resorts, ranches and summer residences. The hills offer hiking, walking and bird watching in a coniferous forest mixed with small stands of deciduous growth and besides fishing, this clear lake is excellent for canoeing, kayaking and swimming. A natural fishing paradise, the historic Loon Lake valley is a hidden treasure on the Gold Rush Trail.  First Nations people of the region have fished, hunted and gathered along the valley lake shores for generations. Fur traders descended upon the area forging trade routes for the Hudson's Bay Company across the Bonaparte Plateau and into surrounding rich watersheds, which was followed closely by the gold rush. At the junction of Hwy 97, the Gold Rush Trail, and Loon Lake Road you will see a heritage barn and blacksmith shop; this was a stop for the BX express during the gold rush as travellers made their way from Ashcroft up the Cariboo Waggon road to strike it rich. The valley also has a rich ranching history where many of the area's pioneer families settled to raise livestock and their children.
The lake itself supports a superb rainbow trout fishery, providing plenty of action and as such, is a popular lake for young and wise alike. Fly fishing enthusiasts will rejoice at the plentiful freshwater shrimp, dragon fly, nymphs and chironomids in the habitat; while trollers and casters have no problem enjoying this natural, un-stocked fishery.
Tent, park your RV or rent a cute cabin on the shores of the lake at one of the many operators in the area.
With tourism operators open year-round, winter is an excellent time to visit for pristine vistas, snowshoeing, ice fishing and tranquility. The community of full-time residents host a number of winter events with visitors welcome to attend, ask your resort what may be happening during the dates of your visit.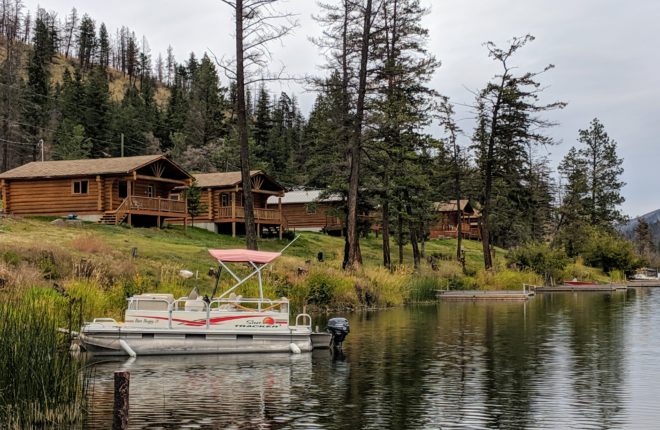 Clinton
Located within the Traditional Territory of the Secwépemc Nation
The name Clinton was officially adopted on June 11th, 1863, replacing the previous name, "The Junction." In the 1960s Clinton was an important roadhouse at the junction of the Cariboo Trail from Lillooet, and the Cariboo Waggon road from the Fraser Canyon. In the 1870s, Clinton was a cattle-ranch town, a soap-soda and Epsom salts distributor in the early 1900s, and a bush and sawmill town in the 1950s. Today the village of Clinton is known for its Wild West ambiance and an outdoor adventure hub providing active experiences in a landscape noted for its wildlife and unique geological variations. Still today, the gold rush and pioneer history is exemplified by its original western store fronts, historical walking tours, abundant antique stores and excellent museum archives and exhibits (located at the village's 1892 schoolhouse). Equally significant is the diversity of the surrounding landscape's unique geological variations, including Chasm Provincial Park's Painted Chasm; the Limestone Quarry, a haven for fossil hunters and rock hounds; and the Marble Range, where cliffs, caves, disappearing streams and wildlife trails lure climbers, cavers, hikers and horseback riders.
Visit the Clinton Museum for a glimpse into local history, Indigenous culture or perhaps you want to ask a friendly local for some visitor information.
As the original and premiere gravel bike hotel in B.C, Tutti Gravel Inn is a must-visit for cycling enthusiasts. In fact, Clinton has been recognized as having the best gravel riding in the world!
Explore the limestone mountains and hike to what locals call the "hole in the wall," a unique limestone formation, or visit Kelly Lake and Downing Provincial Park, famous for NASA's exploration of its rare black coral deposits.
As British Columbia's "Guest Ranch Capital", Clinton is a community hub for many ranches, including an award-winning Thai influenced spa and more traditional family-focused outfits offering trail riding, horsemanship classes, gold panning and sleigh rides.
Go for a drive and check out Big Bar, Jesmond and the historic Gang Ranch located on the west bank of the Fraser River opposite Dog/Canoe Creek, home to the Stswecem'c Xgat'tem First Nation or the nearby Churn Creek Protected Area for a glimpse of ranching history in BC and to enjoy the stunning plateau scenery.
The Annual Ball on Victoria Day long weekend in Clinton has been running for over 150 years, which kicks off Clinton's Heritage week; wrapping up with the Clinton Rodeo the following weekend.
After a busy day of activities enjoy the hospitality and unwind with a quiet evening in this quaint historical town.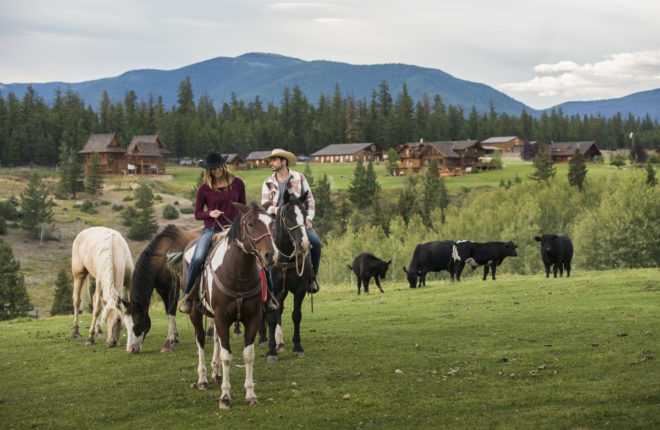 70 Mile House
Located within the Traditional Territory of the Secwépemc Nation
Like other "mile houses" along the Cariboo Waggon Road, 70 Mile was a stopping house established in 1862 as a hostel for Cariboo Waggon Road work crews. The area has now evolved into a thriving guest ranch, outdoor-recreation hub and gateway to the Land of Hidden Waters (Highway 24), 50+ lakes within 50 square kilometres, and the stunning Green Lake Provincial Park and Watch Lake. As fishing and outdoor enthusiasts can attest, this region is known for its access to hundreds of crystal clear lakes supplying some of BC's best freshwater fishing as well as offering the opportunity to indulge in watersports, camping, and exploration. In the winter, these same lakes afford the chance for exceptional ice fishing, for those who cannot wait for the spring thaw to drop a line. After a long day of outdoor adventure enjoy the Cariboo plateau's big skies, spectacular sunsets and starry nights.
Stop by the Sugar Shack for an authentic poutine, smoked meat sandwich or to stock up on maple syrup for your journey ahead.
70 Mile is a key turnoff point for the Green Lake Provincial Park– one of the most popular destinations in the South Cariboo for water sports of all kinds and, along with nearby Watch Lake, a habitat for thriving waterfowl and raptor populations.
Explore the diverse network of hiking, mountain biking, horseback riding, Nordic and snowmobile trails, plus canoeing, kayaking, birding, wildlife viewing, ice fishing and angling. The outdoor opportunities are endless.
Experience western culture at one of the many family-run guest ranches in the area.
Just north of 70 Mile House you can climb up to the Mt. Begbie Lookout and just to the west you can enjoy the peaceful Flat Lake Provincial Park – great for canoeing.
A must-see event is the annual Carriage Trails Driving event that is fun for all ages.
Travel south to Chasm Provincial Park a spectacular bedrock box canyon, 1.5 km long and 120 m deep, featuring a display of colours from successive lava flows that have been revealed in the lava-layered canyon walls through erosion over the past 10 million years.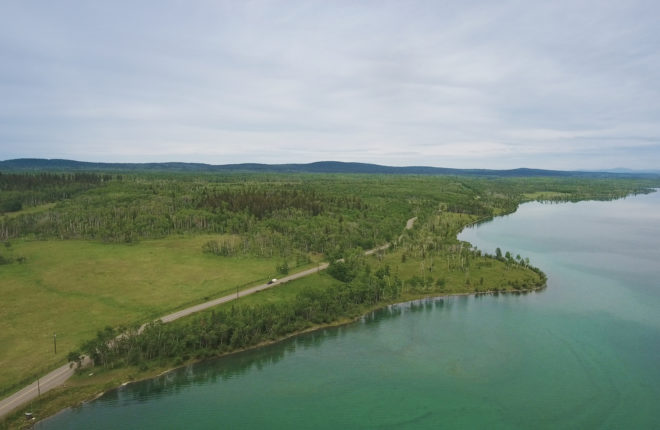 100 Mile House
Located within the Traditional Territory of the Secwépemc Nation
Located 100 miles from Lillooet on the original Cariboo Waggon Road, 100 Mile House was originally a Hudson's Bay Company fur trading station, but by the early 1860s it became an important stagecoach stop on the Gold Rush Trail. 100 Mile House claims a couple of lofty titles, including 'Handcrafted Log Home Capital of North America' and is the self-proclaimed 'International Nordic Ski Capital', boasting the world's tallest pair of cross-country skis at the South Cariboo Visitor Centre, and has one of British Columbia's most active Nordic clubs. In addition, 100 Mile is a home base for local snowmobile clubs, horse-drawn sleigh rides and snowshoeing. Spring through fall, 100 Mile House is a base for mountain biking, hiking, horseback riding, fishing, photography and wildlife viewing. 100 Mile House is the gateway to the Land of Hidden Waters (Highway 24), Canim Lake and Wells Gray Provincial Park.
Birding is also a major draw, with popular viewing sites such as the wheelchair accessible 100 Mile Marsh Wildlife Sanctuary located right at the South Cariboo Visitor Centre.

Take the whole family to Centennial Park, where the kids can play in the waterpark or go for an easy 1.5 km/0.93 mi stroll to picturesque Bridge Creek Falls.

After a day of exploring, take a walk in the quaint downtown and stop by one of the cute cafe's, art galleries or restaurants. The South Cariboo Farmer's Market runs every Friday from May through September.
If you are looking for a soft adventure or a rugged experience, travel the 463 km/287.7 mi Gold Rush Snowmobile Trail. This multi-use trail is intended for use throughout the full year.
Ski or snowshoe at the 99 Mile Cross Country Ski Trails with over 50 km/31 mi of groomed cross country ski trails for both classic and skate skiing.  There are also 5 km/3.1 mi of lit trails for those wishing to take in night skiing. Check out the 100 Nordics Club page for special events and conditions.
For 50 years F.J. Barnard's horse-drawn waggons were pivotal in carrying provisions and passengers throughout the Cariboo until 1915. See one of the original stage coach's on display at the South Cariboo Visitor Centre.
100 Mile House is also a great starting point for your fishing adventures. There are plenty of lakes in the 100 Mile House area, so we suggest that you enjoy a day relaxing on the water, trying your luck at fishing or swimming with the family.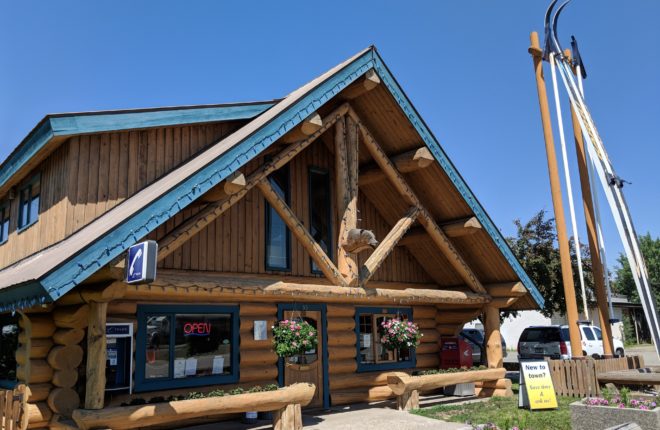 108 Mile Ranch and Heritage Site
Located within the Traditional Territory of the Secwépemc Nation
In the Cariboo's 108 Mile Ranch, discover a close knit community complete with three lakes, a beautiful valley, bird sanctuary, resorts and an extensive 1500 acre greenbelt in a former "recreational" ranch turned community. With a long and interesting history, 108 Mile Ranch was swept up in the Cariboo Gold Rush in the late 1850s and aptly named for being the 108th mile on the Cariboo Waggon Road where the 108 Mile Hotel operated from 1875 to 1885.
Visitors interested in more gold rush history must visit the 108 Mile Heritage Site – a collection of buildings dating from the mid-1800s to the mid-twentieth century including a museum, stone sculptures, refurbished log buildings, a gift shop and a food truck. Open annually from May long weekend to September long weekend. Be sure to check for special events and programming like the award-winning evening 108 Mile Ghost Tours and special Canada Day events.
This is a great rest stop for travellers year-round; the site includes a series of picnic tables, washrooms, a small picnic shelter, information boards and a very large parking lot friendly to RVs and bus tours.
At the south end of the parking lot is a tunnel leading under the highway connecting to the 108 Community Trail Network and Easements; a system of trails used for hiking, biking and horseback riding in the sunshine months and cross country skiing in the winter months. Bring your skis or mountain bike and search out the 108 Lookout (elev. 1005 m) for a scenic view.
Go back in time inside the MacNeil House, walk on the original Cariboo Waggon Road or rest in the huge log Clydesdale Barn, built in 1908 and still standing where the prospectors once unhitched and stabled their horses for the night.
Hit the golf course or try out the tube run during the winter at the 108 Mile Golf Resort. There are activities and amenities during all four seasons for the entire family to enjoy!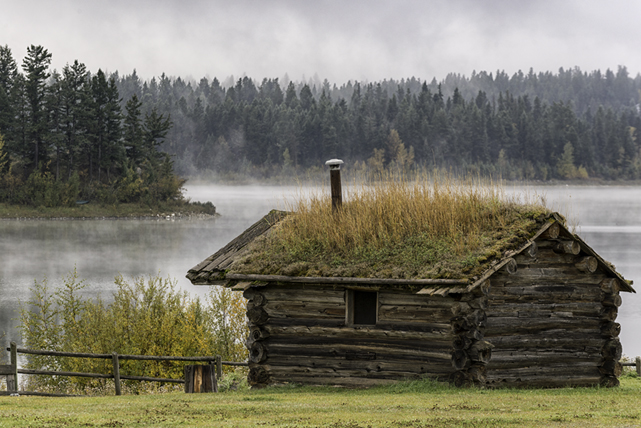 Lac la Hache
Located within the Traditional Territory of the Secwépemc Nation
The village of Lac La Hache is often referred to as the Longest Town in the Cariboo, reflecting how its resorts, ranches, restaurants and vacation homes are scattered along the lake's 19 km/12 mi long shoreline.  Before European fur traders came into the area, the Secwepmec (shi-huep-muh-k) established pit houses here and the Chilcotins (chi-ko-tins) who travelled through the region, called the lake Kumatakwa, "Queen of the Waters." There are many stories to explain how the lake was named; according to one, it gained its name when a trapper lost his only hatchet axe when chopping a hole in the frozen lake. With a strong history of ranching and agriculture, Lac La Hache is one of the most popular lakes along Highway 97, particularly with water skiers, anglers and power boaters.
During the winter there are many crisp, sunny days, ideal for ice fishing, snowshoeing, pond hockey, skating and skiing on nearby Mt. Timothy's slopes.
At 1654 m in elevation, a drop of 284 m, Mt. Timothy is an undiscovered gem, boasting a well-equipped family-oriented day lodge, a modern triple chairlift, over 34 runs in every skill level and best of all, deep dry powder snow.
Foodies love its South Cariboo Garlic Festival, held in late August.
Lac La Hache Provincial Park is 13 km north of Lac La Hache along Highway 97. Set amongst a stately Douglas-fir forest, the cool, green conifers shade campers from the hot Cariboo sun.
Enjoy one of the many lakeside resorts, B&Bs, guest ranches and motels offer accommodation all year-round. Seasonal waterfront campgrounds provide sites for your RV or tent and have great access for swimming, boating, jetskiing, or just basking in the sun.
Greeny Lake & Rail Lake Recreation Sites are two close-by recreation sites that provide great opportunities for fishing, boating, camping and picnicking.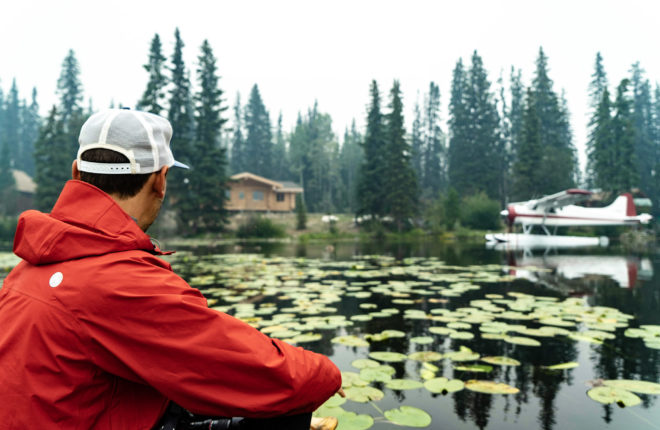 150 Mile House
Located within the Traditional Territory of the Secwépemc Nation
150 Mile House is a quiet ranchland community known for its gold rush, and pioneer history and log homes. The Cariboo Waggon Road was in fact scheduled to run through Williams Lake; however, a funding dispute resulted in a detour that went from 150 Mile House to Soda Creek. From 150 Mile House, travellers generally decide whether to continue north to Williams Lake or head northeast along the Gold Rush Trail to the resort lakes around Horsefly and Likely, or the "Backroad to Barkerville." As you head to Likely from 150 Mile you will pass the 153 Mile Store located on the 153 Mile Ranch, built by Italian settler Louis Crosina in 1914 and now owned by the Patenaude family. The 153 Mile House (not open to the public) is where a century-old log building still stands that once supplied food and goods to prospectors heading to the Cariboo goldfields. 
Visit the Little Red Schoolhouse, the oldest functional school building in the Cariboo Chilcotin. Constructed in 1896 beside the original Cariboo Waggon Road when 150 Mile House was a commercial hub, the wood-frame, one-room building is now a historical site and classroom open to the public in summer.
There are several guest ranches found nearby, with horseback riding a popular summer pastime and snowmobiling and snowshoeing in winter.
Turn off to take the road less travelled through ranchlands to the Cariboo Mountains to the source of the Cariboo Gold Rush. If you are adventurous, travel the scenic back road to Barkerville Historic Town & Park and the historic town of Wells BC.
150 Mile House is a great stopping point to stock up on supplies and get trusted local advice as you embark on all of your adventures in Horsefly, Likely, the Cariboo Mountains and Quesnel Lake area.
150 Mile House also offers great fishing at Dugan and Dewar Lake, as well as many other lakes close by. Dugan Lake is a great place to spend your day, or even stay overnight at the maintained campground and the same can be said for the smaller campground at Dewar Lake.