Note that these locations are not guaranteed to be accurate. Please refer to AllTrails and use GPS to be sure.
If you're looking to experience more of the "natural" when it comes to "Super, Natural British Columbia," and have an adventurous spirit, challenge yourself or your friends to a waterfall expedition. Start in the Fraser Valley, with an unforgettable first stop at Bridal Veil Falls, just east of Chilliwack. Next, Mission's Cascade Falls will leave you in awe. Just a short walk brings you to an incredible suspension bridge directly beside the stunning falls (the photo ops here are legendary!). For another Mission option, Steelhead Falls is rated easy and features a multi-tiered waterfall. Continuing on, you can't miss stopping in Hope, at American Creek Falls, Chawuthen Creek Falls, or the most accessible and most popular by far, Flood Falls.
Heading north up Highway 1, be sure to stop in Boston Bar at Mehatl Falls. This uniquely beautiful water feature is hidden deep within the Mehatl Creek Provincial Park near the Nahatlatch River. Hiking in this park requires excellent path-sourcing skills making this one the perfect place for those with prior hiking experience to flex their route-finding muscles. Following Boston Bar, head towards Spences Bridge where you'll find Murray Creek Falls, a short but extremely photogenic waterfall that makes for an excellent pit stop along your Gold Rush Trail driving route.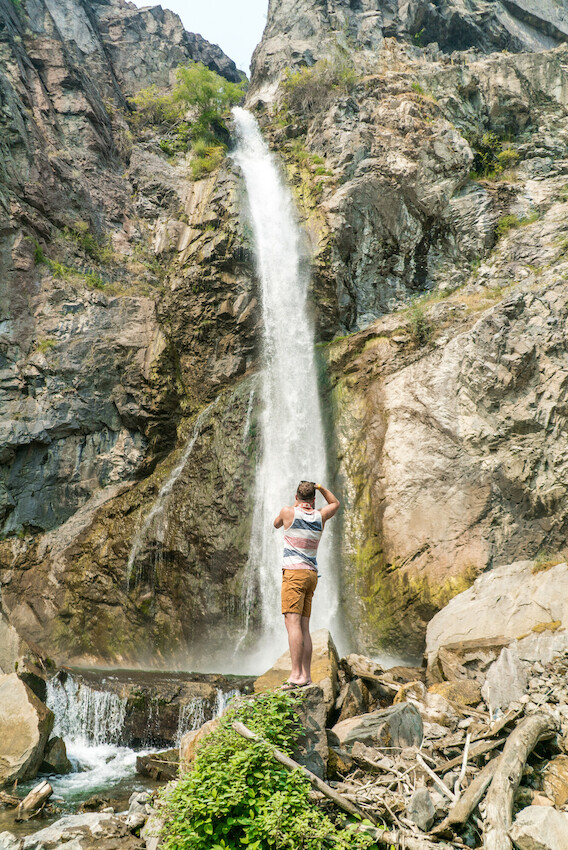 The next stop on your quest for the best falls is Deception Falls near 100 Mile House. Located at the end of a short, steep trail which leads to a fenced viewpoint, the 0.8km route along a narrow path is known to be particularly tricky as its trail is often covered in pine needles and fallen trees. Try to scramble your way to the falls, but be sure to watch your step as you go.
Nearby, Hendrix Creek Falls Trail is a short hike that brings you to a spectacular 20-metre waterfall. From 100 Mile House, travel north on Hwy 97 for approximately 2 km (1.2 mi) and turn right/east onto the Canim-Hendrix Lake Road. Travel 21 km (13 mi) to Forest Grove and turn right/east to stay on Canim-Hendrix Lake Road. Keep left on Canim-Hendrix Road when it splits into Canim Lake Road South at Canim Lake. Continue another 42 km (26 mi) past Canim Beach Provincial Park, then turn right onto the Spanish Creek Forestry Service Road. Travel 0.6 km (0.4 mi) and turn right onto the 710 Road, shortly after crossing the bridge over Hendrix Creek. Travel 2.7 km (1.7 mi) down the 710 Road to the trailhead, which is on the right. Another favourite near 100 Mile House, is Canim Lake & Mahood Falls, a family-friendly hike that is 2.3 km/1.4 mi to a viewpoint. Note that there is an optional trail to the bottom of the falls, but it is fairly steep so proper hiking gear is recommended.
As you make your way along the Gold Rush Trail there will be so many sights and attractions that are worth a stop, not the least of these being the Horsefly Waterfalls. Horsefly Falls is split into 3 different sections, upper, middle, and lower. Upper Horsefly Falls includes a mildly strenuous hike to the base, however, it is less than 1 km. These falls are the perfect opportunity to test your direction skills, the locals are very familiar, but can you find it?
Moffat Falls also finds its home in the Horsefly area. Containing 2 viewpoints, the first one being easily accessible and the second being a short climb down to the base of the falls. This is a beautiful destination in both summer and winter as the falls often succumb to the below-freezing temperatures and stand frozen still.
Continuing back along Highway 97 up the Gold Rush Trail, you'll pass through the rural community of Australian. We recommend stopping because it's here you'll find Wine Glass Falls, an easy, 1.0-km out-and-back trail with one of our favourite waterfalls we've listed. Why you ask? Not only is the waterfall beautiful (aren't they all?) but we love that there is a unique cave feature that wraps around the falls, meaning that you can actually go directly behind the falling water — and you won't even get wet!
For another epic waterfall hidden in a small, unassuming community, add Hixon Falls to your list. This 3.9-km (2.4 mi) out-and-back trail is located about 45 minutes southeast of Quesnel and features a mesmerizing waterfall that is crazy powerful during the spring runoff season!
Heading east from Quesnel, towards Barkerville, you'll find Cariboo Falls. At the 15 km (9.3 mi) marker on Keithley Creek Rd, turn right. Please note that parking and turn-around space is very limited on this un-maintained road and so large vehicles are not recommended. This area is also very rugged and wild and so we do not recommend this trail when it is wet and we advise against bringing children. If you do choose to walk, the falls are 2.2 km (1.4 mi) from the top and they are spectacular. In the Fall, you'll even have the chance to see Chinook and Sockeye salmon jump up the falls!
The final waterfalls in the challenge isn't just one, but two. The Ghost Lake/Matthew River Falls located along the Gold Rush Circle Route will leave you awe-struck and amazed as you finish up the final leg of your quest. The first set of these falls can be enjoyed from the road into an area often used as a campsite, and are a sweet memory of mother nature's creativity. An unmarked and steep trail will lead you to a second viewpoint where you will be met by another beautiful set of falls. Make sure to check road conditions or call the likely visitor centre before you embark on your adventure.