White water rafting, relaxing, glamping, camping in teepees, yoga, hot tubs… do we have your attention now? What if we were to tell you we know of a couple of places where you'll find all that plus more, and these places are only 2.5-3 hours away from Vancouver? Well, it's true. Welcome to the white water rafting and yoga resorts of the south Gold Rush Trail.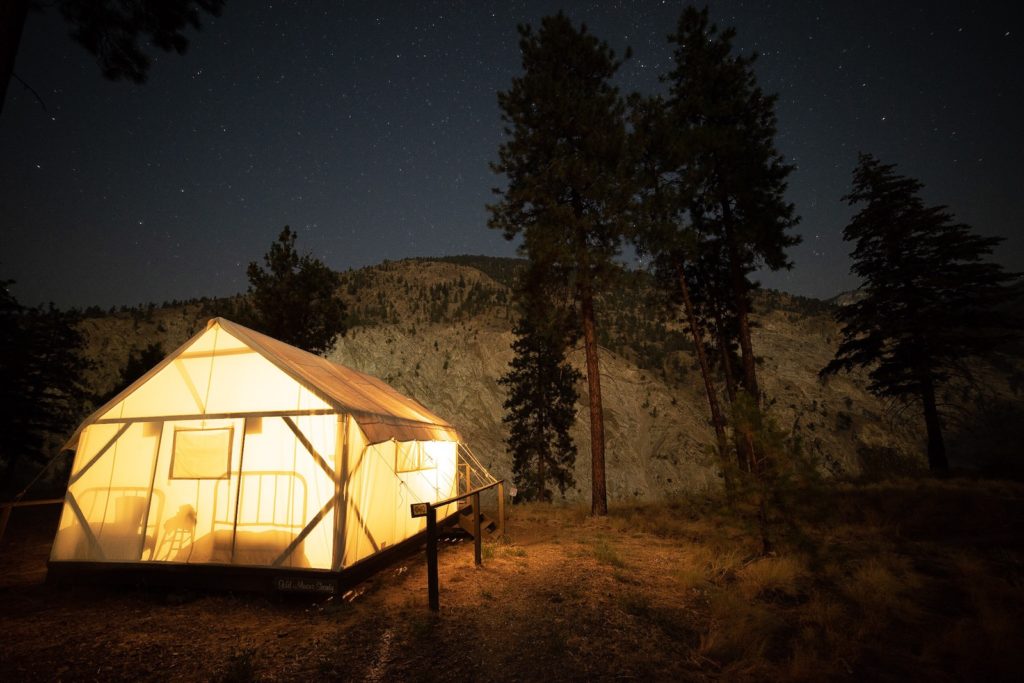 Kumsheen Rafting Resort and REO Rafting & Yoga Resort have options of glamping tents and tipis nestled on cliffs overlooking the canyon, on shores next to the roaring sounds of the river, and always amongst tall trees for all the nature feels. These lesser-known parts of British Columbia are home to two white water rafting resorts with each offering their own little flair and funky accommodation. Comfort camping in teepees or canvas tents means its a wilderness experience meets comfortable resort conveniences, or, guests can pitch a tent or park their RV and camp as well. 
Both resorts are epic destinations in their own right, offering white water rafting inclusive packages that combine rafting, activities, meals, and accommodation. Both are located in the scenic British Columbia you come to expect, both are close to Vancouver, and both offer relaxing elements of a stay that perfectly combine adrenaline-pumping white water adventure with relaxing resort time–so what sets each apart? Let's have a look:
Have you ever stayed overnight in a teepee? If not you're in luck at Kumsheen! In addition to canvas glamping tents and a campground, this rafting resort sets itself apart with comfortable tipi accommodations and a swimming pool (and hot tub) to lounge beside after rafting or on your day off from white water. The family-run charm of Kumsheen is reflected in every element of the business and is the perfect spot for a family vacation and waking up here is a scene you won't soon forget. Views of dramatic cliffsides and vibrant sunrises over the Thompson River valley are above while trains snake through the gorge below in an engineering marvel of British Columbia's most important railroad route that connects the Rockies to the coast.
Kumsheen Rafting Resort is also an inclusive package of accommodation, white water rafting, meals, and on-site activities. But if you think the river and valley are beautiful from above, just wait until you see it from below on your raft. Another feature that sets Kumsheen apart is a type of effortless rafting that doesn't require a paddle. The Thompson is wide, deep, and fast–therefore it supports large rafts with outboard engines steered by the guide. This allows rafts to plunge through rapids while guests just need to hold on! Want to run that rapid again? Great! The guide will propel upstream and run it once–twice–sometimes three times more! This type of rafting allows for guests to get the most out of a trip. As you continue down the Thompson, witness the mixing of waters as the clear glacial Thompson river mixes with the murky Fraser River–definitely a rare sight to be seen.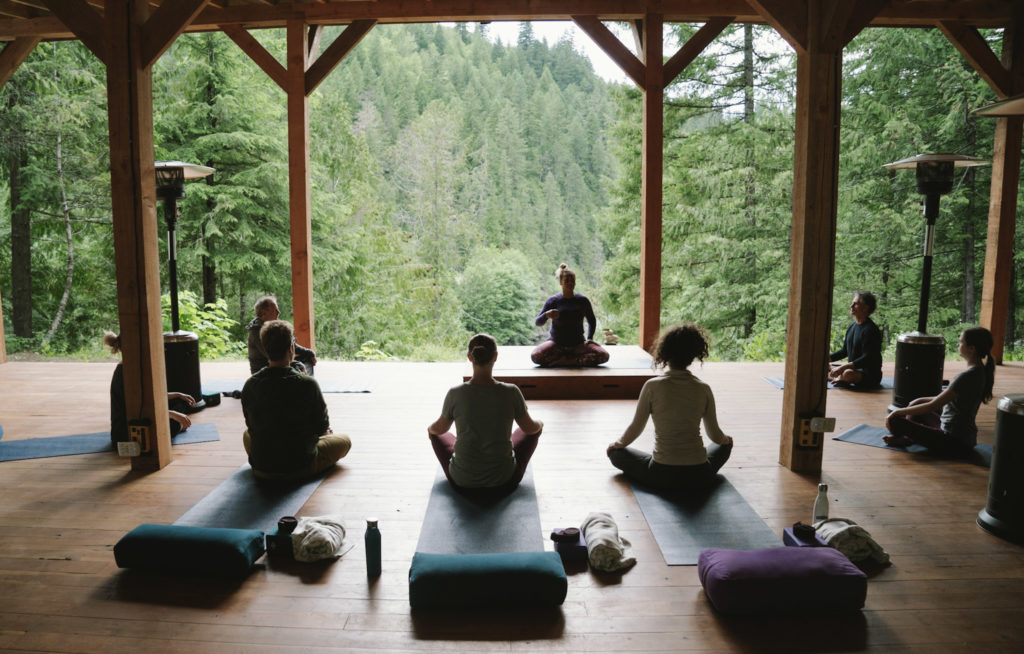 The name says it all–REO Rafting & Yoga Resort. Multiple yoga sessions from professional instructors are inclusive in all packages and offered on either a riverside platform or one higher up overlooking the canyon and a cascading waterfall. Not a bad setting for yoga, right? Combine yoga and relaxation sessions with outdoor white water and wilderness adventures for the perfect escape from the city. The resort is ideally located along the shores of the Nahatlatch River and just down from the Nahatlatch Lake and Nahatlatch Provincial Park & Protected Area. The whole area is lush with dense forest, raging white water, calm and quiet lakes, and amongst peaceful nature for the perfect yoga studio backdrop. Enjoy beach volleyball courts, a climbing wall, hot tub, and nightly campfires to top off the perfect day.

The white water rafting at REO is on the Nahatlatch River where guests are shuttled upstream and then end at the shores of the resort. It's a normal style of rafting where guests are all equipped with paddles and adrenalin-pumping fun. After taking a trip down this small but mighty river, jump straight in the hot tub and warm up before a relaxing afternoon yoga session. 

Note: REO Rafting, Glamping & Yoga Resort was impacted by the Nahatlatch Valley wildfire in 2023. Please visit the REO Rafting Glamping & Yoga Resort website for current operation updates