This is the summer to venture somewhere in BC you've never been before. Somewhere other than busy resort towns or well-known surf spots you've been to before, and somewhere that will have you wondering why you never visited sooner. Although the Gold Rush Trail shows its age in being the birthplace of British Columbia, it's an adventure corridor that feels largely undiscovered. Dotted along the Gold Rush Trail are some of the most unique BC camping opportunities to help map out your own adventures, from glamping tents to teepees and scenic locations to tent or RV.
Disconnect in uncrowded wilderness and discover why authentic travellers come seeking the riches of this region.
Located just one to six hours from the Lower Mainland or Kelowna, this trip is perfect for a weekend or week-long adventure. Running south to north, we've broken the journey down for you into 12 epic places to camp or glamp on BC's Gold Rush Trail:
Due to COVID-19 restrictions, please call and check ahead prior to visiting any overnight accommodation business including resort camping. Some resorts are limited to self-contained camping units for the season.
1. Kilby National Historic Site
Just 90 minutes east of Vancouver in Harrison Mills, you'll find Kilby National Historic Site, a campground, museum and farm that transports you back to rural BC in the 1920's. Escape to simpler times and explore the history of this hidden gem while staying at the beautiful waterfront campground equipped with picnic tables, a day-use area, sandy beaches, nature trails and a boat launch.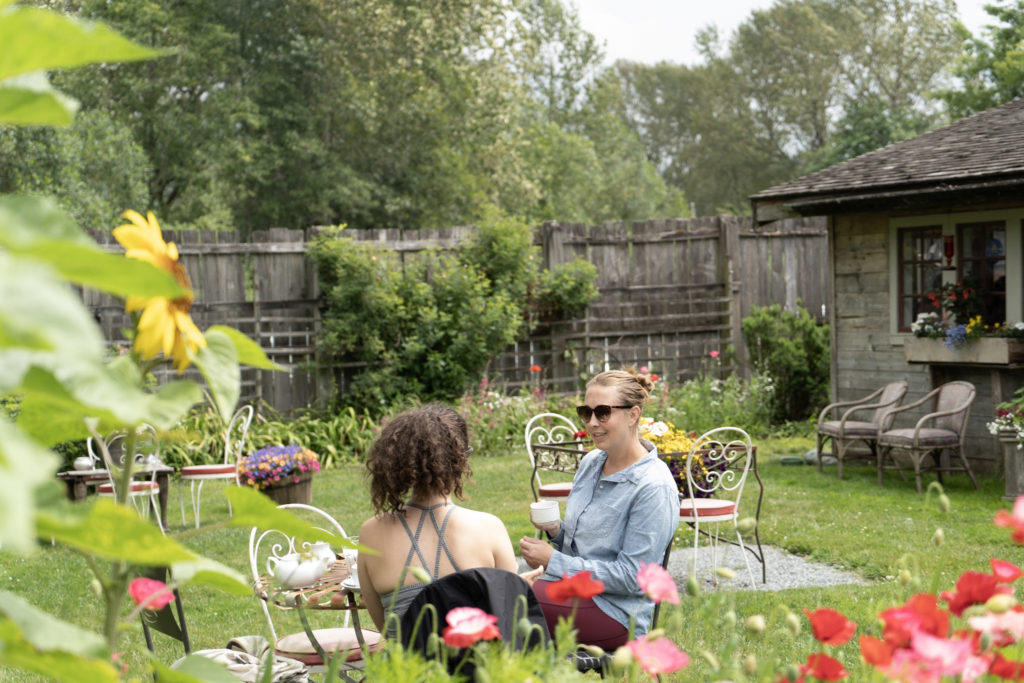 2. OTENTik at Fort Langley National Historic Site
Engage deeper in the history of fur traders, gold prospectors and First Nations by staying overnight in oTENTik, one of Fort Langley's on-site Parks Canada camps. These no-fuss camps are a blend between an A-frame cabin and a mounted prospector tent and are a great way for families to spend quality time together while learning the important history of our province.
Please call or book ahead to ensure availability.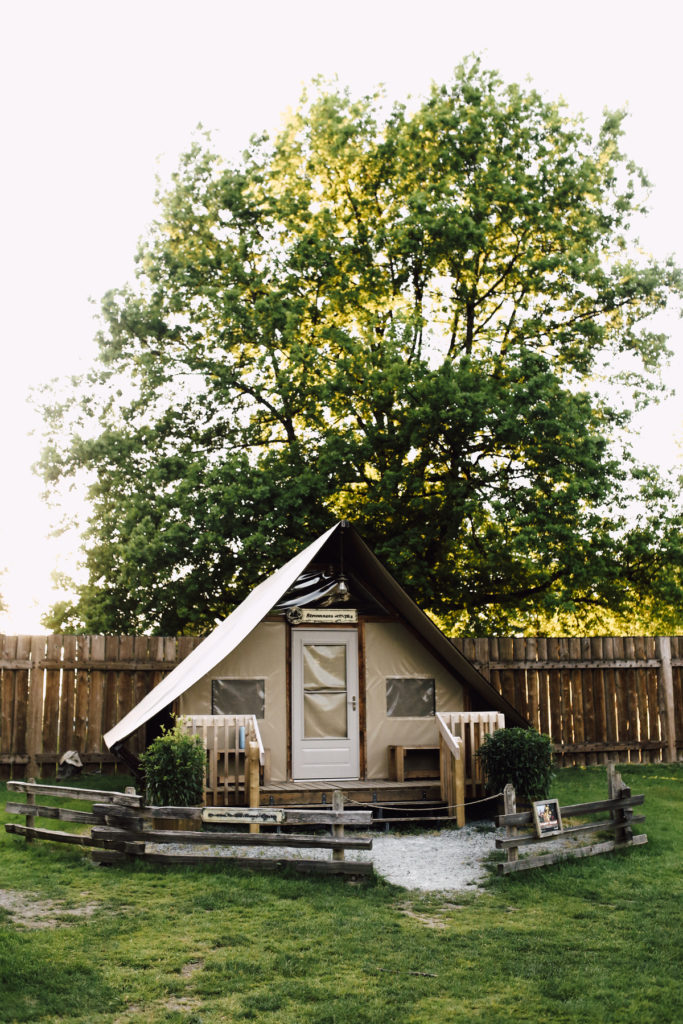 3. Tuckkwiowhum Heritage Village
Tuckkwiowhum Heritage Village (pronounced Tuck-we-ohm), near Boston Bar, offers an amazing opportunity to experience and learn about how a First Nations community lived before European arrival. This picturesque historic site has traditional teepee camping with an authentic Indigenous experience unique to BC and the Gold Rush Trail.
4. Nlaka'pamux First Nations' Tuckkwiowhum Campground
Just down the road from the Tuckkwiowhum Heritage Village rests Tuckkwiowhum Campground, a spacious campsite equipped for both tents and RV's. With sites along the shores of Anderson Creek as well as the mighty Fraser River, this affordable campsite is just 2.5 hours from Vancouver and a perfect option for a weekend away or a stop while travelling through the valley.
5. REO Rafting Resort & Yoga
Just 3 hours from Vancouver on the magnificent Nahatlatch River, rests REO Rafting Resort & Yoga. While the resort's white water rafting, yoga retreats and RV and tent campground are incredible, we are most excited by the enchanting safari-style glamping tents with private decks that feature stunning river views. Learn more about this epic resort in our white water rafting and yoga resorts blog post.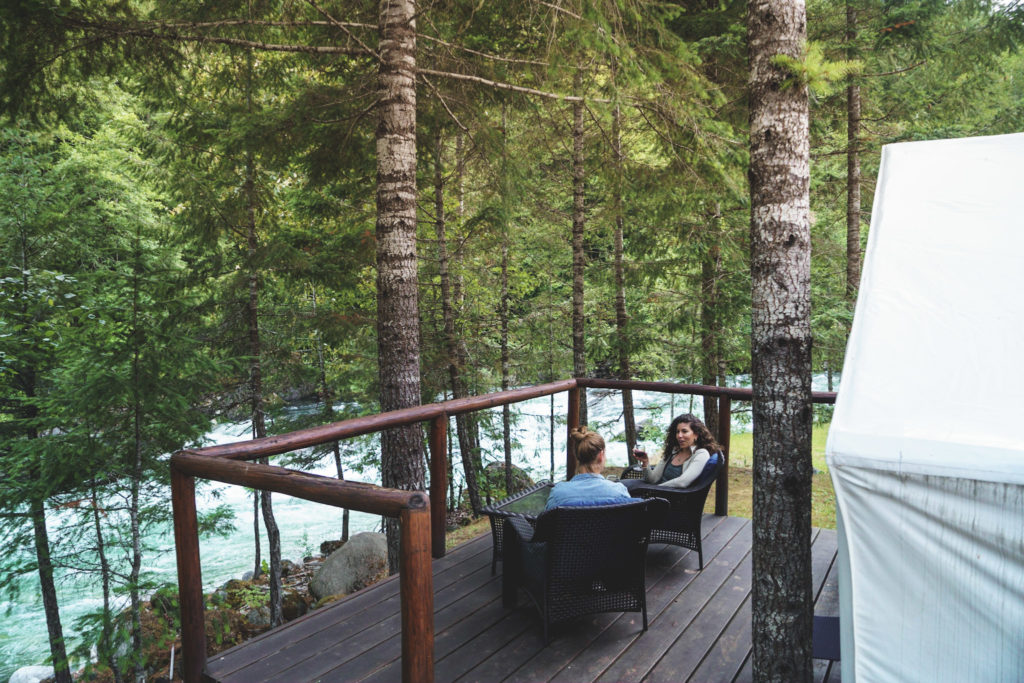 6. Kumsheen Rafting Resort
Since 1973, Kumsheen Rafting Resort in Lytton has been providing families, couples, and business groups with exceptional white water rafting experiences and unparalleled hospitality. To unwind after your day of high-intensity adventure on the Thompson River, the resort has an array of world-class lodging options for you to stay in, such as authentic Anishinabe style teepees, luxurious canvas cabins, RV sites, as well as tent sites. Also, find out more about Kumsheen in our white water rafting yoga resorts blog post.
Please note that Kumsheen Rafting Resort is temporarily closed. Please call ahead prior to booking.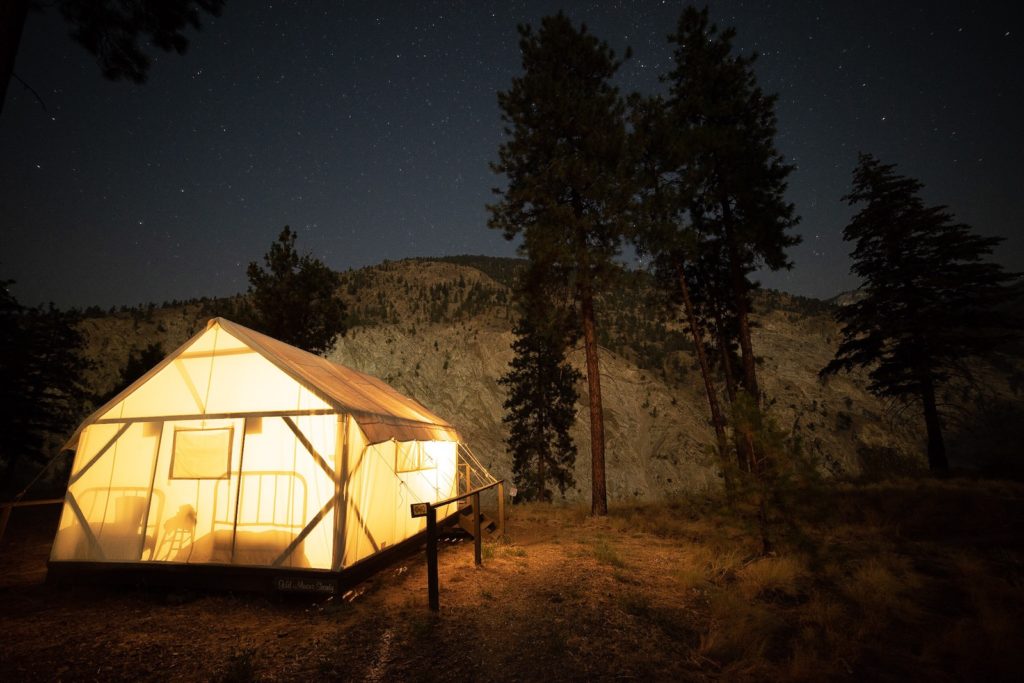 7. Historic Hat Creek
Located on a part of the original Cariboo Waggon Road used by the Gold Rush travellers of the 1860s, lies Historic Hat Creek near Cache Creek. There you'll find many original buildings, an educational Indigenous village, as well as a beautiful restaurant and guided interpretive tours. With tons to see, we highly recommend an overnight stay in one of their comfortable cabins, budget-friendly prospector's shacks (glamping tents), RV sites or best of all, in their one-of-a-kind canvas-covered wagons complete with bunk beds.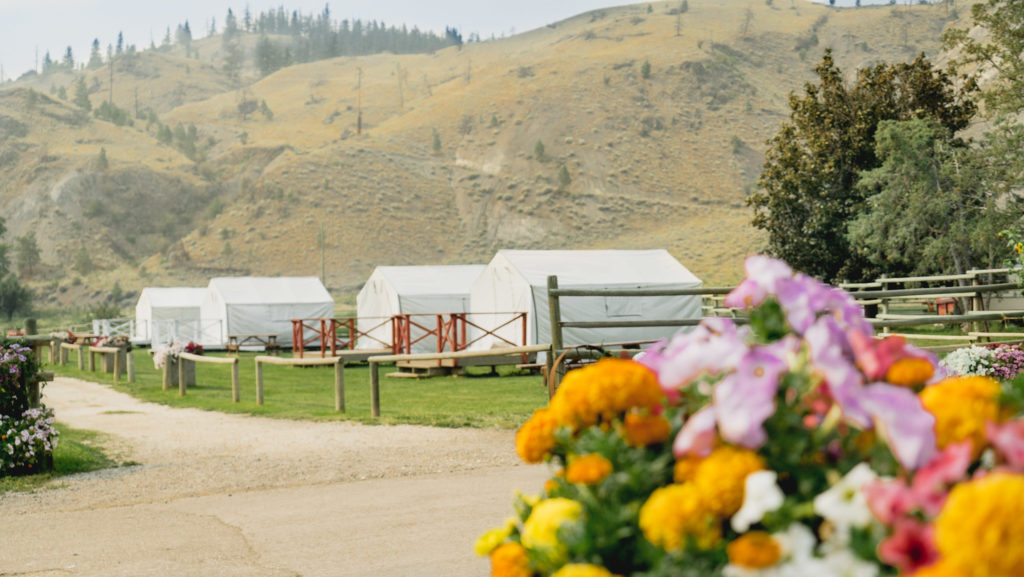 8. Bralorne Adventure Lodge
While you may have never heard of Bralorne, the historic mining town with a population of just 60, it is time to put it on your map as the gateway to the South Chilcotin Mountains Provincial Park and all things adventure. About a 2-hour drive west of Lillooet, Bralorne Adventure Lodge is an epic spot for your next big family or friend vacation. Spend your days in the surrounding mountains biking, ATVing, dirt biking, hiking or fishing and your evenings relaxing in the luxury lodge and sauna. If that doesn't sound perfect enough, your entire stay includes full-service, catered meals and snacks prepared by a private, on-site chef!
9. Highland Cream Resort
Perched on the shores of Gun Lake, just a 15-minute drive from the village of Gold Bridge, awaits Highland Cream Resort. With two beautiful lakefront chalets each equipped with large decks and private hot tubs, expect to live out your Canadian summer dreams. While the lake is perfect for fishing, swimming, canoeing, boating, and water skiing, we won't blame you if you spend your stay just relaxing on the deck and enjoying the surrounding South Chilcotin views. Read more about the Bridge River Valley and its accommodation options in our blog post on the area.
10. Tunkwa Lake Resort
Tunkwa Lake Resort is an affordable fishing resort just 3.5 hours from Vancouver in the sunny southern interior near Logan Lake. Along with cozy log cabins with full amenities and incredible views of Tunkwa Lake, there is an unserviced camping area fit with lakefront and grass sites perfect for RVs and tents.
11. Evergreen Fishing Resort
Loon Lake, a fishing paradise and thriving community near Cache Creek is home to Evergreen Fishing Resort, a family-friendly lakefront resort that promises to leave you with long-lasting summer memories. Nestled among the native Ponderosa Pines there are a number of quaint log cabins to rent, as well as a beautiful, spacious RV and tent campsite.
12. Wind and The Pillows B&B and Resort
Directly on the shores of the emerald coloured Green Lake near 70 Mile House lies the peaceful Wind and The Pillows B&B and Resort. After enjoying a day of lake activities, choose to stay in one of the family's serene BnB rooms, private oasis A-frame cabins or find comfortable campsites that are spacious and private.
13. Ten-ee-ah Lodge
Set on Spout Lake, secluded in the wilderness outside of Lac La Hache, is Ten-ee-ah Lodge. This luxurious and warm welcoming resort has an excellent reputation and features free-roaming horses, floatplane tours, incredible fishing as well as many other outdoor activities. With cabins of all styles, plus a lakeview motorhome and camper-van campsite, you are bound to have a memorable summer experience.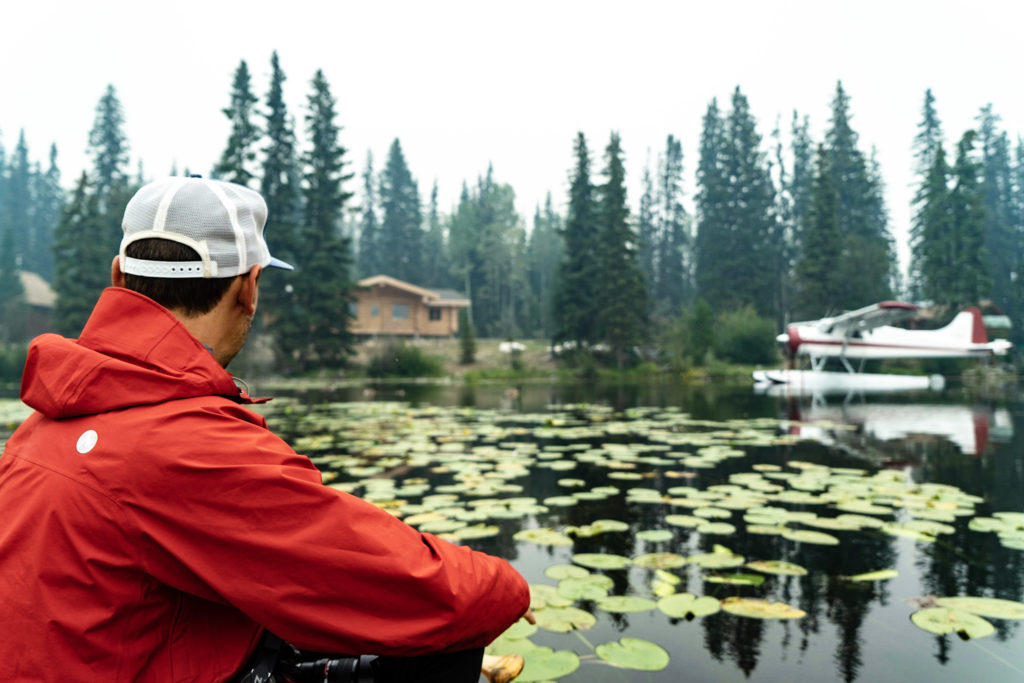 14. Barkerville Historic Town & Park
Barkerville Historic Town & Park is the largest living-history museum in western North America. As there is so much Gold Rush history to see and natural wilderness to explore near Barkerville and Wells, we highly suggest staying a night or two. Choose between their authentic 1890's St. George Hotel, one of the newly-built colourful cottages, the restored BnB rooms or one of the town's 3 campgrounds complete with amenities.
15. Plato Island Resort & Marina
Quesnel Lake is not only home to Plato Island Resort & Marina but it is also thought to be the deepest fjord lake in the world, the deepest lake in BC, and the third deepest lake in all of North America! This resort offers daily rental RV sites, quaint cabin rentals, as well as long term RV spots for those that fall in love with the lake and want to join the little community of permanent vacationers!
16. Morehead Lake Cabins & Campsite
Located on a beautiful lake in the wilderness of Likely and the Cariboo Mountains, Morehead Lake Cabins & Campsite perfectly blends together the adventurousness and history of the Gold Rush Trail. With low-key cabins and spacious camping sites, this affordable but spectacular destination is perfect for your next Cariboo adventure.
17. Crooked Lake Resort
Crooked Lake Resort is an off the grid, remote wilderness resort ideal for disconnecting from technology and reconnecting with nature. Choose between grassy campsites, RV sites and a variety of cabins including a nest located above their boathouse that features spectacular views of the lake and surrounding mountains.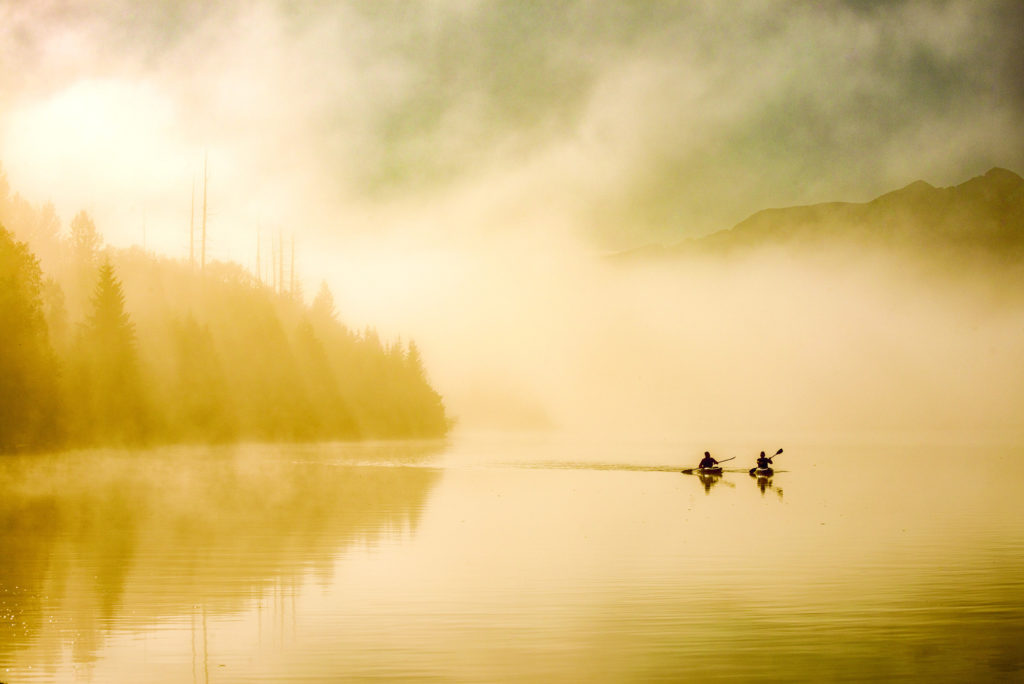 18. Cottonwood House Historic Site
Restored from the 1860s, Cottonwood House Historic Site, located just east of Quesnel is perfect for those looking to experience the rich history of the Gold Rush Trail. With rustic cabins, a heritage guest cabin as well as tent or RV sites to choose from, Cottonwood is an ideal home base of your trip.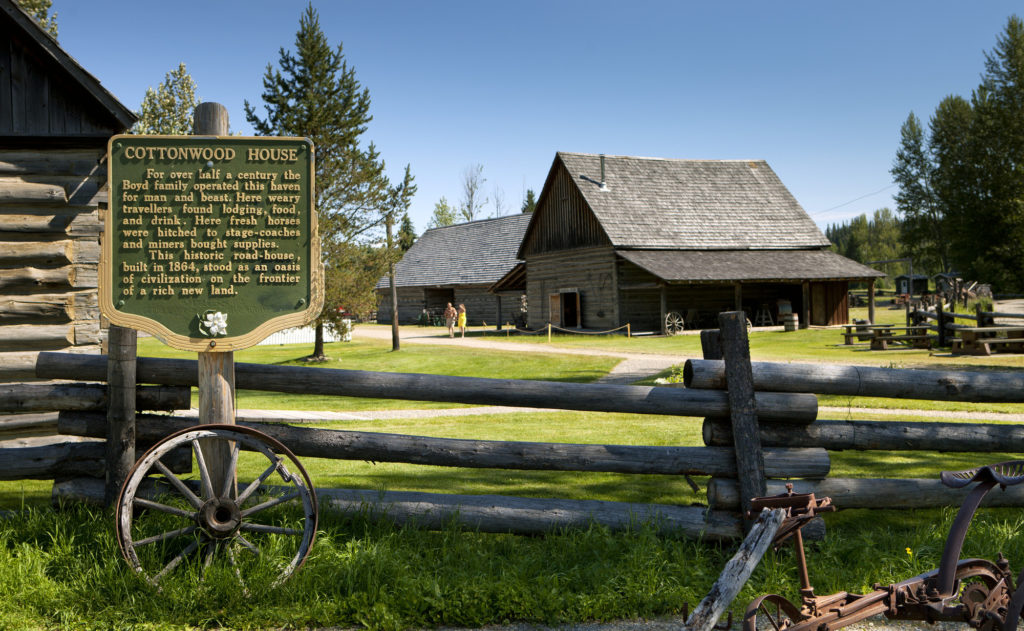 19. Bowron Lake Lodge
Bowron Lake Lodge is a 30-acre family-oriented campsite with picturesque lake and riverfront sites. Located just east of Quesnel, Bowron Lake is known for its fantastic 6-10 day long canoe circuit and gorgeous Cariboo scenery. Whether you need a home-base for the canoe trip or you just want to relax on the beach while you watch canoers pass, Bowron Lake Lodge is an ideal spot for your next central interior adventure.
The Gold Rush trail is dotted with stunning camping and glamping accommodation options that are perfect for social distancing. Out here, history and character communities meet wilderness and adventure; and when compared to other BC destinations, these areas are virtually undiscovered by most British Columbians. Unlock the secrets of the gold rush and discover something new along the Gold Rush Trail this summer!

Please be sure to always practice safe, respectful, and responsible travel on the Gold Rush Trail. Visit our responsible travel page for more info.