Are you searching for a fun and free way to spend quality time with your family while enjoying the great outdoors? Hiking is the perfect activity to get everyone off their screens and into nature this summer. Here, we'll introduce you to 10 hikes that are easy enough for families with young kids, older family members, or those who just want to enjoy a shorter and easier hike while making a pitstop somewhere along their Gold Rush Trail road trip route. Each of these walks has its own unique mix of landscapes, history, wildlife, and natural wonder. So pack the snacks and get ready to add these to your summer trail list.
1. Alexandra Bridge, Yale
About a 30-minute drive from Hope through the Fraser Canyon, Alexandra Bridge Park's highlight is the historic bridge, which kids will love walking across while admiring the rushing Fraser River below. It's a great opportunity for families to learn about the area's history while enjoying the beautiful scenery. While the park itself isn't huge, the day-use area provides both a rest stop and picnic facilities for travellers along the trail. This short, historic walk can also be paired with a trip to Hell's Gate Airtram for a full-day family adventure.
2. Murray Creek Falls, Spences Bridge
Located within the traditional territory of the Nlaka'pamux Nation, Murray Creek Falls is an impressive 5-15 minute waterfall walk that doesn't require much effort to reach. The trail to the falls is about 200m from Colvin Road, to the west of Spences Bridge. You will have to cross over an active railroad so be very careful when doing so. Once at the falls, adventurous kids can climb with the help of a rope to get closer and enjoy the waterfall's mist. The falls are impressive throughout the year but are extra incredible to visit in the springtime or early summer when the waters are at their fullest.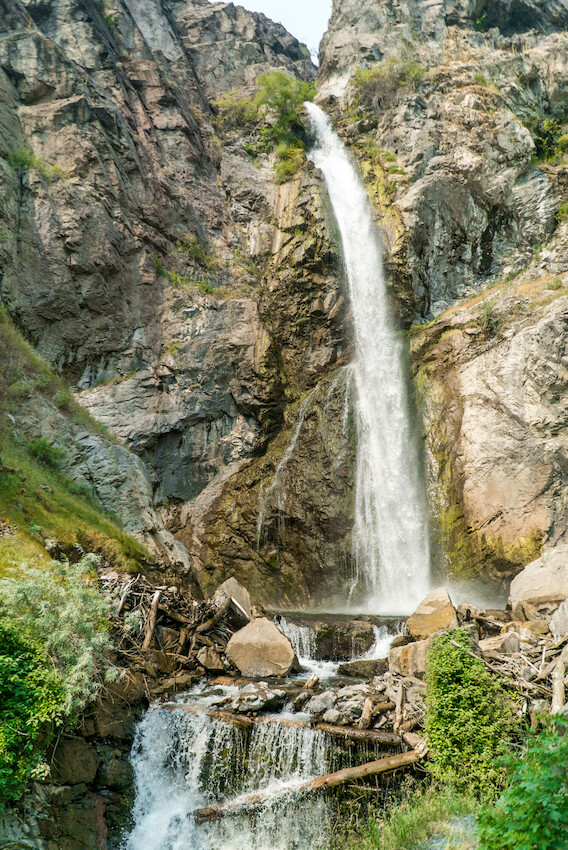 3. Seton Lake Lookout, Lillooet
An Instagram favourite, Seton Lake Lookout is a 1.3 km loop trail near Lillooet that takes about 30 minutes to complete (depending on how many photos you stop to take at the top!). The viewpoint features a bend in the road that is often compared to the Lululemon logo. This unique road feature paired with the surrounding mountains and turquoise waters of Seton Lake makes it one of our favourite viewpoint hikes in the region.
4. Jesmond Lookout, Jesmond
The Jesmond Fire Lookout recreation site is a former fire lookout tower built in the early 1970s to aid with detecting forest fires. A little off the beaten path, access is via rough, bumpy four-wheel drive roads, so be prepared. For those with a capable vehicle, drive up as far as you like and then walk the last part of the road to the peak. Kids will love climbing the lookout and taking in the expansive Cariboo views. From the top, you should be able to spot some of the region's most popular lakes such as Big Bar, Meadow, and Green Lake.
5. Cougar Point, Edge Hills Provincial Park
About 35 minutes from Clinton, Cougar Point is a panoramic vista viewpoint within Edge Hills Provincial Park. Remote and rugged, this viewpoint offers spectacular views of the remarkable geology of the Fraser Canyon. Sit on the bench while pointing out to your kids the grassy benchlands, ravines, and muddy Fraser River. Learn more about access here.
6. 100 Mile Marsh, 100 Mile House
There's nothing better than a loop around a body of water and that's just what you'll find at 100 Mile Marsh. At just 1.4 km, this scenic and easy hike takes about 20 minutes but can be extended if you're a group that enjoys pointing out birds and little forest creatures that cross your path!
7. 108 Mile Lake Loop & 108 Mile Heritage Site, 108 Mile House
For a longer option, 108 Mile Lake Loop is a 9.7 km beautiful lakefront loop that takes about 2.5 hours to complete. To reenergize after the hike, reward yourselves at Rusty Iron Coffee Co. and sit on their lovely patio overlooking the lake. Make this a full-day adventure by visiting the neighbouring 108 Mile Heritage Site where you can explore historic buildings and artifacts that celebrate the historical significance of 100 Mile House and the surrounding area. Kids are sure to love exploring the old cabins, farming equipment, church buildings, and especially the old Sherrif's Office & Jail!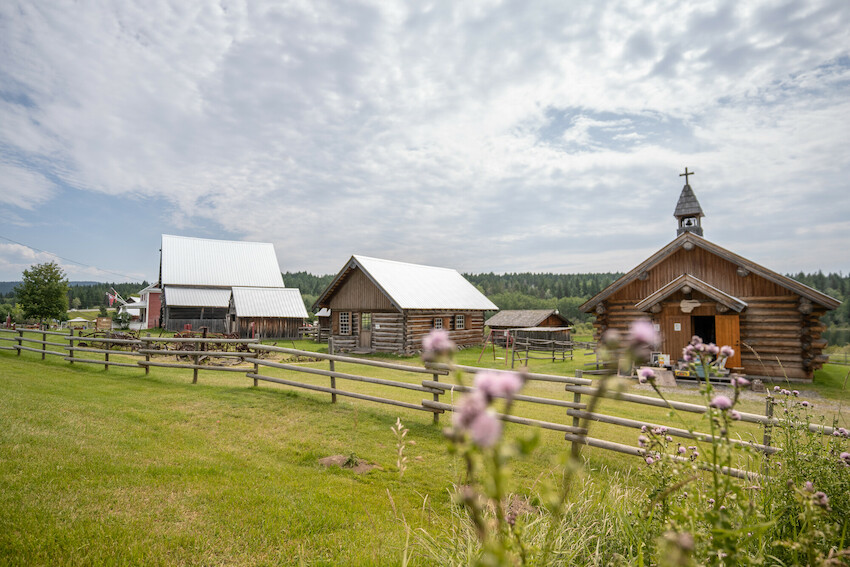 8. Scout Island Nature Centre, Williams Lake
For an educational and slow-paced experience in nature, head to Scout Island situated at the west end of Williams Lake. Here you can hang out at the beach and boat launch, plan a lunch at the dedicated picnic ground or visit the nature house and hike the 2.5 km of trails to see a diverse array of birds and small wildlife. With interpreters on-site and lots of educational programming happening throughout the summer, Scout Island is a wonderful place for your family to learn about and immerse in nature.
9. Pinnacles Provincial Park, Quesnel
A 10-minute drive from downtown Quesnel via Baker Drive, Pinnacles Provincial Park provides a 1 km hike to a viewpoint overlooking hoodoos and a view of the city in the distance. Children and adults alike will peer in awe at these fascinating and rare rock sculptures that were formed as a result of natural erosion and weather around volcanic lava millions of years ago. There are also more route options within the park for those that want to extend their hike.
10. Ten Mile Lake Park, Quesnel
Of course, we saved Ten Mile Lake Park for the 10th spot on our list! A popular recreational destination, the park offers a large picnic area, three sandy beaches, a boat launch, campsites, and great fishing. You'll also find a 2 km forested nature trail along an abandoned railroad that leads to a large beaver pond which makes for a short and rewarding hike with the family.