Hit the open road on the Gold Rush Trail
There is no better way to enjoy the visual delights of the Gold Rush Trail than from the seat of a touring motorcycle. All the sights and scents of the road, the feel of the wind and the look of the sky become clear and immediate as you motor through the countryside. Ranking high on the list of attractions for motorcyclists is the huge diversity of landscapes. The topography ranges from forested lake country to golden, rolling grasslands to red-rock canyons and twisted hoodoos. Not to mention the vistas are awesome, with plenty of road-side pullouts offering spectacular views of plunging cliffs, immense cloud banks and long descents into river- lined valleys.
From start to finish, each leg of the Gold Rush Trail offers something different for everyone. Dramatic scenery draws attention all along Highway 1, where the cliff-hugging road twists through the Fraser Canyon past sheer rock walls and along perilous ledges jutting hundreds of metres above the rushing Fraser River. Meanwhile, in the South Cariboo, Highway 24 (The Fishing Highway) bisects a rustic tableau of old homesteads, meadows and wooden Russell fences while providing access to more than 100 lakes, superb fishing and a host of guest ranches and lakeside resorts where you can kick back after a long day on the blacktop. Highway 26 in the North Cariboo runs a tight-turning course that features spruce-scented air from Quesnel to Barkerville as it winds past a restored Gold Rush roadhouse and the historical curiosities of Mexican Hill, Robber's Roost, Blessing's Grave and Devil's Canyon.
Appreciate the freedom your bike affords, weaving through vast canyons, over rushing rivers, and past sparkling lakes.
Bikers will also revel in this region's lack of traffic. Once off the main arteries, the lanes empty out and there are few RVs or trucks to slow you down. Even sweeter, the roads curve like giant snakes as they cut through the wilderness, just you and your bike. In fact, in many places, you are more likely to see wild animals – black bears, deer, bighorn sheep, mountain goats, eagles and trumpeter swans – than vehicles. Dual sport enthusiasts also delight in the extensive network of gravel roads that lead into the backcountry to connect with remote lakes, glittering waterfalls and brooding mountain peaks. There will be little vehicle traffic on these rib-rattling roads, but plenty of hairpin turns, scenic climbs and time for peaceful reverie.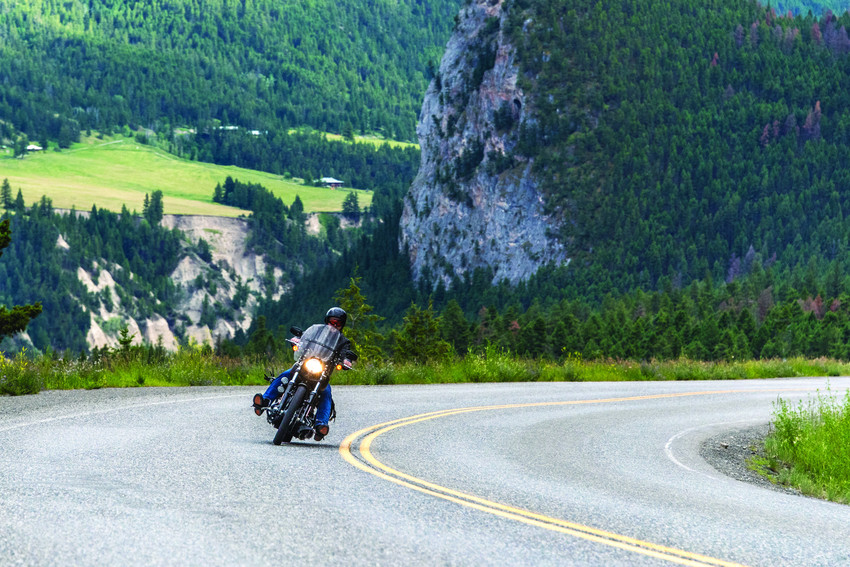 hIGHLIGHTed routes
The Fraser Canyon
Highway 26 from Quesnel to Barkerville Historic Town & Park
A cool rip up the Loon Lake road just north of Historic Hat Creek
West of Lillooet on the "mostly paved" Route 40 towards Tyaughton Lake and Gold Bridge.