by Masa Takei
"Probably the most fun in all of motorcycling is to load your bike in a pickup truck and head out into the country." With those words, filmmaker Bruce Brown kicked off the closing scenes of his iconic motorbiking classic, On Any Sunday. And no one with an ounce of piston-love in their heart could deny that sentiment watching the three amigos on-screen, jockey their dirt bikes, playing like little boys. Two of them are American Motorcycling Association Hall of Famers, and the third, Steve McQueen – possibly the coolest man to ever live. But they are all about catching grit in their wide smiles, tearing down cow trails and carving up sand dunes before riding off into the film credits together. The Academy Award-nominated documentary just celebrated its 50th anniversary but Brown's words ring as true today as when he delivered them with his trademark guileless narration a half-century ago. The only thing that might have changed over the decades since the movie's release is the need for that pickup truck.
No longer is it necessary to load into a wagon to get out onto the range. Riders can simply pack their saddlebags and ride off into the sunset, or multiple sunsets, as the case may be. One of the most significant developments in motorcycling over those intervening years has been the rise of plated bikes that can pull double-duty: increasingly capable of handling both asphalt and dirt, with luggage to boot. These 'freedom ponies' give riders virtually unrestricted access to the wide world around them.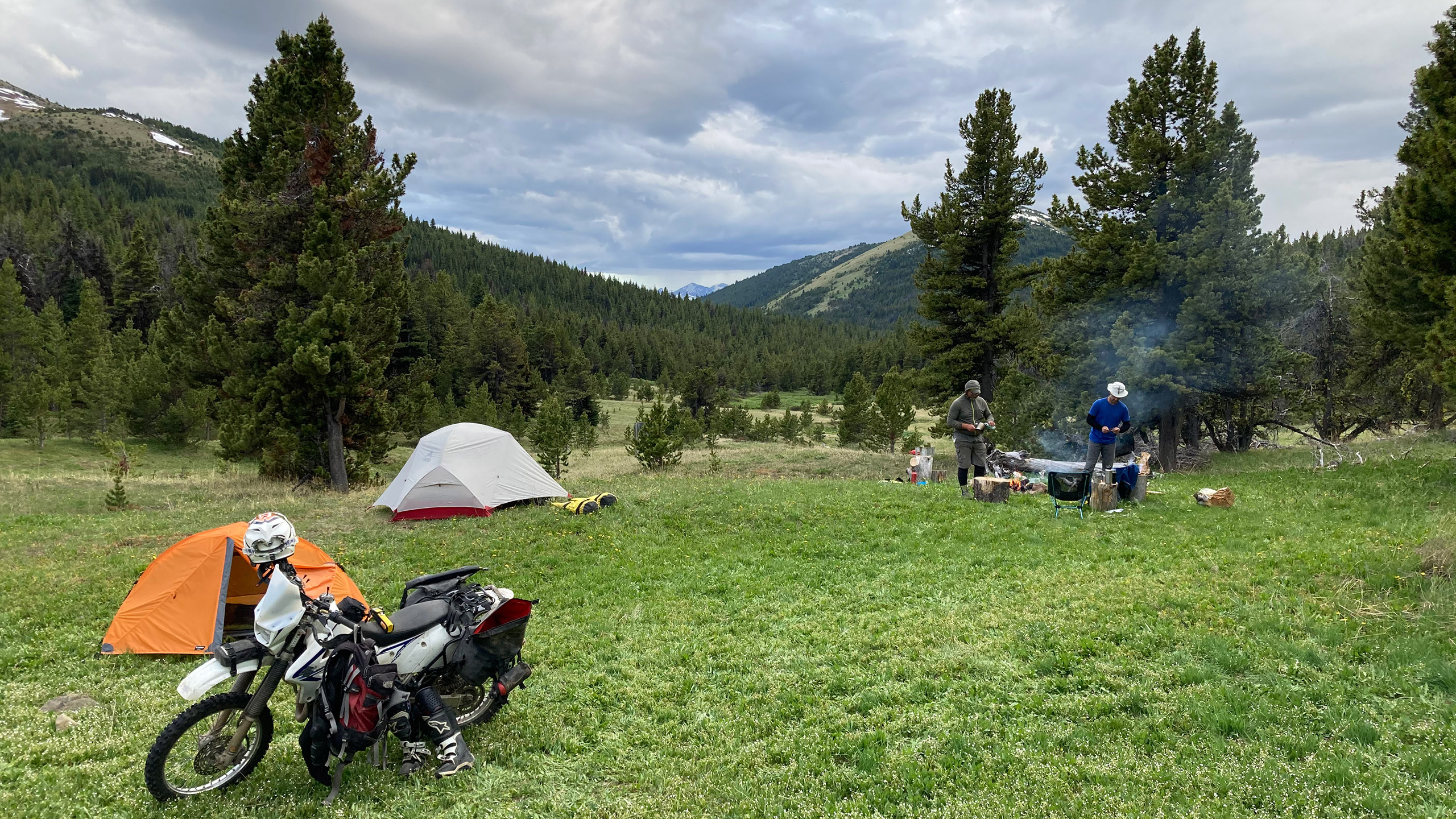 And the popularity of these versatile bikes has only increased. According to the US Motorcycle Industry Council, the first half of last year alone saw an over 20% increase year-on-year in 'dual sport' bike sales. Street bike sales actually decreased in that time. (Another trend: the proportion of female riders has roughly doubled during the last decade. Now, about a fifth of all motorcyclists – over a quarter of riders in the Gen Y age group – are women.) Whatever you call this breed of go-anywhere bike – 'adventure,' 'enduro,' 'dual sport ' – the journey just keeps going when the pavement ends. Some would even argue that it's when the pavement ends that the real journey starts.
When it came time to embark on our own early-season ride last spring, we three riding partners knew exactly where we wanted the pavement to take us. Living in southern BC, we have the good fortune of having world-class riding terrain right in our proverbial backyards. The Cariboo-Chilcotin is a part of BC that holds endless fascination for us. On the lee side of the Coast Range, the semi-arid landscape yields a feeling of teleportation through time and space. It's cactus country, pungent with sagebrush and lodgepole pines, rippled with rock ranges that rear up as humbling lessons in geologic scale.
For us Wet Coasters, the scenery is as otherworldly as if we'd been dropped onto the set of a Hollywood western. Early fortune-seekers spent days in hard travel up the Fraser River to get to the goldfields–but today, the journey to access the frontier is an easy day's ride from Vancouver, loping a few hundred kilometers on sealed roads. The plan was to set out from tidewater and go prospecting up the Cariboo Gold Rush Trail into the South Chilcotin mountains. We went with the certainty that there was gold in them hills, because, for us, the hills were the gold.
We had a loop in mind, in through the Sea to Sky and out through the Fraser Canyon but what happened in between would be left to the vagaries of the conditions, our riding skills and wherever our curiosity would take us. We left embracing uncertainty, a scarce and precious element in our modern existence. With five days of provisions in our saddlebags, we set out to put the 'adventure' into 'adventure biking.'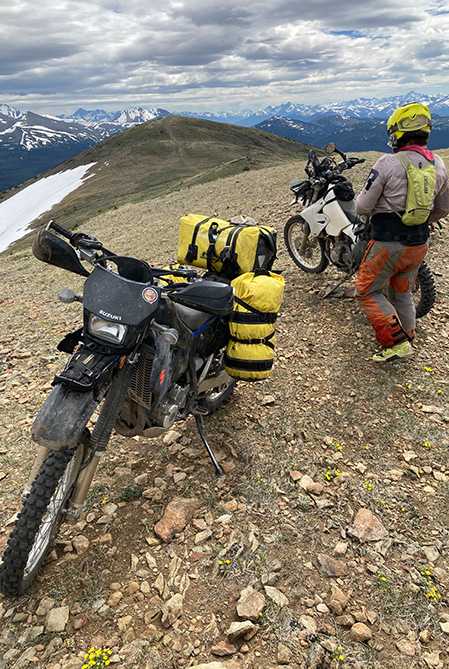 Unseasonably warm conditions, climbing from the high 30s up into the mid-40s Celsius, meant a huge melt in the snowpack and small streams swelled with the spring freshet. We'd been waiting for the snow to thin out enough up high to allow passage through the alpine sections but now the melt raised questions about our ability to travel down low. Capital "A" adventure looked likely.
Looking back now, our minds have sifted through all the memories leaving nothing but paydirt. These moments and scenes continue to play in our minds like a Bruce Brown cut of our own personal movies.
Mine opens with the moment we crossed our first cattleguard just off Carpenter Lake. It might have been the fur traders and gold prospectors who punched their way into this land but it was the cattle ranchers who stayed. The region now accounts for about a fifth of the beef cows that BC produces. Though we may have been, with soft hands and bad backs from city living, we couldn't help but feel like legit cowpokes, setting out on the range with bedrolls and a coffee pot. We knew that our recreation was thanks to the real working folk, whose toil carved out these roads for resource extraction of one kind or another. Our work for the day was simply to make camp by nightfall. We raised trail dust in earnest, galloping along over the washboard and potholes at a pace designed to eat miles. The wind in our faces, the growl of loud pipes in our ears, new country unfolded before us.
But it wasn't all – nor should it have been – easy. In the days that followed, we encountered deep river crossings that threatened to sweep us away. We poked up double track that tapered to single track and faded into just a suggestion. Deadfall across the trail had us banding together, pushing and throttling our loaded bikes one by one around impassable obstacles. We bushwhacked off-trail, down embankments, and around massive root balls. We humped bags on foot, rode two-up, shuttling man and machine by any means necessary. A single half-kilometre section of trail took us four hours to navigate.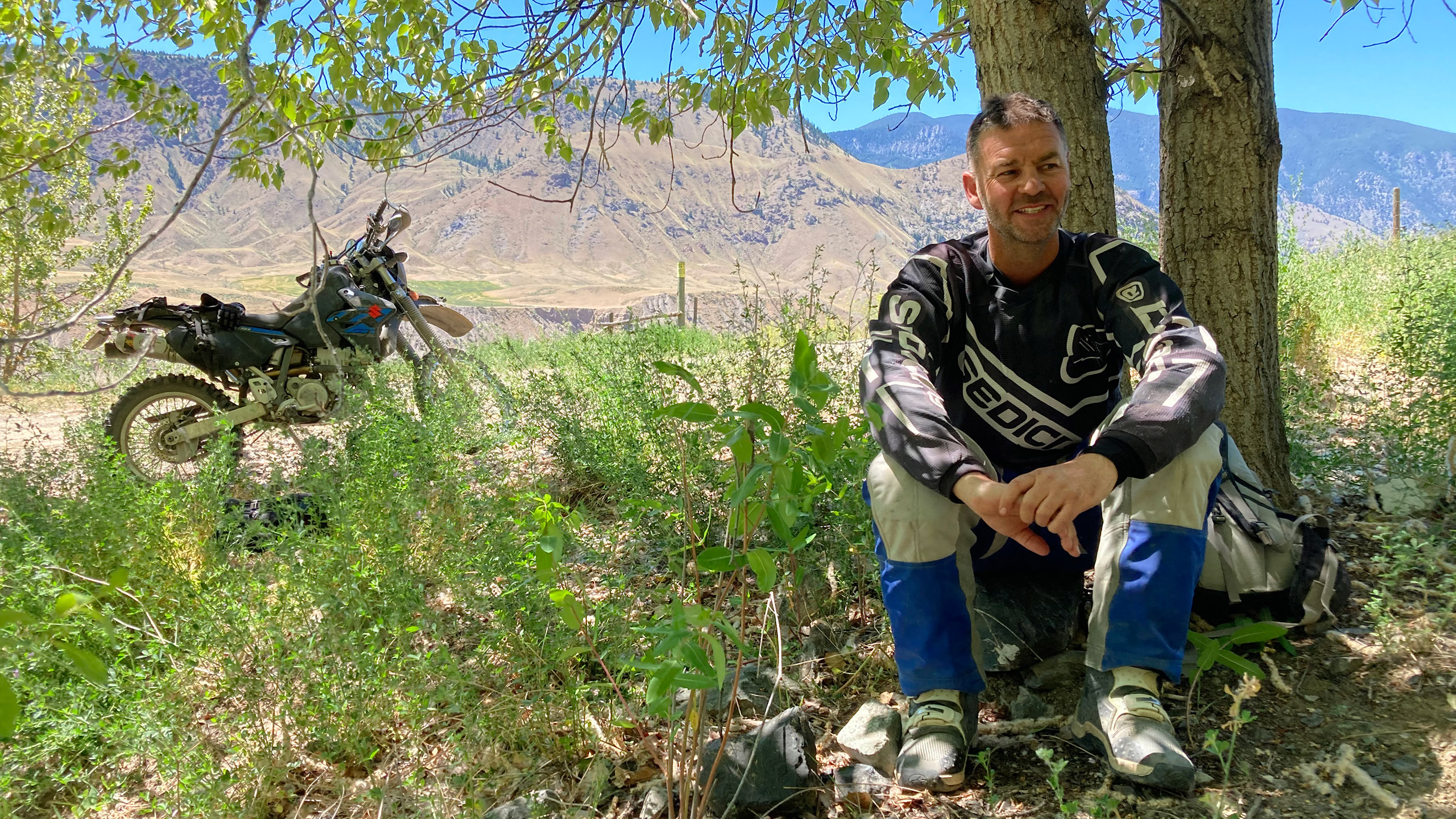 Our way was a smorgasbord of terrain to grind over: mud pits, sandy slopes, dried-up watercourses rattly with pebbles and rolling with baby heads. We climbed steep rock fields and skittered down loose washes. Ruts appeared that swallowed wheels whole. Biting insects swarmed, the sun beat down, we got bucked off hard and picked ourselves up again and again.
In the fading light, we pondered the implications of fresh piles of grizzly bear scat around our chosen camp. Without knowing exactly how it would look, this was exactly everything that we'd hoped for.
There were also the high points, both literal and metaphorical. There's something about the feeling of limitless potential that the perspective of high ground will give: beyond the mountains, more mountains. We rallied onto one summit, pushing through a snow patch, and met views right out of a Group of Seven painting. Camped on the decks of the Jesmond fire lookout we could see clear across the Cariboo, right out to the Rockies. From there, the early morning light turned the lakes of the Fraser Plateau into pools of liquid silver. A floatplane motored past at eye level, responding to our waves with a waggle of its wingtips.
Along with vistas we got closeups: the wood grain on the silvering, hand-hewn timbers of a century-old barn, the improbably bright, yellow, blue, and purple flowers studding alpine meadows. We got mid-shots of a bleached moose rack nailed up over a log cabin door and an old stagecoach that graced the entrance of a sprawling homestead. Wide establishing shots captured canyons and benchlands creased by river gorges that were lined with hoodoo honour guards.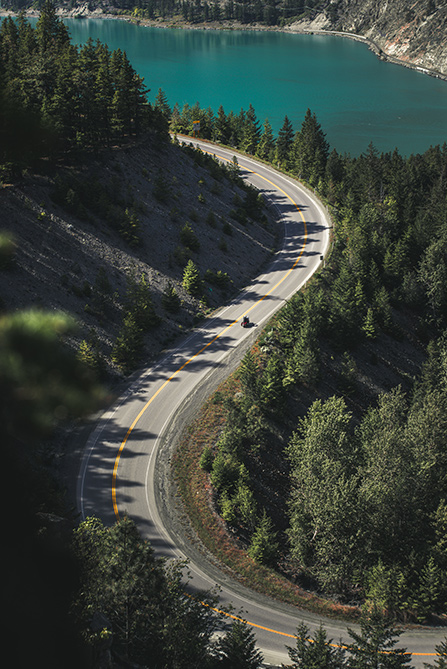 One of the great advantages of travelling by motorbike though is not only the feeling of direct contact with the land, it's the enhanced possibility of interacting with its people. With no physical separation from the outside world, no barriers to contact, a rider on his bike or on his boots seems like an open invitation to talk. One afternoon a diminutive woman, her black hair plaited in braids and face etched with the fading lines of traditional tattoos, went as far as to flag us down. Christine asked us about where we'd come from and the route we'd travelled. This was no idle chin-wag. She and her Bridge River companions sat at the roadside as custodians of the land. They kept watch over what transpired, looking to engage those who passed in a dialogue about what it means to respect the territory. For all our feelings of being out there, footloose and free, our positive exchange was a good reminder that we were visitors. Ours was a responsibility to not diminish their ancestral lands during our brief passage through.
While washing off trail dust in a lake one day, we encountered someone on the other end of the spectrum of time on this land, and an unexpected kindred spirit. A lone rider pulled up on the lightest mount we'd seen in those parts, a bicycle. Kelly Servinski was taking a short stop on what we found out was a 200-kilometre (124 mi) ride for him that day. His was a gravel bike, a relatively new breed of bicycle and close cousin to our dual sports, from the self-propelled side of the family. Looking like the offspring of a road bike mated with a mountain bike, the gravel bike was a true omnivore, bred to eat any terrain and spit out the bones.
It was the riding that first brought Kelly into this country. He was so taken with the potential in the area that a few years ago he and his partner relocated to Clinton and opened Tutti Gravel Inn which is geared specifically for a new generation of gravel prospectors. (Their tagline: "Gravel is the new gold.")
However, he'd also just bought his first dual-sport motorcycle. The next week, a friend – a competitive road cyclist – was slated to come upon his own dual-sport motorbike to seek out some adventure together.
We were of course excited for Kelly. We didn't need to tell him what he had to look forward to, nor could we even if we did. As Bruce Brown says in the closing moments of On Any Sunday, "There's something about going riding with your friends, a feeling of freedom, a feeling of joy, that really can't be put into words. It can only be fully shared by someone who's done it." And we would extend Brown's sentiments to include riding in the Chilcotin.
Header image: Jesmond Fire Lookout | Masa Takei