The Gold Rush Trail is a delight for hikers and walkers
No matter your skill level or physical fitness, BC's Gold Rush Trail has the perfect hike to meet all of your adventure needs. From challenging summits to casual walks, this region offers countless unique landscapes and plenty of space to get away from the crowds and enjoy the restorative power of nature.
Please remember that the areas mentioned within this article lie on the traditional territory of various Indigenous nations. We encourage you to learn about the land you are visiting and do so with a soft footprint, respecting those who came before you. Learn more and download these guides below:
How to be respectful of community and culture in your travels
A checklist to having fun and staying safe in the wilderness
How to be respectful of wildlife while handling "your business"
Fraser Valley
With easy accessibility from Vancouver, plus its central location in Stó:lō (Stow-low) Territory along the winding banks of the Fraser River, the Fraser Valley is a widely popular hiking destination. Explore its vast array of landscapes during a visit to the gorgeous Lindeman Lake or challenging hike up Flora Peak. Families will love Teapot Hill, a whimsical and moderately-rated trail adorned with teacups, saucers, and teapots located within Cultus Lake Provincial Park. Another favourite is located at Cascade Falls Regional Park. Here, you can cross a suspension bridge overlooking a waterfall!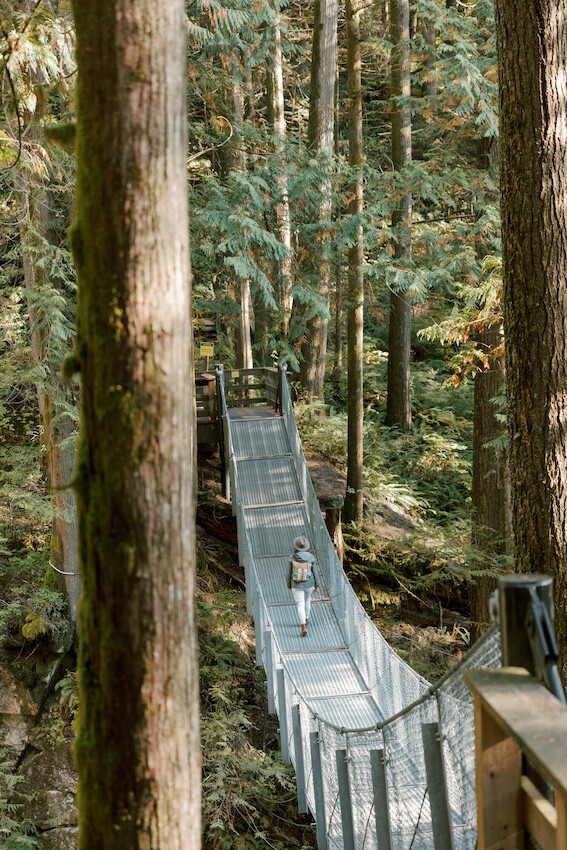 Fraser Canyon
Full of gold rush history, Nlaka'pamux (Ingla-kap-ma) and Stó:lō (Stow-low) Indigenous culture, as well as majestic scenery, the Fraser Canyon offers an adventure for every type of visitor. History buffs along with families looking for a captivating walk will love the Othello Tunnels (temporarily closed), Alexandra Bridge (temporarily closed), and Murray Creek Falls trails, whereas, more experienced hikers will enjoy the challenges found at Mount Lincoln and within the Coquihalla Summit Recreation Area.
Mehatl Creek Provincial Park (park currently inaccessible)
Stein Valley Nlaka'pamux Heritage Park (temporarily closed)
Skihist Provincial Park (temporarily closed)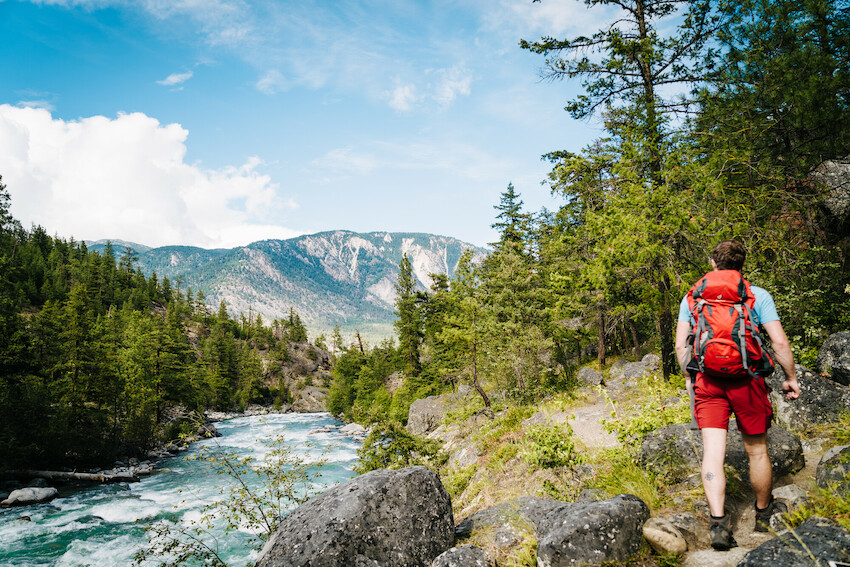 South Chilcotin & the Bridge River Valley
Remote, untamed, and wild, the Bridge River Valley is home to some of the most spectacular mountain ranges in the world. Experienced mountaineers will find epic scrambles at Mt. Truax and Mt. Fergusson, whilst the less experienced can expect friendly ridges, flower-filled meadows, and a lack of crowds near the valley's lakes. Tyax Adventures also offers one-way group hikes out of the alpine, as well as fully guided tours, floatplane drops, and hut-to-hut trips.
Bridge River Valley General or Bridge River Valley Visitor Guide
South Chilcotin Mountains Provincial Park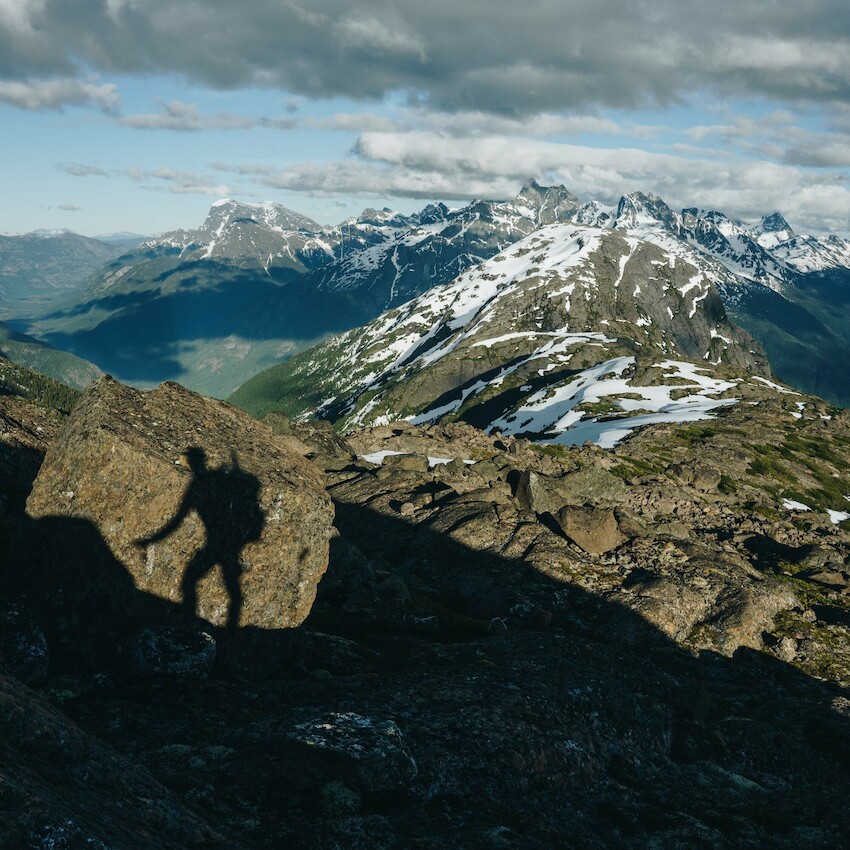 Cariboo
In the Cariboo, Lillooet is homebase to a variety of scenic hiking trails, many of which have historical significance along the Fraser River, where in the mid-1800s Chinese miners processed millions of dollars in gold. The 11.3 km (7 mi) Sepa Lakes Trail near 108 Mile Ranch meanders past bays and lagoons filled with waterfowl. While in Soda Creek, the Deep Blue Soda Trail is an off-the-beaten-path hike featuring a lake. For the waterfall lovers, Alexandria Falls and Wine Glass Falls are two excellent, and easy trails. Last but not least, the Bridge Lake Ice Caves Interpretive Trail is located along Fishing Highway 24 in the Land of Hidden Waters region and provides a fascinating and unique look into Indigenous history of the area.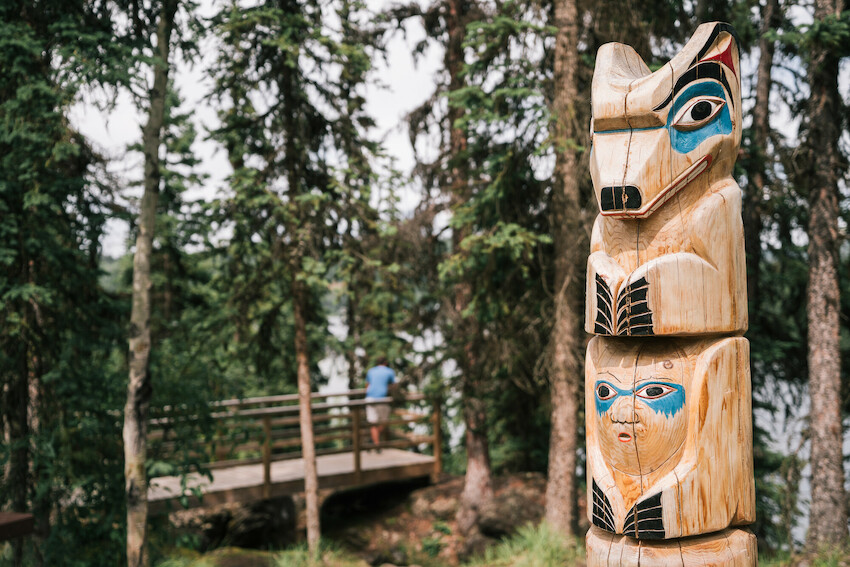 Hikes in Clinton or Clinton Village Parks and Recreation Trails
Hikes in Lillooet or Lillooet Trail Map
Cornwall Hills Provincial Park
Rainbow/Q'iwentem Provincial Park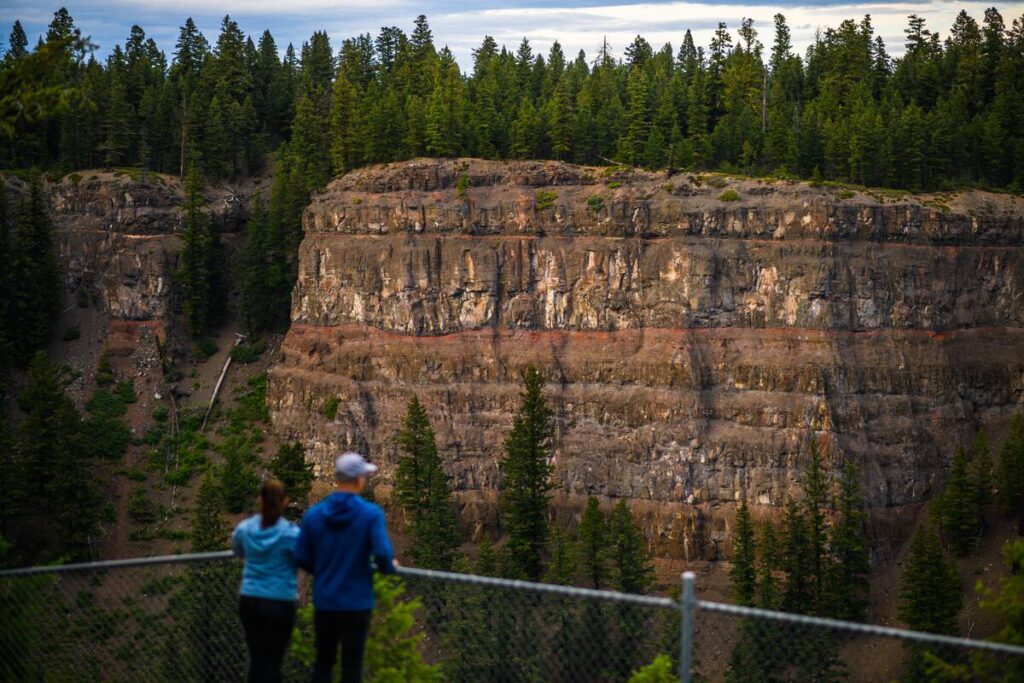 Cariboo Plateau to the Cariboo Mountains
Hikers with a historical bent will appreciate tackling some or all of the Nuxalk-Carrier Grease Route, known as the Alexander Mackenzie Heritage Trail, which stretches a full 420 km (264 mi) from the mouth of the Blackwater River between Prince George and Quesnel to the Sir Alexander Mackenzie Provincial Park, a small coastal park located near Elcho Harbour on Dean Channel. The Mount Agnes Trail network near Barkerville follows the original "Cariboo Waggon Road" to wildflower-strewn alpine meadows below Summit Rock. Experienced backcountry hikers might want to challenge themselves with the grueling 40.2 km (25 mi) Yanks Peak trail or the moderately-rated Cameron Ridge Trail in the Cariboo Mountains. For an easier option, visit Quesnel's delightful Riverfront Trail, or enjoy majestic and photogenic waterfalls at Canim Falls & Mahood Falls.
Responsible Hiking
No matter where you are hiking throughout BC's Gold Rush Trail, use the following tips to ensure a safe and successful experience:
Never attempt a trail that is too difficult for your capabilities, especially when alone;
Carry the appropriate gear and supplies for the length of hike;
Pack extra clothing for changes in weather conditions or an unexpected overnight stay;
Make sure that someone knows where you are hiking and when you are expected to return – use the AdventureSmart Trip Planning App;
Be aware of wildlife in the area and how to respond; and
Always pack out what you bring in.
By being responsible hikers and travellers, we can all continue to enjoy the exceptional beauty of BC wilderness and preserve it for future generations.