Just because winter is here, doesn't mean we have to stop exploring. In fact, winter is one of our favourite times to hit the trails! With fewer people around, zero pesky bugs, crisp fresh air, and the added beauty of snow-capped mountains and frozen lakes, it's the best way to stay healthy and happy during our colder months.
In this story, we'll share some of the best snowshoeing, winter hiking, cross-country skiing, and snowmobiling trails for you to explore along BC's Gold Rush Trail. Remember to dress in layers so you can adjust your temperature as needed, wear appropriate footwear, check for rental options ahead of time, and always practice responsible winter travel. 
Wells
Along with being a centre for artists, Wells is a major hub for outdoor enthusiasts. The trail systems here are vast, all thanks to the Wells and Area Trails Society (WATS). Great for all abilities, be sure to check out the Cornish Mountain and Meadows Trails, Barkerville Area Trails, and Stanley to Barkerville Trails. If you thought skiing and snowshoeing on forested trails was fun, just imagine what exploring Barkerville, a heritage town and park from the mid-1800s gold rush era is like! 
If you're new to these activities or the area, we highly recommend booking a 1, 3, 4, or 5-day guided backcountry ski or winter hiking tour with Whitegold Adventures. While you may have heard of, or even completed the Bowron Lake Chain canoe trip before, experiencing it on cross-country skis with Whitegold is an entirely unique adventure!
Quesnel
Located at the confluence of the Quesnel and Fraser rivers, the city of Quesnel and surrounding areas have an expansive network of winter trails. The Cariboo Ski Touring Club alone has over 75 km (47 mi) of cross-country ski and snowshoe trails at Hallis Lake. 37 km (23 mi) of these are groomed and track set daily, 8 km (5 mi) are designated dog trails, and there are even lit night trails! Nearby Troll Resort also has some snowshoe trails of their own to go along with their family-friendly downhill facilities. You can also enjoy some winter hiking at Wonderland Trail network, Pinnacles Provincial Park and Ten Mile Lake Provincial Park.
Williams Lake
About 16 km (10 mi) north of the city, the Williams Lake Cross-Country Ski Club maintains and operates the Bull Mountain Cross-Country Ski & Snowshoe area. This spectacular trail network boasts 28 km (17 mi) of well-groomed and varying trails. There are 3.5 km (2 mi) of lit night ski trails, 11 km (7 mi) of forested snowshoe trails, and around 5 km (3 mi) of designated dog trails. You can also winter hike at Fox Mountain and the River Valley Trail. Please note that the River Valley Trail is currently closed due to flooding. Stay up to date with this closure at sitesandtrailsbc.ca.
100 Mile House
100 Mile House has some of the best snowshoeing and cross-country skiing facilities in the whole region. Just minutes from town, 100 Mile Nordics maintains 45 km (28 mi) of groomed nordic ski and snowshoe trails. With a spacious lodge, 5 km (3 mi) of lit night ski trails, cabins on the trails to explore, rentals, lessons, and tons of pass options, it's a must-visit if you're in the area. Just 20 minutes away, you'll find another 30 cross-country ski, snowshoe, and winter hike trails within the 108 Mile Trail Network. One of our favourites there is the 108 Lake Loop which – you guessed it – traverses along the edge of the frozen lake. You can also go snowshoeing right on the frozen Canim Lake or Deka Lake located along the famed Fishing Highway 24. For a unique snowshoe experience, head to Canim Falls and hike just 15 minutes for spectacular views of both the frozen Canim and Mahood Falls.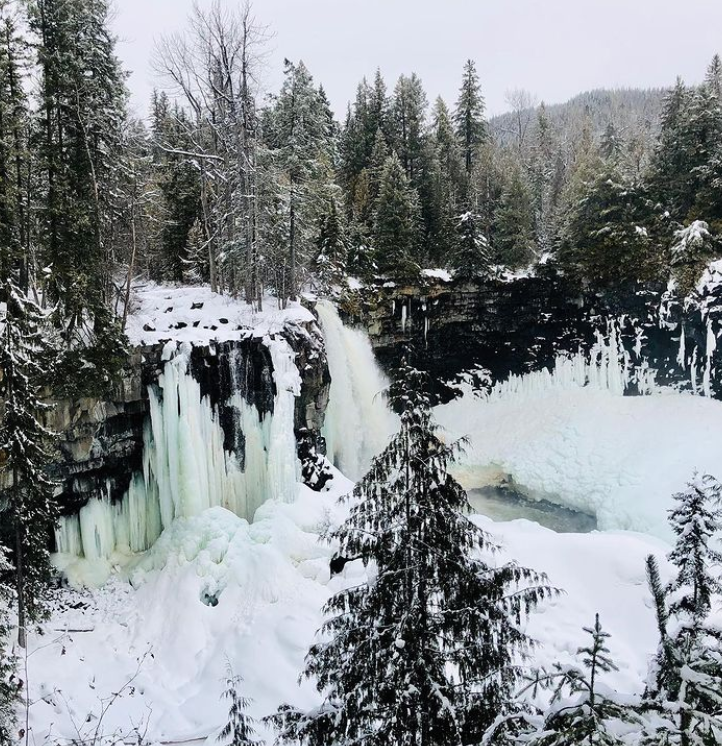 Clinton
Maintained by the Clinton Snow Jockey Club, the Big Bar Cross Country Ski Trails consist of 26 km (16 mi) of Nordic trails perfect for all skill levels. With beautiful views of the Marble Range and 51 Creek Canyon, this is a lovely, serene area to ski. And if one day on the trails isn't enough, book a luxurious stay at Clinton's Echo Valley Ranch & Spa. Choose to bring your cross-country gear and try out their on-site loop or borrow a set of snowshoes and explore the 160-acres of pristine winter wilderness.
Lillooet
Lillooet is best known for its exceptional ice climbing opportunities. Experience the thrill of this unique sport by booking a guided tour with Canada West Mountain School. If you'd prefer to keep both feet on the snow, you can also snowshoe and cross country ski on frozen Kwotlenemo (Fountain) Lake or Pavilion Lake (ensuring first that your ice is thick enough and safe to be on).
Bridge River Valley
The Bridge River Valley is an outdoor enthusiast's dream! There are tonnes of trails and lakes for winter adventuring, most notably around Tyaughton Lake and Gun Lake. There are also back-country trails found at Green Mountain and within Bralorne Recreation Area. Please note that much of the ski-touring, fat biking, and backcountry areas within the Bridge River Valley are extremely remote and require experience. For a bucket-list-worthy guided trip, we highly recommend Tyax Adventures. 
Snowmobile Clubs & Trails