Love learning about British Columbia's history? How about making new finds and repurposing vintage items? Then an antiquing journey along BC's Gold Rush Trail is a perfect combination. Eclectic stores bursting with antiques and vintage items, rare collectibles, unique art and funky furniture complement over 22 historic sites and museums on BC's Gold Rush Trail. We invite you to ready your SUV and venture forth with a tour of the Gold Rush Trail's antique offerings, presented here from south to north:
New Westminster
As British Columbia's oldest city, first mercantile centre and transportation hub for settlers and gold panners, the history of the city pairs perfectly with an antique hunt. Head first to Front Street, which is also a popular filming location for some major motion pictures and television shows. You may see some familiar storefronts and a selection of fantastic shops where your next treasure may be found.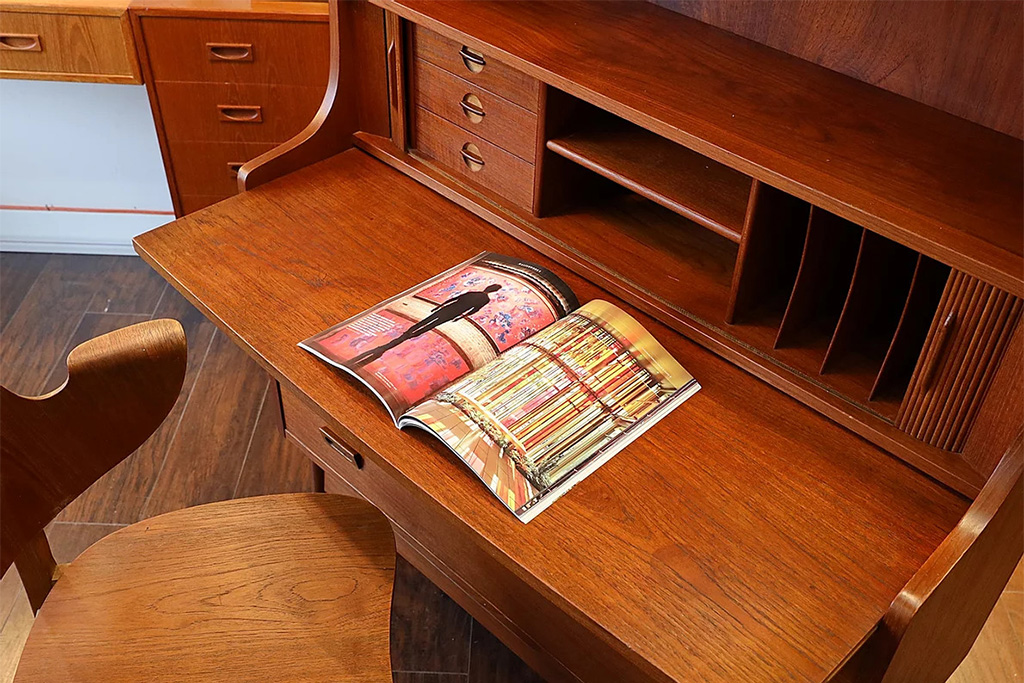 Antique Alley – Antique Collectibles & Movie Props
Browse a vast array of antiques, collectables and movie props, where you'll find anything from a 200 lb (91 kg) bronze ship's propeller to an Edison amberola record player. Online shopping is available.
Mid Century Modern Home
A light and airy-feeling store with colourful glass vases, ceramics and bar sets with a focus on vintage and restored Danish modern furniture, which has caught the attention of local and global antique collectors.
Banana Lab
A small shop stocked with vintage furniture, repurposed home decor, and locally-made art.
Fort Langley
Fort Langley is another city steeped in history, where an antique hunt might lead to a museum visit, stroll through the fort itself, or a stop at an art gallery along the way. Of course, if antiques are your jam, there are options: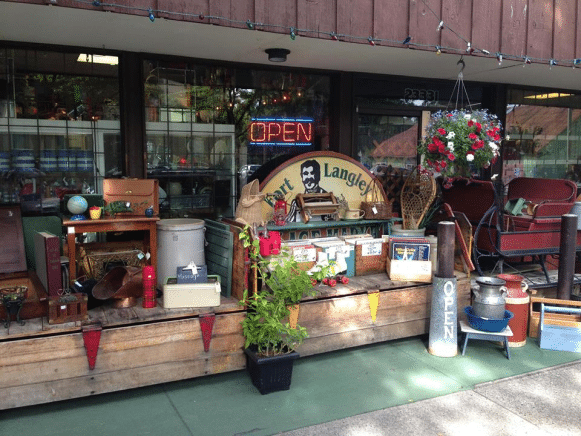 Fort Langley Village Antiques Mall
A 10,000-square-foot mall with 60 independent dealer booths, showcasing a range of antiques, collectibles, home décor, vintage finds, and more.
Napier's Country Antiques
Located in the Historic Village of Milner, this combined 12,000-square-foot store and yard will keep antique hunters busy, offering everything you can think of, from glass doorknobs to horse-drawn buggies.
Country Lane Antiques, Langley
Showcasing one-of-a-kind, authentic and carefully refinished antiques.
Abbotsford
Considered one of the best antique stops in the Lower Mainland, Abbotsford is worthy of adding to your list if you're searching for a unique find along the Gold Rush Trail: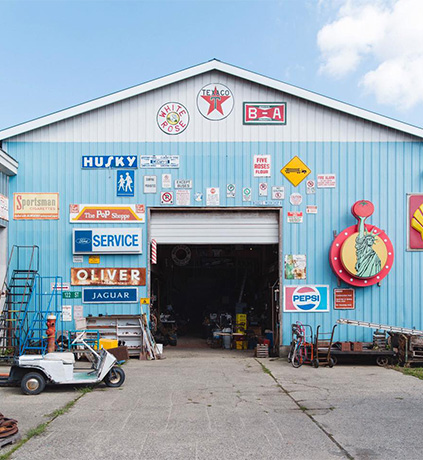 Granny 'n Grumpa's Antique Barn
If you're visiting one antique store in the Fraser Valley, head to this one, featuring items categorized by date from the 1900's to the 1980's so you can find what decade you're looking for quickly. Car parts, uniforms, tools, vintage appliances, signage, you name it! Admission by donation.
Chilliwack & Surrounding Area
Along the flood plains and fertile valley of the Lower Mainland, city centres start to space out and antiquers will find crammed-to-the-brim shops spreading out into barns and warehouses, where you can spend an entire afternoon browsing at your leisure:
Antiques by Design
Founded in 1993, visit their warehouse for quality furniture specializing in Antique American, Victorian upholstery, Victorian Mahogany and Walnut furniture with an emphasis on quarter sawn carved oak and Mission furniture.
Goods at the Hoods' Vintage & Antiques
A family-run business offering fine vintage & antique furniture, home decor, collectibles and tack (equine items) at reasonable prices.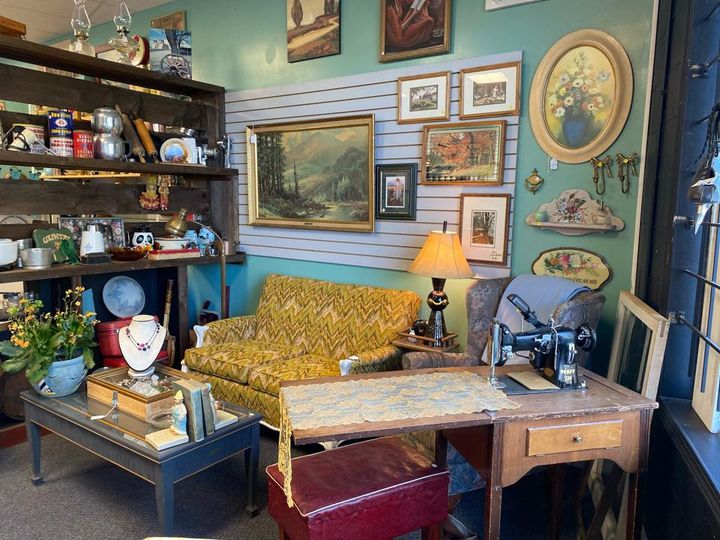 Switzers Vintage Decor
Filled to the brim with antiques and vintage-inspired replications for a fun afternoon.
The Happy Picker
Vintage and antique store that also sells delicious maple doughnuts.
Mission, Harrison & Agassiz
Across the Fraser River from Harrison, pop over to Mission and take Lougheed Highway for a side trip with the following antiquing option:
Sadie Anne McMurray Antiques, Mission
Specializing in antique lighting and collectibles, antique furniture, decor, glassware, chinaware, vintage advertising rarities, Pyrex, Fiesta Ware, First Nations Art, record albums, and more.
Hope
Take a scenic drive through the Fraser Valley to Hope, where you can choose the road less travelled that takes you right through town and provides the opportunity to stop off and check out a few hidden gems: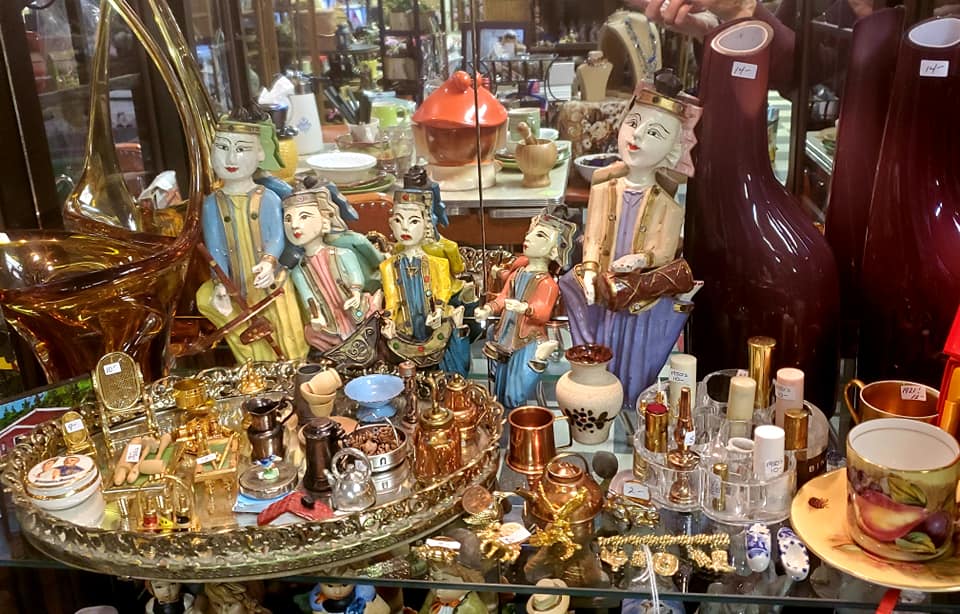 Le Shed Home Decor
Visit this tiny shop for vintage/second-hand home decor and more.
Finders Keepers
Boasting "useful and unique" goods including instruments, vintage perfume bottles and home decor.
Ma & Pa's Memory Lane
Find new and vintage goods, including toys, dishware, lamps, glassware and more.
Spences Bridge
Continuing along the footsteps of Gold Rush prospectors, a stop in Spences Bridge is ideal for gearheads:
Vulture Garage
Home to "hot rods, vintage car parts, gas pumps, antiques, and other junk."
Clinton
Clinton is a hub of ranching history, heritage, and arguably one of BC's best antiquing opportunities (or at least this author's favourite place!). Plan to stay a few days here if you want to truly explore all Clinton has to offer when it comes to items of a "certain age":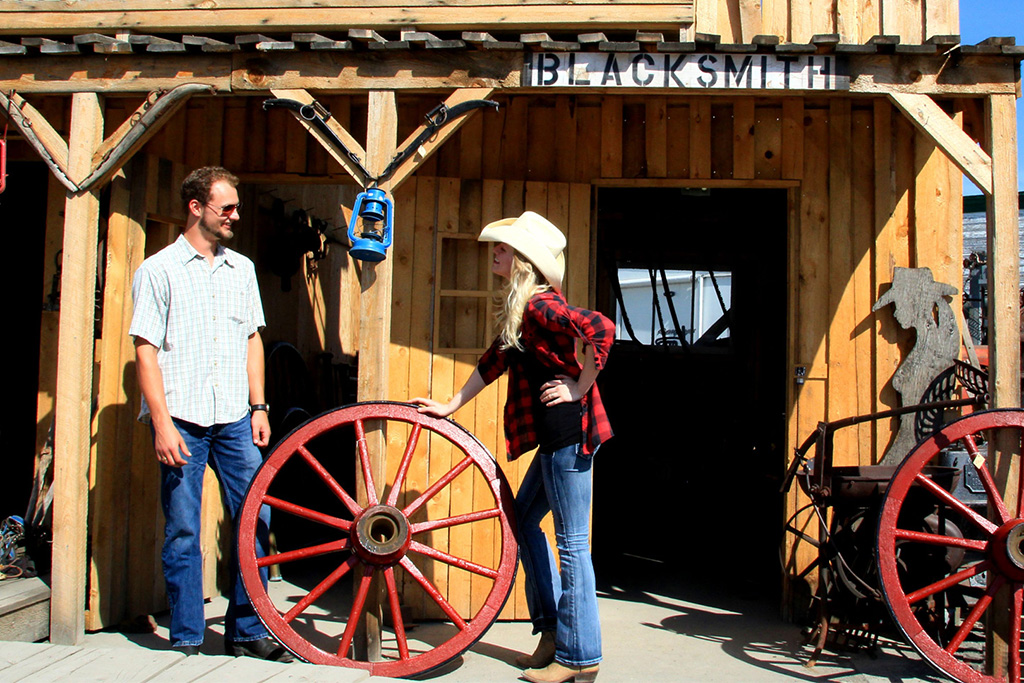 Clinton Emporium and Flea Market
Considered a mecca for treasure hunters, vintage collectors, and thrift seekers, this well-stocked antique shop offers vintage tools, glassware, lanterns, wagon wheels, and horse-drawn farm equipment.
Clinton Antique Mall
Another terrific place to visit in Clinton, with over 70 dealers and three floors housed in a historic building, stacked with furniture and more.
Clinton Antique Centre
Family-owned and operated with more than 100+ quality dealers, there's something for everyone under their 6,000-square-foot roof.
White Elephant Antiques (reopening April 2023)
Browse their collection of quirky, antique items including glassware, First Nations art and small trinkets.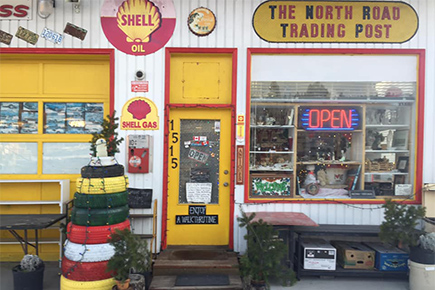 The North Road Trading Post
An eclectic shop bursting with unique and vintage wares, art, signs, tools, and memorabilia, old kitchen gadgets, hunting, fishing camping gear, vintage automobiles and so much more!
Mile 47 Vintage Shop
Bringing together collectors and antique lovers from all around, the quaint store is packed with heirlooms, relics, and treasures, along with curated selections of vintage clothing, dishes, pottery, and countless other items.
As the Crow Flies
Selling antiques, collectibles, and garden supplies, as well as the host of a monthly flea market.
Lone Butte
At one time the Cariboo Region's largest town during the boom of the gold rush, this little town is now a quiet place to visit and offers one notable antiquing stop: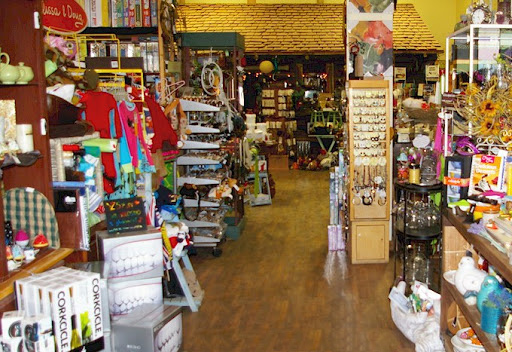 The Country Pedlar
Visit their in-store "log cabin" for antiques and more, or visit their Christmas room on the second floor if you're looking to get in the spirit of the season (even in summer).
100 Mile House
Once a stop for stagecoaches along the Gold Rush Trail in the 1860s, this city transformed to cattle ranching and forestry after the rush ended, and today is a vibrant small city that also celebrates its heritage:
Smith Antiques & Lighting
Hank Smith has been collecting pieces of history for the past 30 years, from maps and furniture to curios and collectibles.
Door Stop Trading Post
A perfect place to find a treasure, with a wide selection and reasonable prices.
Williams Lake
A major crossroad for travellers since the turn of the 20th century, the area is popular for cowboys, rodeos, and outdoor enthusiasts, as well as offering a stop-off to search for new treasures: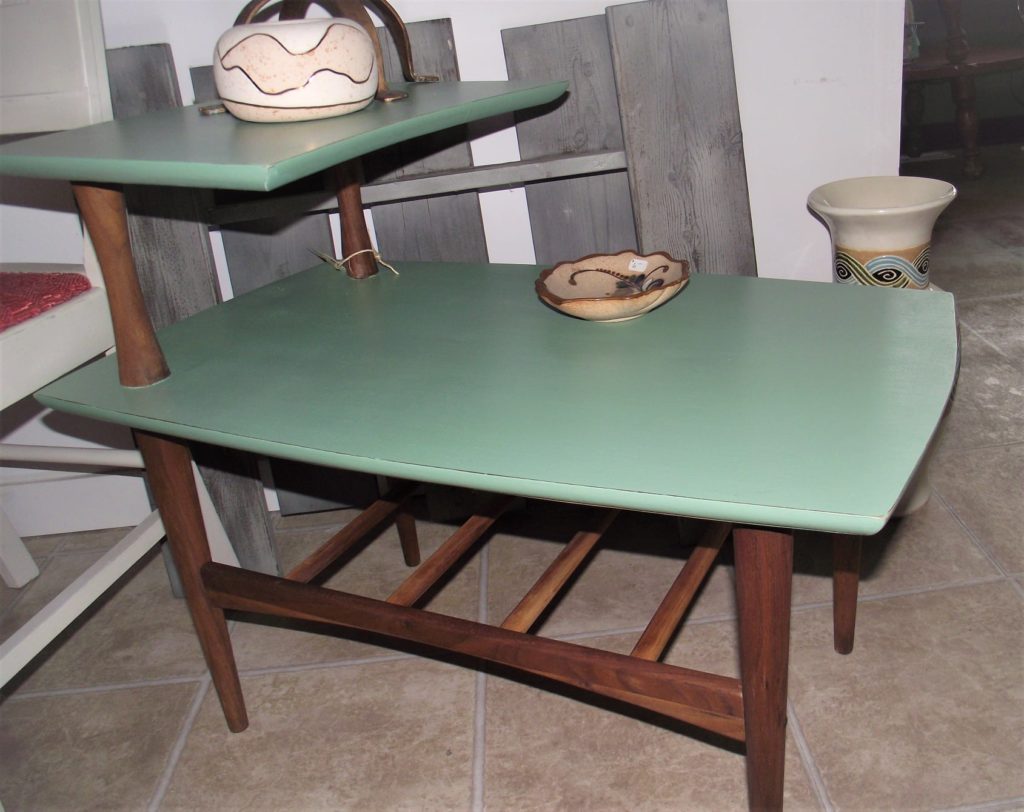 Fox Mountain Upcycle
Specializing in restoring and repurposing vintage furniture and household items, they also offer a unique selection of hardware and host do-it-yourself workshops.
Continuing north along the Gold Rush Trail will allow antique and history enthusiasts to stop in at Barkerville Historic Town & Park to see history in action! Your next treasure is just one antique shop away on the Gold Rush Trail where liquid gold also awaits after a long day of antiquing!